Everyone has a hobby, a hobby they love to do, in today's essay presentation we are talking about a hobby, sketching, I hope you like this essay, so let dive in!
This Essay is Formatted For  Class 2 | Class 3 | Class 4 | Class 5 | Class 6 | Class 7 | Class 8 | Class 9 | Class 10 | Class 11 | Class 12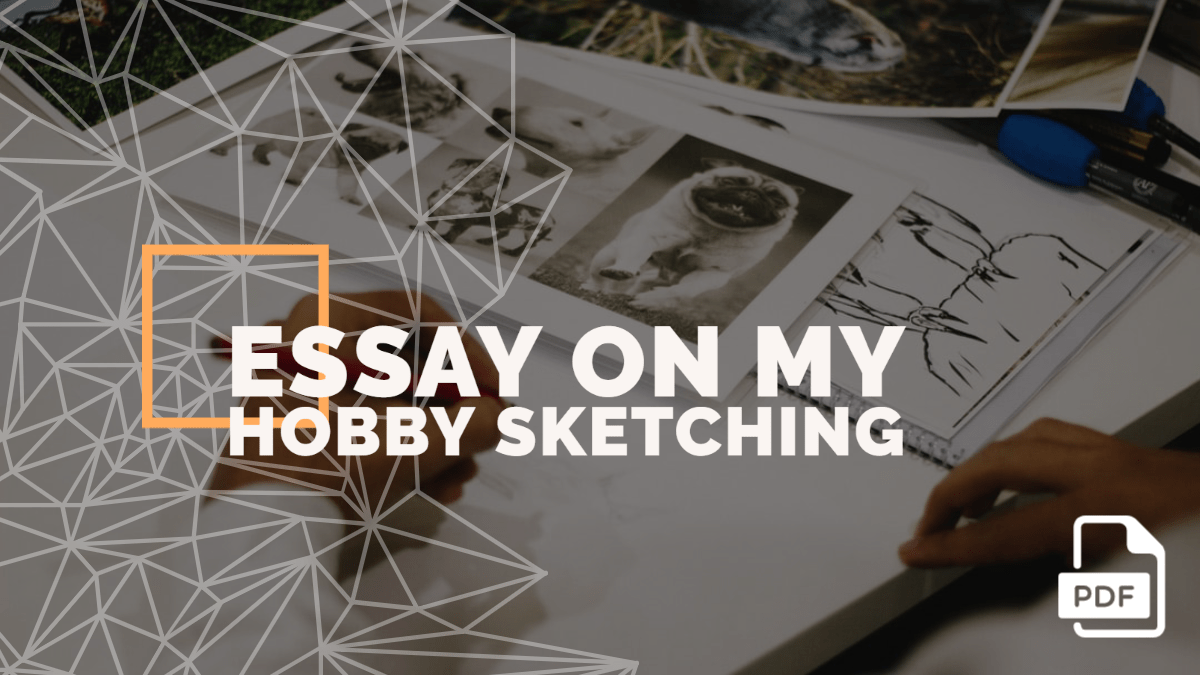 To start with, I doubt if there is anyone without a hobby. We all have things we consciously or unconsciously spend our spare time on. Mine is sketching. To sketch is to make a rough drawing of something.
I remember sketching my parents and siblings at just seven. At some point, I would have to abandon school work just to sketch – that is just how much I love sketching. Sketching, for me, is not just a hobby. I have a passion for sketching.
As a kid, I would spend most nights at my window looking at the beauty of the City at night. I would admire the stars, the moon and the serenity of the environment. These admirations mostly ended as sketchings on my desk. I made a big file for myself, and I would carry it everywhere I went to, especially on weekends.
I have been caught on many occasions staring at beautiful couples, kids, girls, and boys. It makes me look insane, though, but I do not mind. The images I memorize of them automatically become my next sketching.
In grade one, I nearly dumped sketching because I had lots of school work, and I had these intelligent friends that I did not want to lose. I had to leave sketching and study so hard so as to make good grades. My result was among the best, but I ended up missing my sketching work.
I had to plead with my parents to have a tour in the town during that holiday. I used the opportunity to take a beautiful look for my sketches. I really had a long list of things to sketch, but it was not even an issue.
I try to give Life to my sketches, and they never ceased to earn smiles from admirers. Some of my friends invite me to their home and introduce me to their parents as an artist. Sometimes, I go with a present to show how good I am in sketching.
When I become so sad, and I feel depressed, I take a picture of me and begin to sketch – that way, I get busy and become alright afterward. I have a dream of becoming a marriage counselor, but my friends think I would be better as an artist. This is one thing about a hobby.
They might not be our means of livelihood, but they are so soothing. They help us to relax. They make us have a pretty view of our world. My best friend loves to listen to music as her hobby. When she is so down, she uses music to lift her broken spirit.
This is the same effect sketching has on me. It may not be a source of livelihood, but it is my inspiration. When I sketch couples in love, I believe love is real and that one day it will come to me. When I sketch the sun, I hope for a beautiful day.
When I sketch someone who is sad, I know someone really cares for me. I find so much solace in sketching, and I find it so difficult to give them out to people. I decorate my room with them.
When they are worn out, I replace them with even better ones. Sometimes, I paste some of them in my elder brother's room, and on one occasion, we ended up fighting, and my drawing sheets were torn.
In grade three, my dad enrolled me in a sketching competition. I told him I would not participate. I do not want to compete with my sketchings. Each of them has a soothing effect on me, so I refused the competition.
I have more works to do now. I am currently writing my final exams in College. They have actually pushed me away from my drawing board, but I hope to soon return to my drawing board. I anticipate the end of exams.
After my final exams, I will hold a little party in celebration of successful college years, and then I will relax for a week. I would spend other free time on tours, and the tours will fetch me a long list of items to sketch.
I want to visit the motherless baby home to see how happy they are, and then I will sketch their happy faces. I will visit the most popular beach in my area at night to take a look at the calmness of the water at night.
I hope one of my children inherits sketching from me. I do not want the art to die with me.
---
We appreciate your feedback regarding this essay on my hobby sketching.
Read More

Essay on My Hobby Yoga
Essay on My Hobby Calligraphy
Essay on My Favorite Hobby is Painting
Essay on My Hobby is Playing Badminton
Essay on My Hobby Karate
Essay on My Hobby is Playing Kabaddi