Yoga has established the harmony between mind and body by controlling our breathing, and gestures. Meditation also plays a vital role in Yoga too. In today's essay presentation we are going to see an essay on my hobby yoga. So let's dive into the essay.
This Essay is Formatted For Class 5 | Class 6 | Class 7 | Class 8 | Class 9 | Class 10 | Class 11 | Class 12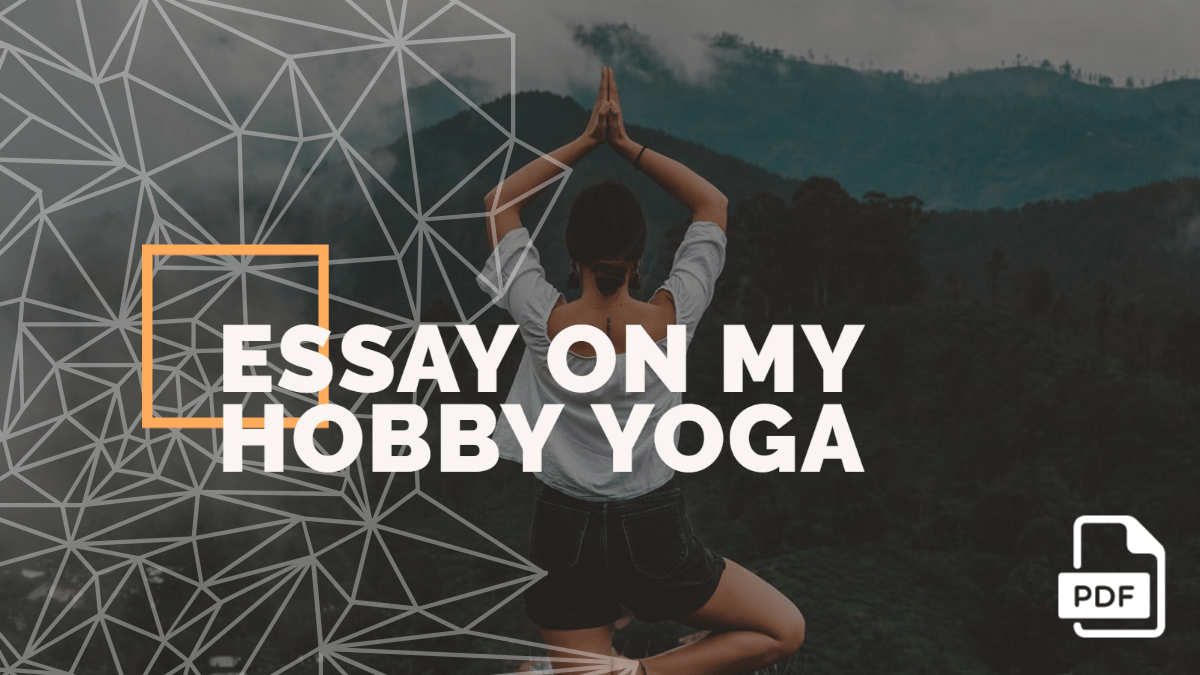 Yoga is the key to maintain health by having a relaxed mind and body. It has been brought out by several old sages of India to help the people in keeping their body fit. Yoga has been my hobby since it comes with various benefits and healing powers to deliver peace to mind and soul spiritually.
During my school days, my physical education teacher used to tell us various improvements and health benefits from Yoga. Apart from this, it also strives to elevate the metabolism of our body and helps in the improvement of strengthening muscles, forming flexibility in bones and posture of your body. It helps in the improvement of the concentrating ability of a child's mind.
In today's modern world, the life of human beings has become complicated over the passing years and generations too. Yoga exercise is the only solution for a healthy body, especially for youths.
Many yoga poses help the youths in the reduction of the peer pressure they face in their life. In the morning they are rushed to the school or college, do their assignments, perform extra-curricular activities, participate in competitions and sports too.
However, Yoga activity could inspire them to activate their bodies and have creative imaginations. The activity of breathing, to inhale and exhale helps them to understand the vital importance of proper breathing and fills them with strength and boosting energy in their body.
The combo activity of breathing and yoga poses is a boon for their body and the safest way for the kids to explore themselves and also to receive calmness.
Yoga, for me, is not something like an educational agenda but to fight with stress and reduce the pressure in order to enjoy each and every moment. Yoga helps me in reduction of my stress as it affects how I would interact with each and every individual present near me or in my surroundings otherwise it could create a great impact on my learning and mental abilities with my health and well-being.
The introduction of yoga in my life was like a proper exercise, which was indifferent to the traditional one. As, slowly and gradually I started knowing about the plethora of body poses of yoga in which, I may become a particular natural thing or an animal it became more and more interesting for me as each session passed over with the development of my creative imagination, in order to give attention and concentrate on essential things.
My hobby yoga is beneficial at various levels with no stress and pressure to accelerate towards the balancing of the body, controlling the mind, coordinating with people, building confidence, enhancement of motor skills, maintaining emotional stability, proper breath control, building self-esteem, flexible body, elevating focus and toning of muscles and senses.
The poses of yoga could be seen to have quite a similarity with gymnastics as it teaches us various ways of learning how the body works and feels the pain and stress in performing each different Yoga position.
I have been once to Yoga session where it starts with a warm-up exercise. In this, I had various stretches and asanas to make the bones more strong for performing vigorous activities of stretching the spine, core, and limbs. Then, standing poses to build muscle strength and maintain the proper balance of the body with arms pulling towards the head else bend to the waist.
It helps in weight loss and reduction of cardiac problems too. Next, sitting poses prepares the body to give attention to the breathing part. The stretching of hips and legs with multiple yoga asanas to adopt the body skills. The last one is twist pose for the framework of the spine as we do spine stretching in being seated posture that helps in the flexibility of the spine and reduces the backache. It helps in the stimulation of blood circulation in our body.
Hence, Yoga as a hobby has proved to be the best source of activity for me to deliver the calmness to my soul and provide every benefit to my mind with the reduction in stress in order to enhance my concentration power and focus on the much better things with Yoga asanas.
---
Don't forget to share your thoughts on the comment section.
Read More

Essay on My Hobby Calligraphy
Essay on My Favorite Hobby is Painting
Essay on My Hobby is Playing Badminton
Essay on My Hobby is Playing Kabaddi
Essay on My Hobby is Playing Badminton