So you love painting right? great, in today's essay presentation we are covering an essay topic on my favourite hobby is painting, just for you. I hope you like it!
This Essay is Formatted For Class 4 | Class 5 | Class 6 | Class 7 | Class 8 | Class 9 | Class 10 | Class 11 | Class 12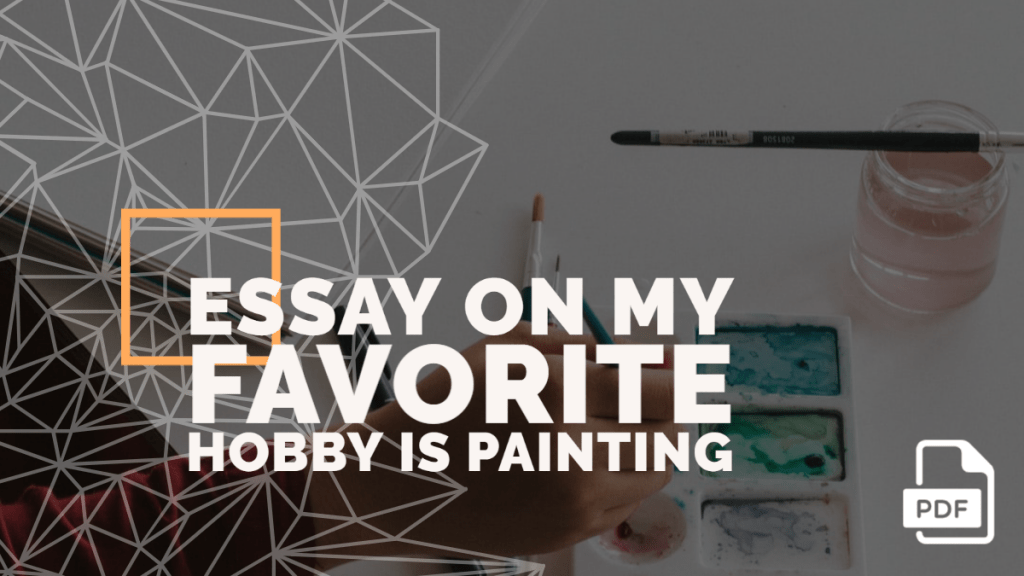 Painting has been a hobby I have embraced for quite some time. Ever since I took the paintbrush and just crafted something on paper, I have never looked back on it. Painting has been a hobby that gives me joy because I can draw my imaginations into an art piece and make the best out of it.
In my own free time, I find peace in painting and looking back to how I spend my leisure, and it has undoubtedly been worth it. My paintings have been quite inspiring to my friends and me as they are mostly of issues in life. Once I sat down and set my mind on a painting, I tend to get into the brush itself and paint just as how I view the inspiration.
As people look for hobbies to engage in, there are certain benefits they look forward to reaping in it. Painting as a hobby has been a great way to relax. In life, I encounter challenges and various stumbling blocks.
I look for my escape in painting so that I can breathe and think about my issues in my own space. When I get challenges instead of overthinking, I tend to draw my energy into painting because the brush has a vibe with me.
I can breathe and paint, and after crafting my art, I feel at peace and relax because I put my focus and think peacefully about the matter. My friends have seen me paint when I am having issues, and they tend to note the tone of my painting reflects my mood because I paint based on issues of life.
Through hard work and the fact that I have learned the skill in painting my confidence has certainly improved. I have often showcased my work to those close to me and several exhibitions, not for sale but for the exchange of compliments.
Through the applaud of the excellent work I get in this hobby, my confidence in handling issues has undoubtedly improved.
Fear of being not good at things has indeed escaped my mind because I see myself worthy of handling matters since I realized that I am a good painter, yet it's just a hobby I embraced over the years as I was looking for sound therapy.
Getting positive, positive vibes and acknowledgement have indeed built and moulded me to perfect my craft in painting and life.
Painting requires you to be open-minded about how you will go about crafting the perfect art piece. It has undoubtedly helped me be open about how I view my imagination so that I can paint and make the best in my paintings.
I do not articulate my mind on how the painting is supposed to be, but instead, just let my brush and my hand drive and inspire the painting.
In life, this has enabled me to have an open mind on handling issues and become a listener, just like how I listen to my brush. It has helped me become more of a listener and not a complainer on matters.
I have been able to reason with others just like how I can now correctly reason as I paint to make the right curves with my brush. I do not fix myself in because I am not perfect but instead listen and have an open mind to accommodate the thoughts of others.
Painting has enabled me to open up my mind and accommodate other inspirations as I also draw other masterpieces to paint perfectly.
While painting, I have come to appreciate various cultures and diversities of life. As I paint, I can include multiple cultures and ways of life through which people have lived and understand the difference between them and me.
I have learned quite a lot through various pieces of paint canvases as people paint in themes of life which have been my focus. It has enabled me to relate well with people as I understand them better through painting and getting to know their ways and reasons behind their cultures.
---
How was the essay on my favourite hobby is painting? Please share your thoughts on the comment section.