I had seen there are several people love handwritten documents they preferred that too much, in that contrary in this essay presentation we are going to cover an essay on Calligraphy!
This Essay is Formatted For Class 5 | Class 6 | Class 7 | Class 8 | Class 9 | Class 10 | Class 11 | Class 12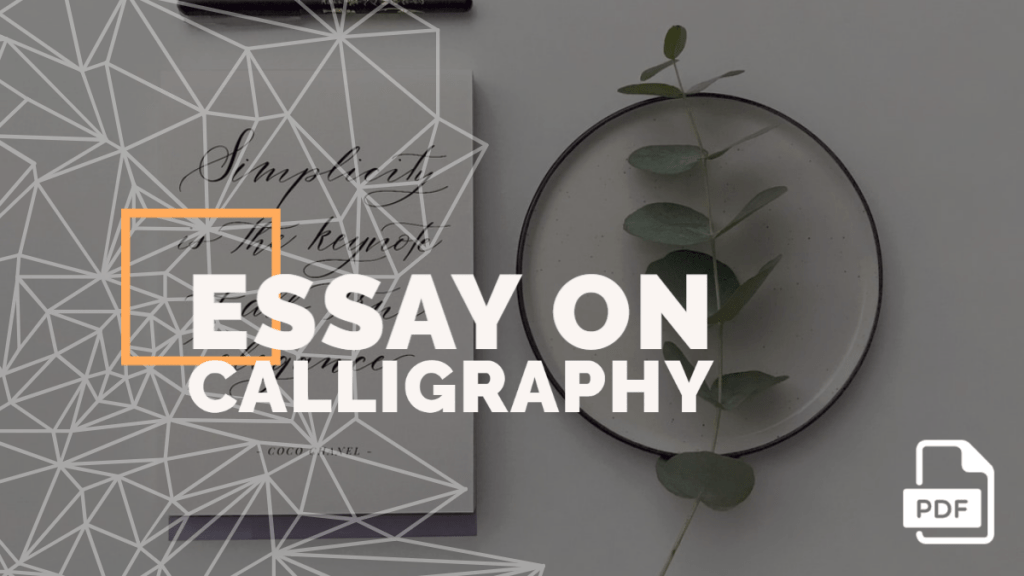 In modern days when digital fonts have occupied most of the reading materials on our screens – the art of calligraphy has somehow lost its glory and lustre with time.
But the use of calligraphy is still prevailing, and many bloggers use the concept of brush lettering, boutique businesses to give the organic and handmade touch to their lines. I stumbled upon remarkable penmanship in my grandfather's old letters inside some dusty drawers from my childhood.
Then I started my journey of finding fountain pens, brushes, inks, and handmade papers – instruments which means a world to anyone practising calligraphy. It is like a forgotten art composition which held great value in past times when most of the books, prints were handwritten.
Many calligraphers are working in many print shops to compose handwritten books and novels priced by sellers according to their beauty. Illustrators produce even now handwritten books, but the numbers have far reduced.
They are a sight to see and behold: the pages are filled with painstakingly made illustrations and golden letters will make any art appraiser's heart flutter.
It may not seem very interesting to uptake calligraphy as a hobby, but there are many reasons which make it my favourite past time hobby. We generally write in cursive to increase our speed, but if we hold some patience and take probably one more moment to write a section – it will turn into a much more clear hand lettering.
Hand lettering and longhand writing are technically different. There are many specifications like different turns and angles that are used to draw out a letter which makes it a hand lettering. In my case, calligraphy gives me peace of mind and feeling of content on seeing the final written script.
I believe there are many other pros to it. It is like a window to a world of exquisite fountain pens, Chinese brush and ink. Moreover, you can always be extra to express your gratitude to someone by a thank you note, which is handwritten in excellent calligraphy.
Or provably impress your friends with a note or memo. On the occasions of celebrations, festivities or birthdays you get to gift them the best greetings cards.
Another plus point is that, you can write school projects and assignments, headings beautifully, and you also get to exhibit your skills. And you can always boast about your elegant writing any other day on social media.
Calligraphy has many scripts, and it's not necessary to be an improvised cursive one. Many other forms of handwriting styles exist which uses paintbrushes and have a different aesthetic feeling. People also prefer many grunge styles.
People nowadays starting to maintain bullet journals and calligraphy skills make it all the more worthwhile. Not only calligraphy is unique but it also enhances the creativity quotient and artistic side of an individual.
Learning calligraphy does not have any age limitation; one can start imbibing it anytime. Research shows that calligraphy as skill increases one's self-esteem and generates a reward circuit in our brains. What more is an escape from all the digital world and technology to a setting which is medieval and satisfying.
For starters, one only needs good quality papers and if possible handmade sheets are going to be an excellent choice for this experience. Next comes the tool of calligraphy which I would love to discuss in detail and finally the color of ink.
Alright, one more thing is a guide book which can be some calligraphy book, your own creative style or a simple google search and lots of time to spend on. And then yes you are equipped to start.
Let's discuss the instrument for the calligraphy. It can be any fountain pen which is chisel-shaped or fine-pointed or thick ones whichever you prefer. Or brushes; one can choose the wooden animal hair paintbrushes or brush pens readily available in stationery shops.
Or you can be more explorative and go for novelty like glass pens. Following is the ink from regular blue-black to fancy silver or gold-colored can be found in shops and online stores too. There are options like washable ink to permanent non-smudge ones also.
All in all, there are endless possibilities in something so ancient practice, which I like to say as my hobby – Calligraphy.
---
I hope you like the essay on Calligraphy. Please let me know your thoughts in the comment section.
READ MORE FROM US

Essay on My Hobby is Playing Badminton
Essay on My Hobby is Playing Kabaddi
Essay on My Hobby is Playing Badminton