Hello readers, today this essay presentation is on how I celebrated my birthday. A birthday is the most exciting day of everyone's life, a special day which is your own. So let's dive into today's essay on My Birthday Celebration.
This Essay is Formatted For Class 5 | Class 6 | Class 7 | Class 8 | Class 9 | Class 10 | Class 11 | Class 12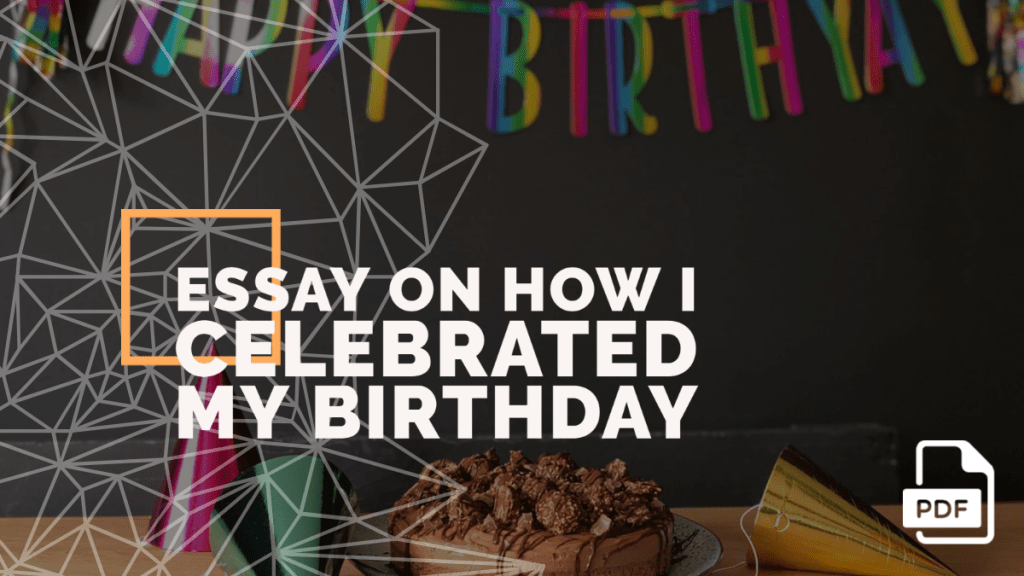 What can be the most exciting and favorite day of my life than my birthday? I have celebrated my birthday last week on Saturday. I invited all my friends and dear ones at my place.
I have been really excited about my birthday last month. My relatives were also there to celebrate my birthday with me. As it was the day of the weekend hence my grandmother arranged a small pooja where my relatives and neighbours came to bless me for a better future.
I was really happy as I got so many wishes and blessings. Then after the pooja was over, I and my mother went shopping for buying me a gift. My father joined up for shopping too.
I got a really pretty dress as a present for my birthday. I wore the same dress for my birthday party. As the shopping was over I came back to my house and found that the house was decorated by my brother with balloons and frills all along. I also found that there was nobody in the hall.
As I entered the house and my parents were busy getting other gifts from the car. As soon as I stepped into the house, all my friends, family members, and relatives jumped out and wish me "Happy Birthday". I was really shocked but then surprised by the same that happened.
My parents came along and kissed me on my forehead. I was in tears as I was really happy and overwhelmed. I feel they have done everything to make my birthday the most memorable one. Being it my 10th birthday, I got ten different small and big gifts from my parents.
As everyone was enjoying in the hall I went upstairs and got dressed in the same dress my parents gifted to me. I came downstairs to enjoy the party. As soon as I reached downstairs I saw my school friends waiting for me.
I played with them for a while and then my father came up with the cake. The cake was very beautiful as it was my favorite flavor. I like chocolate truffle the most and my dad always takes care of my wishes.
He put the cake on the table and everybody exclaimed that it is so beautiful. Delighted by the site, I saw that the cake was two-storey and that is what I was planning for so long.
I hugged my dad and then I proceeded further. Everyone was cheering me up for the birthday as I blew the candle and cut the cake. The taste of the cake was really delicious.
After I cut the cake I gave it to all the loved ones by myself. Everyone gave me the gifts that they have brought for me. I was really happy about receiving all the gifts and blessings.
My parents also have surprised something else too; as everybody was enjoying the great party my brother who is 2 years older than me recited a poem for me. That was really cute and simple. That melted my heart and I felt that I am the luckiest girl on this planet.
I ate and then enjoyed dancing and playing with my friends and brother. We danced a lot for a lot of time. I still remember how we all were celebrating my birthday with so much excitement. Then the food was served and everyone ate it happily.
I also ate noodles and pizzas as they are of my most liking. Everybody seemed happy. All my friends played with me and my cousins like musical chairs, hide and seek, Jaenga were some games that we played. The winner got some return gifts too.
That time was really fun and everybody enjoyed it a lot. I also received calls from all the people and relatives who couldn't show up at the party. They were also really happy for me. My best friend, Kavya also sang a song for me that showed that she considers me the best of friends.
She has been with me since my childhood. When everybody has enjoyed themselves completely, then all my friends and relatives started to go as it was really late. Everybody departed by giving me good luck and prosperity for my studies and life.
Then I helped everyone in winding up the mess. As we all were free and changed for our night suits, I asked my grandmother to unpack the birthday gifts. I was really excited about that part of the day. As soon as mom and dad bring gifts to my room I started opening them.
I was surprised that I got such lovely, precious, and great gifts or my birthday. I got an amazing wristwatch from my grandmother and my brother gifted me a diary which had such a beautiful cover. I was very happy seeing such gifts.
My friends gave me really nice gifts as there were stuff toys, books, crayons, paint colours, photo frames and several dresses for me. I liked all the gifts a lot. But one I received from my family will always be the most special to me. I celebrated my 10th birthday with a lot of surprises and gifts. My birthday was really memorable and I hope I celebrate many more birthdays like this.
---
Tadaa! loved this composition on How I celebrated My birthday? Let us know by commenting below. Each feedback matter for us!
Wait! If you are looking for someone for paper writing help, feel free to pay experts from WriteMyPaperHub.com to write your essays on any personal topics you need.