Hello Readers, Today we are going to present an essay on my favourite hobby is playing the violin, so let dive into the essay!
 This Essay is Formatted For Class 5 | Class 6 | Claas 7 | Class 8 | Class 9 | Class 10 | Class 11 | Class 12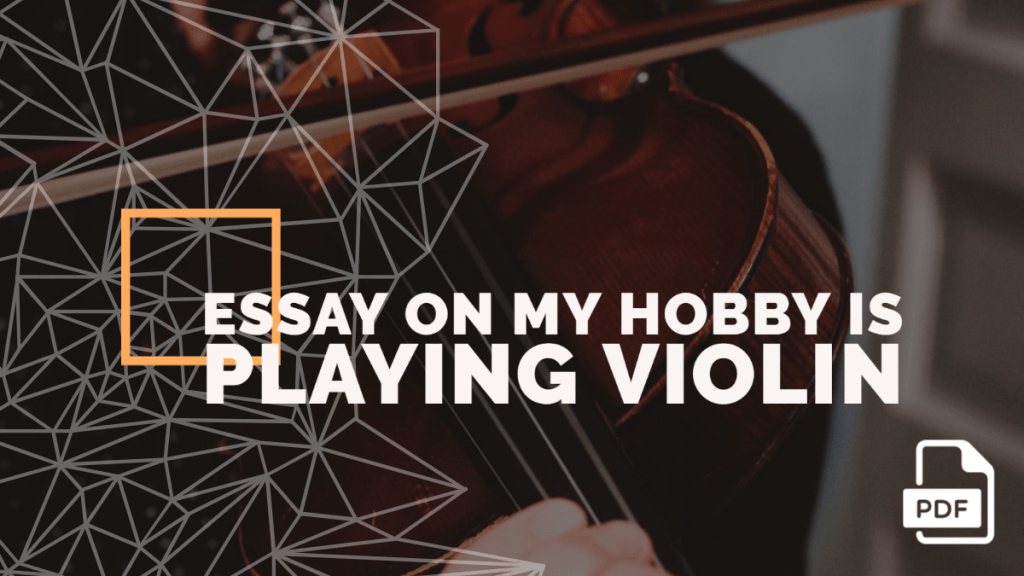 Playing the violin is one of the most rewarding experiences you can encounter as a human being. Violin music can ease the mind and can turn into a great hobby for people of all ages.

I realized this when I was in class 4th while listening to the Singapore symphony orchestra on T.V. with my mother. The sound of the Violin was so soothing and relaxing that I instantly fell in love with the violin. I insisted my mother put me in some violin learning classes and to buy me a violin.
The next day itself I and my mom went to a music store to buy a beginner's violin for me.
The person in the shop gave us all the necessary items that are usually bought along with the violin.
A violin case and the shoulder rest, the case protects the violin when you are not playing it whilst the shoulder rest is mandatory for beginners so that we do not hurt our shoulders.
The next requisite thing was to find me a suitable teacher, my mom found one guide who stayed in our vicinity. She took me to him and got me enrolled in his classes. He used to teach twice a week, and the little musician in me was always ready and excited to go to his classes even after the tiring day in my school.
The first thing George sir said: "Playing the violin is not as hard as you might think. The most important thing is having the right teacher to make sure you are doing everything correctly, for which I am there. Gripping the bow correctly is a key element to starting. Making sure your little finger is at the bottom of the bow, and having your thumb curved is quite important."
Make sure your hand is placed at the nut of the violin so that your violin does not go out of tune.
Then my classes started, and to my astonishment, I was able to do quite well. Playing tunes with proper toning and pitching was not a hard task for me anymore.
Soon my liking for playing the violin grown to become my hobby. I started to work on my hobby, to make it better and better. I made sure that I practice playing the violin every day.
I will share my daily routine for those who too want to inculcate any hobby. My day starts at 6:00 AM, I get ready by 6:45 AM and then leave for school by 7:00 AM.
In my school, I joined the school choir so that I can play the violin in school too. I come back by 3:00 PM. Every Wednesday and Friday, I have my violin class. I have reached an intermediate level now.
I started learning the violin when I was in class 4th and now I am in class 7th. Its been three years since when I am learning the violin. There has been no day when I did not practice the violin.
I can play my tunes now and easily copy some old Bollywood song covers with my violin.
Violin playing not only makes you a level more talented but at the same time also reduces mental and physical stress. It helps you to develop control of your arm muscles. If you play violin daily, you tend to tone up your shoulder and arm muscles.
My mom gifted me a CD on Beethoven's music and the enthusiast violinist in me tried to copy all his tunes. I was able to copy some but for the rest, I took the help of my sir. He helped me with the rest of the tunes.
Now, I play in various school events, and small colony events and people have started calling me 'THE LITTLE BEETHOVEN'.
---
I hope you like the essay on my favorite hobby is playing the violin. See you in any other essay, till then bye, have a great time ahead!
Read More

Essay on My Hobby Sketching
Essay on My Hobby Yoga
Essay on My Hobby Calligraphy
Essay on My Favorite Hobby is Painting
Essay on My Hobby is Playing Badminton
Essay on My Hobby Karate
Essay on My Hobby is Playing Kabaddi