A Zoo is a short form of Zoological garden, where various wild animals along with different creatures are displayed to the public. Today in this write-up we are going to see an essay on a visit to a Zoo, so let's dive into the essay!
This Essay is Formatted For Class 2 | Class 3 | Class 4 | Class 5 | Class 6 | Class 7 | Class 8 | Class 9 | Class 10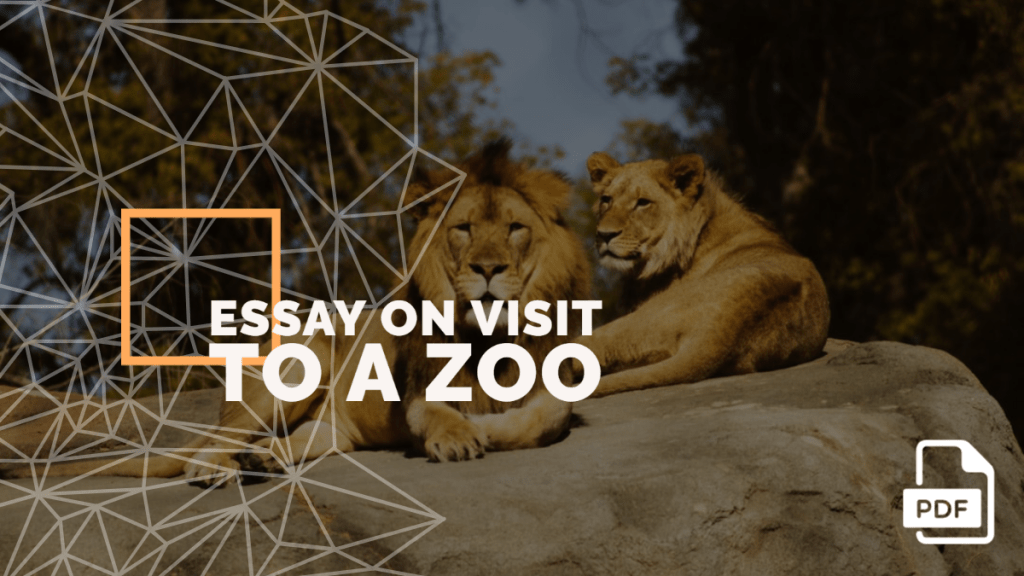 A zoo is a place of adventure to explore where you would get to see a variety of plants and animals. The animals are kept in their cages so that they could not harm the public including children especially. It is a fun place to go with your friends and family too.
It was once I visited a zoo when I was a kid. During the summer holidays, every family makes a plan for visiting a zoo so that their children could get refreshing air and happily enjoy the adventure to watch the animals. I am lucky that my family took me to the zoo. After we reached there at the entrance of the zoo, there was a ticket counter for buying the tickets.
There was a small box fixed with the counter to store the items. I was so delighted to see all the things at the zoo. It was filled with trees all round to provide fresh air to animals and oxygen to every person. I saw many types of creatures from birds to the lion to the reptiles are found in the zoo. I had so much enjoyment when I had gone there.
There I had watched all the animals and heard the sweet sound of birds and the lion's roaring too. I saw many birds and they were looking very beautiful that were ostriches, sparrows, peacocks, pigeons, nightingale, crane, kingfisher that were having so pretty feathers. Peacock has its colorful feathers and it dances too.
Various animals are found here with natural habitat. The monkeys are naughty as they jump and climb from one tree to another. They perform various tricks and they make funny faces and children imitate them as what they do. Other animals like rhinoceros, tiger, wild bear, deer, and giraffes were also there. They were kept in big cages.
I had gone for boat riding with my father and took a ride of elephants too. There were so many trees so they provide shade so that people can sit under the tree. I sat with my mother and father and enjoy tasty sandwiches and drank water.
I saw many other children who were playing. They were swinging on a see-saw and playing ice and spy, and running everywhere. There, I saw a pond having ducks and swam swimming. There were many golden and varieties of fishes.
I had explored and was happy once I visited there. I got aware of animals and learned to share their love with animals. I was said by the person taking not to harm them or make their fun.
I had learned new things about animals, their names and in which environment they live and what they eat. There was a board with writing that, "Children keep their distance from the animals" because of a roar of a lion or noise made by any other animal could scare them badly.
The zoo was covered with many nice things on a large piece of land for fitting the big-sized and small-sized animals wherever needed. I was happy to see the families who came with their cell phones and opened the camera to click the photos with their children playing and having full fun.
After leaving the zoo, I came outside the zoo, with my family I saw there were so many small shops to buy the food to eat in case you do not take your lunch with yourself. Various thela walas were selling bhelpuri, chaat, pani puri, fast food, ice creams, samosa and much more for everyone.
The price of the food was low cost. Many people were standing near the toys stall separately for the children to buy and also the near to it was the departmental store for buying a bottle of mineral water or cold drinks to end the thirst.
There were many animals brought in the zoo from the outside world. They were adored nicely and looked after with great care. They were looking after them and feeding them properly with high nutritional food. Lastly, I was so much tired after having an adventure, playing and having a boat and elephant ride. I got back home with my parents for taking rest.
---
I hope you liked this essay on a visit to a zoo. Also, do comment down your thoughts regarding this essay, and don't forget to share it on your favourite social media platform.
Read More

Essay on a Visit to Circus
Essay on Visit to Science Exhibition
Essay on Visit to Dussehra Fair