Book reading is one of the most prevalent hobbies among children. That's why this topic has a certain reputation to come in as an essay writing topic in various types of examinations. But I have noticed that students of different classes face a few issues while writing essays on this very topic. Therefore I have decided to come up with a session explaining the very method of writing an essay on my hobby reading book most specifically for the students from class 6 to 9.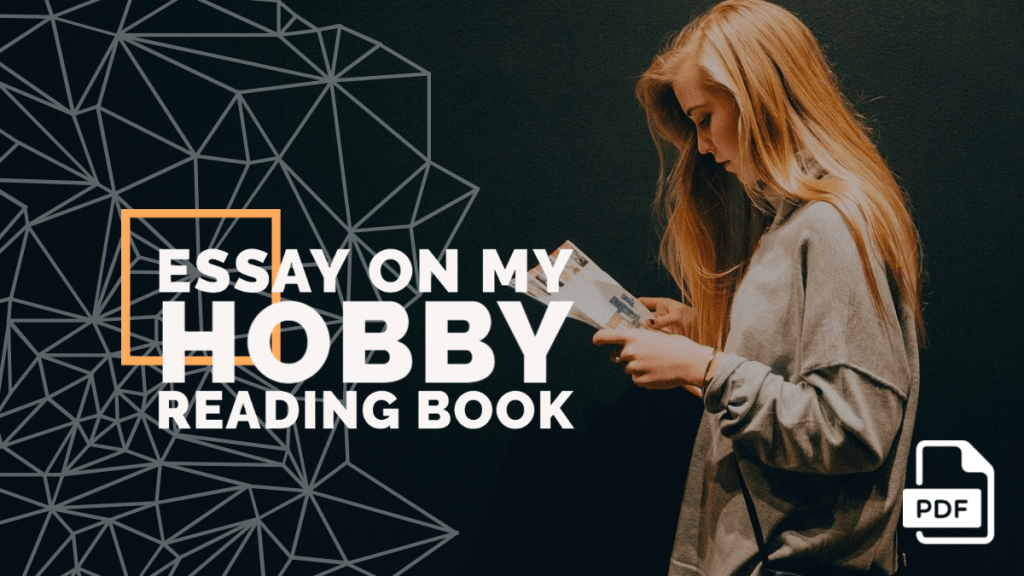 Essay on My Hobby Reading Book within 100 Words
My Hobby Reading Book
All my school friends have chosen something as their hobby while promoted to high school from the primary standard. I also chose book reading as my hobby. I love to read different kinds of books since my early childhood. I still remember that my mother used to tell me stories at night when I was a child.
Probably my passion for reading storybooks got developed from that time. I prefer reading detective as well as ghost stories. One of my teachers has asked me to read travel stories by Bibhutibhushan Bandyopadhyay. I have read the book Chander Pahar written by him. The character Shankar from the novel Chander Pahar has become very close to my heart.
Essay on My Hobby Reading Book within 200 Words
My Hobby Reading Book
Everybody in their life pursues something as a hobby. A hobby is something that any person is passionate about. People spend their leisure time pursuing a hobby. Like other people, I have chosen reading books as my hobby. This hobby of mine is not about reading regular academic books. Rather I love to read books on different topics and incidents happening all around the world.
Especially, I love to read books on real travel stories as well as adventures. My habit of reading books developed since I was a child. We had no television or mobile phone in our house but a lot of books. I used to read from them whatever I wanted to. Most of those I hardly understood. I still remember those days when my father used to buy me monthly child magazines like Anandamela and Suktara.
I still love reading comics from those magazines. My favorite comics are Tintin, Chacha Chowdhury as well as Nonte-Fonte. I have recently read a book named Aranyak written by Bibhutibhushan Bandyopadhyay. It is all about the life experience of the author in a remote rural location of India. In this book, the description of nature is so vivid that any passionate reader will get lost in an amazing experience. All my teachers as well as my parents appreciate this hobby.
Essay on My Hobby Reading Book within 300 Words
My Hobby Reading Book
A hobby is something that a person pursues to take a break from the same monotonous regular routine. That's why everyone chooses something as a hobby that they love. Because as wise men say that love can be the ultimate motivation to do something.
So, we all need to choose something as our hobby that we are passionate about. Without passion, all our efforts to do something creative go into the vein. Our hobbies necessarily can enrich us both physically and mentally. That's why my father says that hobbies are needed to be chosen wisely and very carefully for proper utilization of both time and effort.
Hobbies can be of many different types. Many of my classmates have chosen singing, gardening, painting as their hobbies. My best friend Piyush chose stamps collection as his hobby. These all hobbies bring refreshment to them. Like my friends, I have also chosen reading books as my hobby. I enjoy my hobby the most.
I love to read about everything no matter what topic it is. Since my early childhood, I developed a passion for reading. My parents used to gift me so many books since then. Every year, I go to the Kolkata International Book Fair with my parents. Moreover, After getting promoted to high school from primary, I got exclusive student access to my school library.
Nowadays, I borrow more books from the library than buying them. Not only the school library but my father has also helped me to get a membership of the district library Khardah.
I love reading all kinds of books. But especially I am passionate about reading historical fiction. For this reason, Bengali writer Sharadindu Bandyopadhyay is one of my most favorite writers. Besides these, I also love to read adventure fiction as well as mythologies.
Essay on My Hobby Reading Book within 500 Words
My Hobby Reading Book
What is a hobby? What a person should choose as a hobby? Before going deep into the discussion of my hobby, let's talk about the hobby itself. A hobby is something that people do especially in their leisure time mostly for enjoyment. We do not expect to get paid for our hobbies.
These are some habits that come from inside us due to our natural internal tendency as well as passion. Hobbies include a wide range of activities. It can be collecting something like coins or stamps or leaves, fine arts activities like painting, dancing, Creative works like gardening, writing poetry, etc. Or it can simply be reading books, like what I have chosen as my hobby of life.
At the very beginning, I want to say that I literally admire my hobby, and one of my playschool teachers inspired me to fall in love with reading books when I was at my very early age. I still remember she used to bring me many kinds of colorful interesting books full of amazing stories as well as pictures.
At that age, I fond of those kinds of books. Later on, I came to know that those books are known as comics. I have read so many comics since my early childhood. Tintin, Phantom, Dennis the Menace, Hada Bhoda, Nonte-Phonte is a few among them. My parents always appreciate my hobby of reading books. For me, reading any book is the way of my utmost relaxation.
When I get tremendously bored of my regular monotonous life, at that point my storybooks help me to travel in some dream location being a part of some exciting adventure of imagination. After going to high school, I got exclusive access to my school's students' library and a different world opened there for me. From then, I borrow books so many kinds of books from my school library and read them thoroughly.
Here, I would like to mention my school librarian sir Mr. Paresh Pathak who helps me to choose the proper book according to my age and reading tendency. From my school library, I have read many works of great authors like Guru Rabindranath Tagore, Sharadindu Bandyopadhyay, Satyajit Ray, and many more.
Recently, I have developed a special interest in magic realism. Very recently, I was reading a work of the great Nobel laureate Gabriel Garcia Marquez. The name of the book is very famous One Hundred Years of Solitude. It is an amazing work that led me to a different fantasy world along with the dark humorous touch of eternal truth.
I've also read some works of Franz Kafka. His famous work The Metamorphosis will be very close to my heart always. For these also all credit goes my school librarian sir. He first suggested me to read something unconventional out of the box.
I got the first book of Gabriel Garcia Marquez from him. Moreover, I learned about magic realism from him as well. I believe that no matter what happens with human beings, but books, stories, and realization are eternal. They will never abandon me in my entire life.
---
That was all about essay writing on my hobby reading books. Here in the session, I have tried to write some essays on the very topic following every method and all possible perspectives. Moreover, I have also tried to write them for students of different classes. Besides, I maintained the word limit relevant for various examinations.
Hope you found this session helpful as per your requirement. Let us know your valuable opinion as well as suggestions for this session in the comment section below. Thank you; see you again very soon.