School's science exhibition always meant to be excitement. We need to work on different projects then a single best project wins the title. In today's essay presentation, we are going to cover an essay on a science exhibition which is held in my school, so let's dive into the essay!
This Essay is Formatted For Class 5 | Class 6 | Class 7 | Class 8 | Class 9 | Class 10 | Class 11 | Class 12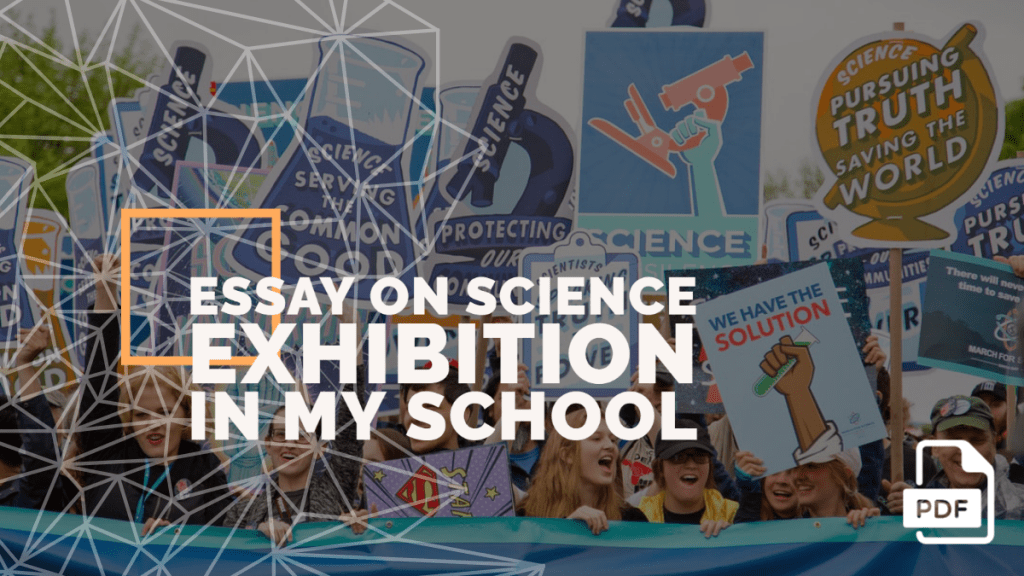 Every year, our school organises our annual Einstein science exhibition. At the exhibition, all of us present our projects which are later judged and win prizes from the chief guest.
Every year the exhibition is divided into different categories and classes are allotted topics to make projects on. For this year the categories were natural disasters, energy, flora & fauna and pollution.
My class got allotted as the team for energy. Our science teacher also selected some of us as her special volunteers and leaders and I was lucky to get selected as my class leader for the special day.
For this year, me and my friends made quite a number of projects. We discussed for a long time and then decided to showcase a model of how the process of solar-powered cell systems work as according to our research, many are still unaware and uneducated about it. So with the help of our parents and the guidance of our teachers, we started putting together our project.
According to our plan, we would be showing a miniature and realistic type of set up of a model townhouse where solar-powered panels are used to generate power and electricity for twenty-four hours of the day.
So we brainstormed and came up with our plan and basic structure. We used thermocol and Styrofoam sheets to build our house and paint it with acrylic colours. After painting we had applied a layer of varnish to the paints to make them waterproof and so that it lasts for a much longer time.
Next, we used a small piece of cardboard and thick material of carton boxes to create our solar panel and then we stuck thin sheets of fine reflective film sheets on top to replicate solar panels.
After the solar panel dried, we stuck it at the top of the model house as according to our research and knowledge, that was the best spot to absorb maximum solar rays that would help generate sunshine.
Once our solar panel got placed on the building, we started making other accessories that were placed around our house to make it look more realistic. So we used a mix of clay and plastic to create lots of green trees and tiny pebbles of various shades and sizes. Once ready, we placed them around the house and carved a depression into the cardboard.
We covered the area with some clear cling wrap and then painted them plastic blue in colour. After that, we filled it up with some clear long-lasting glue and that is how we created our artificial lake alongside our house.
Once we placed it all in the appropriate places, we painted the rest of them cardboard à mix of green and brown to replicate grass and soil in the city. We also made two small dustbins out of clay and set them near the house to show the importance of recycling bins.
Once we had finished designing and placing our model, we started writing down all of our important information in small placards the size of cue cards. To each of these, we taped a toothpick to the back and then stuck them around the model, explaining the entire process step by step for an easier learning experience.
Once we were done with this assignment, we realised we still had a lot of time to make more projects. So with the help of my friends and teammates, we also created a clay volcano which would erupt. Inside the clay structure, we had placed a bottle with vinegar, dish soap, water and red colour synthetic food dye.
Then when we had to showcase our project, we added a mixture of baking soda and water into the bottle and stirred it a bit. Within seconds, our artificial volcano erupted and it looked so real even our judges were very impressed.
Overall, the Einstein science exhibition was a great opportunity and learning experience for both me and all my friends and classmates. Each project was made with hard work and they were so creative and realistic to look at.
Thanks to the exhibition, we all learned a whole lot of new things about science that we would have never studied from my class textbooks and notes.
---
So how was this essay on Science Exhibition in My School, I hope you liked it, do share your thoughts in the comment sections, and do not forget to share this essay with your friends.
Read More

Essay on Describe a Science Fair You Have Visited
Essay on Visit to a Science Exhibition