Hello readers, today our essay presentation is on an interesting topic that is Kolkata Book Fair. It is one of India's largest book fair, where thousands of publishers came to show their piece of content. So now without wasting your more time let's describe the Essay on Kolkata Book Fair.
This Essay is Formatted For Class 4 | Class 5 | Class 6 | Class 7 | Class 8 | Class 9 | Class 10 | Class 11 | Class 12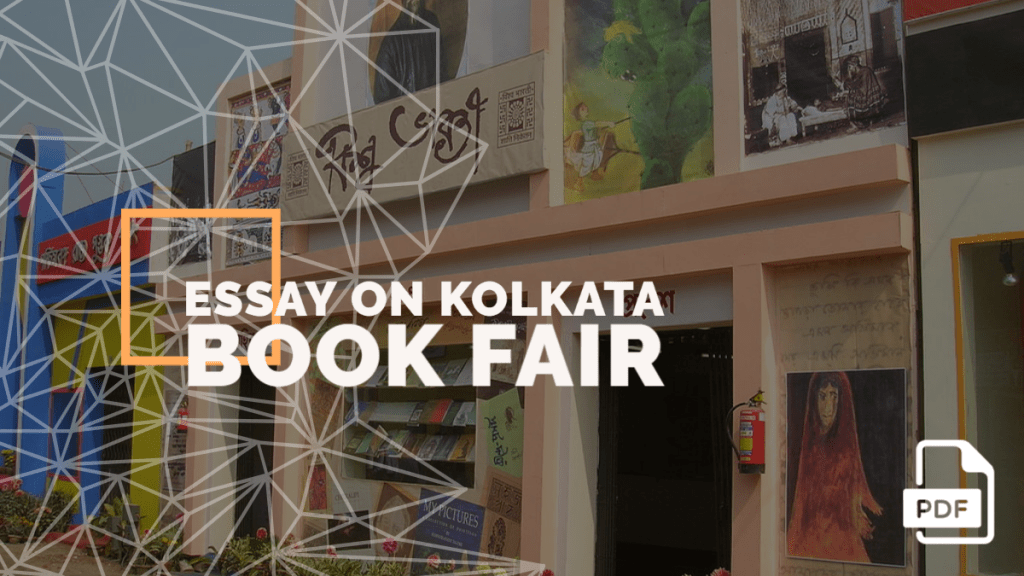 Reading is one of the best hobbies for young children and students, and it is very helpful to create a bright future. Reading books bring together like-minded people, and we share our thoughts about the book that we read.
Also, everyone has a different choice about reading books – some people like to read historical stories, some like to read stories about science, some people love to read short stories and poetry, etc.
Sometimes, we are not able to find our favorite book or type of book in one book shop, and we have to search for it everywhere. To solve this problem and bring together all authors, publishers, and book-lovers, many 'Book Fairs' are organized every year.
In India also, many book fairs are organized every year, but the most famous book fair is the 'Kolkata Book Fair'. It takes place in the city of Kolkata, West Bengal.
It has a long history of more than 40 years. It mostly coincides with the Hindu festival of 'Saraswati Pooja', when the Hindu people pray to the Goddess of knowledge and learning.
The Kolkata Book Fair takes place during the first week of February every year, and it is almost a week-long event. But as it is a very popular book fair, it is also extended for more than 7 years.
The Kolkata Book Fair takes place in winter. It is Asia's largest book fair, and one of the largest book fairs in the world. It was started in the year 1976 by the Kolkata Publishers and Booksellers Guild, and it is being organized since then.
It is known as 'Antarjatik Kolkata Boimela' in Bengali. The Kolkata Book Fair 2020 was the 44th Book Fair, and every year they have a different theme for the fair. This theme is about some country, and then the famous books from that country are kept for the book fair.
The theme for this year was 'Russia'. So, many books from Russian writers were kept for exhibition in this year's book fair.
Lakhs of people visit the Kolkata Book Fair every year. The number of visitors is always increasing. Visitors include young children, school and college students, their parents, working people, adults, and old age people too.
The place or the venue of the book fair was changed many times – now it is organized at Central Park Mela Ground. Salt Lake, Kolkata. Every year, some important person in the society is invited for the inauguration of the book fair.
In the last 44 years, many important people have inaugurated and visited the book fair and increased its importance. The book fair of 2020 was inaugurated by Ms. Mamata Banerjee, the Chief Minister of West Bengal.
The book fair has a large number of bookstalls – it has bookstalls of various authors, various publishers, newspapers, magazines, and others. All types of books can be found here.
The timing is of 8 to 9 hours every day, and thousands of people from Kolkata, West Bengal, India, and also from outside of India come and visit the Kolkata Book Fair.
The bookstall of 'Shantiniketan' is very famous and loved by all. People come here to look for all the bookstalls, find their favorite books, and buy them.
Various institutes, schools and universities, newspaper teams, museums, research institutes take part in this book fair, and thus it is one of the most important and largest book fairs in India.
Apart from the book fair, many interesting programs like singing, dancing, acts, speeches are organized. The food stalls in the book fair are also very famous. Many writers publish their books in the fair, so they get a lot of readers. People of Kolkata consider this book fair as a very important part of their life.
However, there are some problems. Because a large number of people visit this book fair every year, it is difficult to manage the crowd. The problem of pollution in Kolkata is also increasing, and the place of book fair needs to be changed after some years.
But people don't want that. Though there are many problems, the Government of West Bengal tries to solve them, and those who love the book fair also keep trying to solve all the problems related to the book fair.
Books and book fairs are an important part of our life. Kolkata Book Fair shows the importance of books, and how much people love it. Book Fairs like the famous Kolkata Book Fair should be organized more, and more and more people should visit such fairs, to know about the valuable treasure of books.
---
So how was this essay on Kolkata book fair? I hope you liked this presentation. And also don't forget to share your thoughts in the comment section.