Science fair is love, here we can see a variety of things, and the reason behind their working. Today in this essay paper we are going to present an essay on visit to a science fair.
This Essay is Formatted For Class 5 | Class 6 | Class 7 | Class 8 | Class 9 | Class 10 | Class 11 | Class 12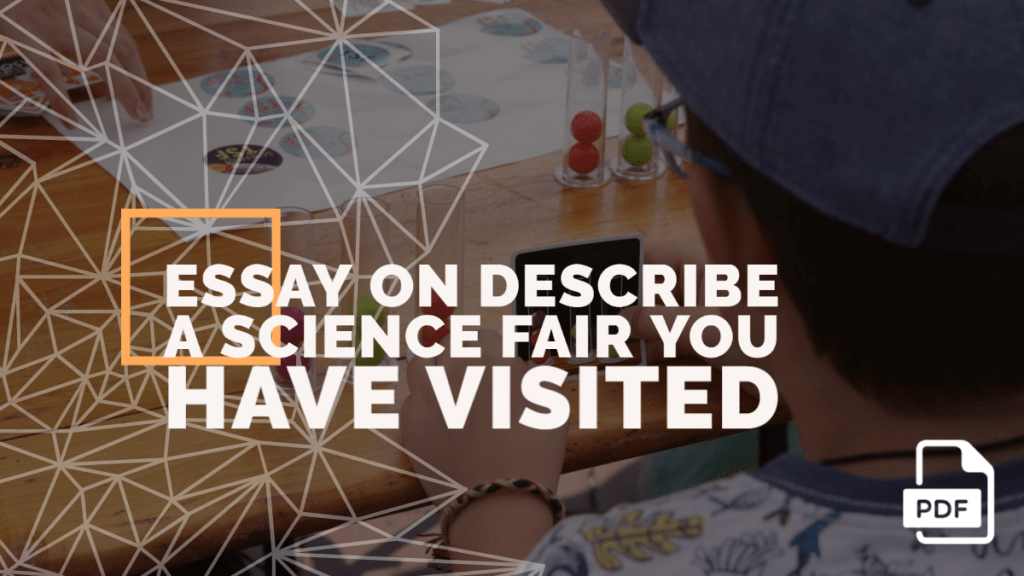 Science Fair is a competition organized in every school. It is a place for the children to show their talents to bring out what's best hidden inside them. Children make a different kind of models using electronic gadgets, papers, cardboard or metal too.
It becomes a place filled with working models, and people get attracted to the innovative and technological models that are kept in the room. I felt happy and enjoyed seeing amusing models that were an important part of the science world. It gives a platform for students to deliver what they have and present something out of the box.
Science fair was covered by machines everywhere made by young youth that gives them an opportunity for a new invention of scientific technology. They were filled with so much knowledge and essential information that made me aware of many new things that came into being.
I took a round of the whole ground and came with the realization that many of the models could prove to be a phase of scientific development for our country. These models could help the future generation in the upcoming years to utilize it in a proper manner for its efficient use.
The Organisers of the science fair did proper arrangements with good facilities leaving nothing behind. The whole fair was lighted with colorful lamps hung from the trees.
The bulbs and lights were covering the walls of the fair. On the ground, the flower pots of various flowers were kept. Each student representing his or her model had decorated and embellished his or her area with flowers made from papers and wrote some information and facts on the chart paper in good handwriting.
There were the entrances from the left and the right. On the back left side, there was a space left for parking the vehicles. Many companies had installed their camps to promote their companies and products in the market. Outside on the right was the main entrance having a ticket counter, charging Rs.10 for each visitor.
They had tight security everywhere with installed cameras. Inside the fair, there was one corner having a stall for food selling water bottle, Chinese and North Indian food.
Everything was going so smoothly and nicely. The students had explained so much to the visitors that it would have filled their mind with a lot of heavy details that helped them in getting more awareness of that model.
A science fair usually organized at the local level in the schools of the primary and secondary, but it is also organized in state, national and international levels though. It happens to be that there are various shortcomings in a science fair despite having so many amenities.
Some times students are only not satisfied and get irritated with it. Participating students in the science fair perform vigorous research for the models they are going to present in the fair.
This participation becomes an important part of their life as they spend their whole time finding many resources and materials that they have to use in the making of their model.
They face many difficulties or complications about the materials they search because some times they plan to use them so that people should know that this material could bring good use to construct this model.
Many students also take suggestions and ask for recommendations to use the materials in their model because some times the chances are for that materials to harm those people who touch it.
But, the teachers are also busy planning out the decoration of the fair location. In the science fair, I saw a robot made of cardboard but after some time it was getting torn because of the children touching and roaming around it. This puts all the hard work of the students in vain. There was a picture of an X-ray showing inner body parts.
A model of an inner portion of the eye was made on cardboard and a motor pump was made that produced electricity with water and glowed the bulb.
The only solution to all the problems of the students is to watch videos on YouTube and search on google about the model. It would assist the students with many bright ideas for the science fair.
---
How was this essay on Describe a Science Fair You Have Visited? Let me know your thoughts by commenting below.
Read More

Essay on Visit to a Science Exhibition
Essay on Science Exhibition in My School