My Mother- it is not just two words, various emotions are attached to it. A mother who sacrifices all her happiness, their wants for her children. Today in this essay paper we are going to present an essay on my mother, so let's dive into the paper!
This Essay is Formatted For Class 1 | Class 2 | Class 3| Class 4 | Class 5 | Class 6 | Class 7 | Class 8 | Class 9 | Class 10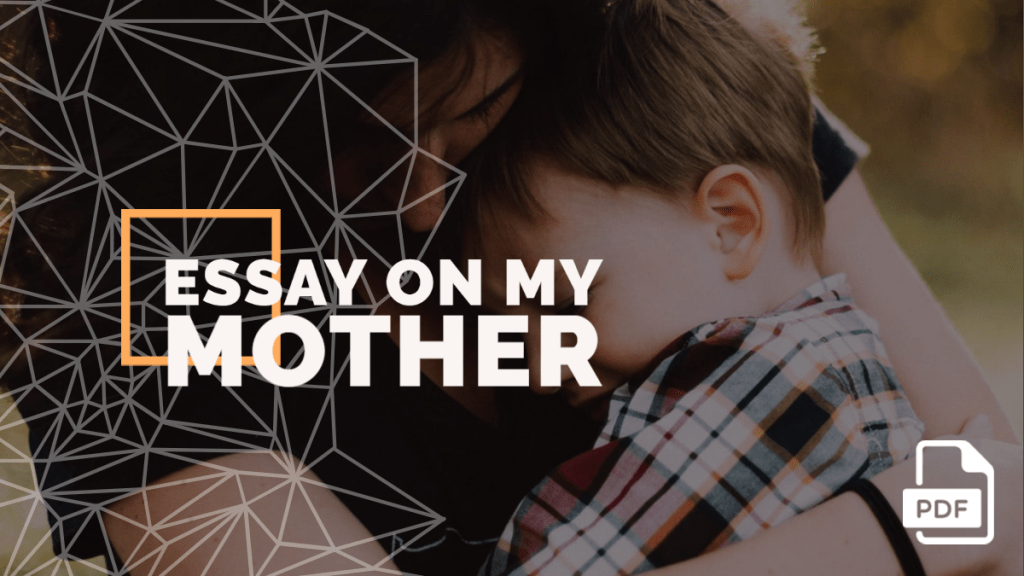 A mother is someone who nurtures, loves and adores her child. She teaches the important moral values to her child and how to respect the elders. She pours out all the love from her heart on her child and takes care of each and every need.
She makes sure that her child faces no difficulty in managing alone and balancing with others. My mother is similarly like this. She is loving and caring too. She takes great care of my every need. She tells me night stories with great moral values and teachings that are important in everyone's life.
My mother's name is Hema Nathani. She is a very responsible and intellectual woman. She wakes early in the morning and makes breakfast for everyone. Till then I get ready, then we all pray together of morning prayers and sing Gayatri mantra.
She cooks delicious food for my lunch in which, she gives me green vegetables with chapatis. She prevents me from eating unhealthy food so that I may not get sick. Before going to school my family does breakfast together.
My mother gives me bread toast with milk. Every evening she takes me in the evening for power walk daily so that I get warm-up before playing or doing any exercise. She helps me by doing my homework and helps me to learn things easily.
She is my best friend who guides me in everything so that I may not create any mistake. She is my first teacher who taught me to have self-confidence and believe in myself and not lose hope and keep trying until I do not have victory. I love my mother because she is my mentor and she encourages me to work hard, be honest and brave. She is a strong and sacrificing woman.
My mother is a very dedicated person and she is friendly by nature and does too much hard work. My family praises her for her cooking skills as she cooks delicious food in both vegetarian and non-vegetarian foods.
On every weekend she takes me to shop for buying a toy or some good to eat. She takes all the decisions of my life and being a backbone of our family although she is very busy still she manages to take out some time for me and my sister too.
She takes good care of our family and wakes up throughout the night to take of any person who gets ill. She knows how to make kadha from herbs and tulsi in case of heavy cough and cold.
She is a good chef who knows to cook dishes of many cuisines like Italian, Spanish and Indian very perfectly. She has good skills of presentation as she decorates the home in case of any occasion or pooja is held at our home.
She follows all the rituals and traditions of our family. She talks nicely to everyone and never discriminates with anyone. She gives equal treatment to everyone and does well with everyone.
She is a highly educated and intelligent woman who was from the science stream. She scored more than 90 per cent in high school and intermediate. She did BA(Hons.) in English from Christ University and passed with good CGPA. After that worked in an NGO for a year in which, she donated some amount every month.
Side by side she was preparing for PGT and TGT exam and passed both with good marks. She is a working woman who teaches English subject to the students of class 5th to Class 9th in a nearby school. She works from 8 O'clock in the morning to 3 o'clock in the afternoon.
She gets tired after she returns from school and takes rest after having lunch. She has too much experience in her working career and takes every decision of my life after having thought for a long time.
She is a great decision-maker that even my father takes every small and big decision of his life with her consent and discussion with her. She is a great problem solver as she listens and gives perfect advice to all.
We are a small and happy family who eats together and stays together as it is rightly said, "united we stand, divided we fall."
---
So I hope you liked this essay on my mother. Feel free to share your thoughts on the comment section, and do not forget to share this essay on your favorite social media platforms.
Read More

Essay on my Father
Essay on my Parents