We all love to travel either by bus or by train, all have their own adventure, but the journey by air is a little more exciting in my opinion, and that is our today's essay topic. So let's dive in!
This Essay is Formatted For Class 5 | Class 6 | Class 7 | Class 8 | Class 9 | Class 10 | Class 11 | Class 12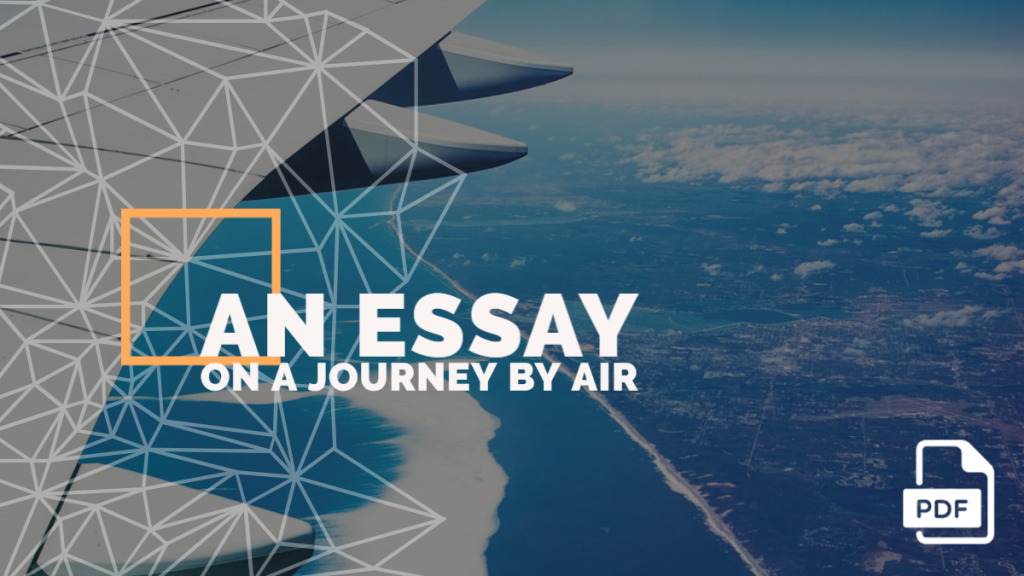 Traveling by Air is so exciting and enjoyable. You have to go by checking. A person stands in a uniform and performs checking by a metal detector. Your luggage is kept in a machine to check inside the bag from the computer. Then, you can take your luggage and head off to Airplane standing outside.
I live in Bangalore and it was winter. My family planned to go to Mumbai in my winter vacations after my half-yearly exams. The New year was near the calendar and it was a good time to book tickets for going on a journey by Air.
The next day we packed our luggage and I kept my storybooks and comics to read on my way. My father booked a cab for us and then it came and we kept our luggage inside and sat inside the cab.
We reached the airport and took out our luggage outside the port. We headed inside the airport. I was too excited about my first flight and when I got inside the airport it was well maintained and properly constructed.
The floors were cleaned and a sweeper was wiping the floor. Everyone in the staff was wearing a uniform. A person greeted us when I entered with my family inside the airport. We took the seat and waited for the announcement to come when our flight name would be called.
I sat on the seat and looked around. There was a bookstall with many storybooks for children of my age. There were many novels and stationary was kept. In the stationary, I saw watercolor packs, art books on the A4 sheet page.
Then, I moved forward and saw a canteen with the menu having a different kind of cuisines listed on it. The food was costly and on the side, there was a rack of water bottles. There were small dining chairs kept on side of the stall for the people to sit and eat. I saw many people standing in line waiting to take give their orders and in another line, people were waiting to have their food.
At the airport, I saw a plane outside of a large window. The passengers were getting inside tall stairs in a line and three people from staff were giving them instructions.
On the bottom side of the plane, I saw a hole opened in which luggage was being kept. It was so. Small. I became very happy and started thinking about What will I do once I will get into the plane.
My mother came and was standing behind me watching my excitement and eagerness to watch new things. She was holding my hand and picked me up on her lap so that I can best view of it.
Then, after five minutes, a lady gave the announcement of arriving the flight minutes before and we had to get ready and pick our luggage to head-off. As we were moving to the checking area, I saw two sections divided by men and women.
On the left side, my father was in the line of men and on the right side, I was with my mother in the women section. They were checking us with a machine detector and our luggage passed by the checking counter.
We were moving forward in the line from both sides. We passed by a small lane or gallery to go on a plane where it was standing. It was white with a huge body. it looked so taller than me. But small from outside.
I was thinking how too many persons could fit inside it? We continued walking and I climbed up the stairs and gotten inside. Inside the plane, it was so big with people sitting on both sides with three seats attached.
We took our seats and other passengers too. The flight took off the airport. It was a three-hour flight. We were served with food and water. The air hostess was kind and soft-spoken.
They were speaking so nicely. Then, I had slept and we reached the airport named Chattrapati Shivaji Terminus. I, with my family, took off our seats and climb down the plane. Then, we were moving by line, my father took the luggage and booked the cab, then we reached the hotel safely.
---
So how was this essay on Journey by Air? I hope you like it. Do share your thoughts in the comment section, and also share this on your favorite social media platform. Till then stay happy live free.
Read More

A Journey by Bus
Essay on Journey by Train