This Autobiography is Formatted For Class 1 | Class 2 | Class 3| Class 4 | Class 5 | Class 6 | Class 7 | Class 8 | Class 9 | Class 10 |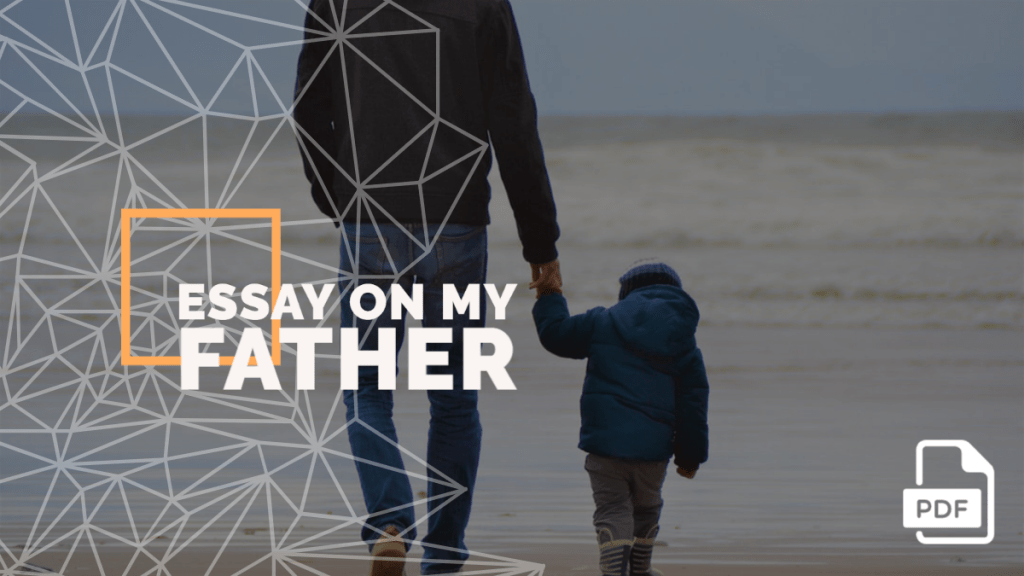 My father's name is Mr. Deepak Nathani. He is fifty-nine years old. He owns a departmental shop and works there throughout day and night. He maintains good communication with his customers and provides everything with whatever they need.
He is a sincere and hardworking person since his childhood. He daily opens his shop in the morning at 8:30 and closes at 11 PM in the night. In his childhood, he was a studious student who used to score good marks in his examinations. He was a bright child and monitor of his class.
But, after some time due to some financial problems, he could not complete his studies but due to his sincerity, he has a good running business of his departmental store.
Every end of the month he goes wholesaler shops to buy the stock of materials he has to sell and comes late to home. He is an honest human being filled with kindness and gentle behaviour with everyone.
During the weekends he takes me to the park and being a sportive person he plays badminton with me. We enjoy a lot playing this game. Other than badminton, he knows to play other games too.
He was a distinction holder in mathematics in his class 12th, so I always take his help whenever I face a problem in solving questions of mathematics. He is a creative person and makes good drawings so he helps me in making diagrams of science subjects.
He is an early morning person who has a habit of waking up early in the morning even before my mother. He makes the first tea of the day for my mother and besides that, he wakes me up too so that I should wake up and get ready for school.
Being a sportive person he loves to go on a walk and does power and jogging exercise to remain fit and healthy. Being a sincere person he well-disciplined too but some times does tricks to make me laugh and smile.
My father has the potential to provide a solution to the problems of everyone. He is a person who saves me all the time. He gives attention to everything I say very carefully and provides the best and appropriate solutions for it. He is a simple and sober person with patience to sacrifice and hold on to his anger.
On Sundays, he helps my mother in housework. Also, he guides me on how to keep the room clean. He never forgets or misplaces his important documents. He is a simple person.
He likes to wear a simple white check shirt and black pants and sometimes he wears a t-shirt too. He loves to wear formal clothes and wear his black suits with a shirt matching tie on any occasion.
He does not like to wear expensive clothes or watches, even not food. He is an economical person who spends the least money on himself and does too much for his family.
He is an attractive personality because of his humor, the way he talks to people and manages everything. He does not like tight clothes. He spends his money wisely and makes a diary in which, he notes down all the expenses he has to make in a month.
He makes his budget and runs home with it. At the end of the month, he includes extra expenses or the expenditures that he has to make and plans his budget according to it. He is most important for me and my topmost priority.
He always encourages me to move on forward and do whatever I want. He never restricts me too much. He is like an open book to everyone who does not know how to hide his feelings and emotions.
He is a soft-hearted person and always ready to aid anyone in need of it. He believes the victory of good over evil, that I heard from the story of Lord Rama and Sita. Lord Rama killed Lord Ravana.
He never supports any wrong even that person tries so hard to be a lier. Still, he wins every time. He is a soft-spoken person who never speaks or shouts too loudly. He is the only reason I am strong and holds me before I even fall. I love him and proud to be his daughter.
---
So how was this essay on my Father? don't forget to share your thoughts on the comment section.
Read More

Essay on my Parents
Essay on a Person I Admire most