Hello, today our essay presentation is going to be on "The Person I Admire The Most". In this essay, I mentioned my father as my most admired person.
This Essay is Formatted For Class 5 | Class 6 | Class 7 | Class 8 | Class 9 | Class 10 | Class 11 | Class 12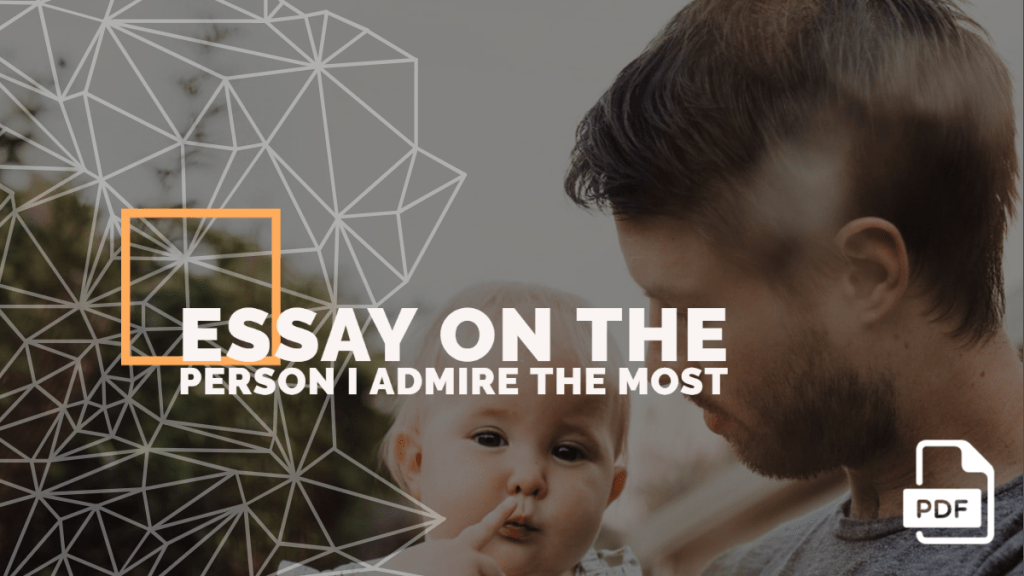 The person whom I admire the most in my life is my father. My father's name is Mr. Manoj Kumar. He works as a bank manager in Axis bank. He is thirty-five years old. He is highly educated and has cleared many competitive exams with flying colors.
He is an optimist by thinking. He never thinks anything negative. He is a strong person. He takes all the decisions of my life with the consent of my mother. They both are very caring and supportive of each other. They never fight and stay together happily. They balance everything in a very easy way.
My father is a nice person. He behaves sweetly with everyone. He is a gentleman for me. He helps in doing my homework. He gives me good advice. He teaches me good moral values. He teaches me to respect my elders and greet them nicely.
He encourages me to do running in the morning as he is a sportive person. Running is his favorite as it keeps our body fit and helps to make our body strong. He tells me various health benefits of eating fruits as they contain vital vitamins and minerals that are essential for our body. They make our bodies filled with nutrition.
He takes me out every morning and evening. In the evening, he takes me out to have some good food. Some times we also go for walking. He tells me stories of his childhood, how he used to play every time and my grandfather scolded him.
On our way, he takes me to the chaat stall every weekend. The stall owner makes tasty chaat and serves on a proper plate. Then, we go forward and reach the park. In the park there are many swings for the children, I also meet my friend there.
Our family does dinner together. My father is the branch of the family and has taught me to pray before having the food. He told me to wash the hands every time before you have lunch or dinner.
He tells me bedtime stories of great personalities like Mahatma Gandhi, Jawahar Lal Nehru, and many others. Each new day. He is a simple person by nature. He is a soft-spoken person. He influences every time he meets a new person. He has helping nature due to which many people say good things about him.
My father helps my mother in house chores work also. On Sundays, he helps my mother to clean the house because our maid goes on holiday. He keeps everything clean and tidy.
He knows which thing to keep where and how to place it. He is a great chef also. He can cook Italian food and Indian food too. He takes care of me and my mother whenever we get ill. He stays up all night and gives medicines at the correct time.
In the morning, my father drops me to the school and later picks me from there and drops me home. He gets back to his office then. He is a very economical person who makes the budget every month and saves money for extra expenses too. At the end of the month, he calculates the total money spent and tries to reduce out the extra or miscellaneous expenses.
On every occasion, he gets new clothes for me. He has good choosing ability to select what is best for me and my mother. He gets gifts for my mother on their wedding anniversary.
He gets a gift for me too on my every birthday. He organizes a birthday party on my birthday. He helps my mother with everything. He invites my friends on my birthdays and takes great care of them.
My father is my best friend. I share everything with him that happens to me at my school. He is a proud father and becomes happy when I secure the first position in the class. I am proud to be his daughter. I love my father very much. He always fulfills all the promises he makes to me and so does I. He is my mentor and inspiration in my life. He is the greatest person I have ever met in my life.
---
Let me know in the comment section how was this essay on the person I admire most? I appreciate your feedback!
Read More

Essay on my Father
Essay on my Parents