This writes up is all about to show you an example essay on how I helped my mother when she was sick.
This Essay is Formatted For Class 5 | Class 6 | Class 7 | Class 8 | Class 9 | Class 10 | Class 11 | Class 12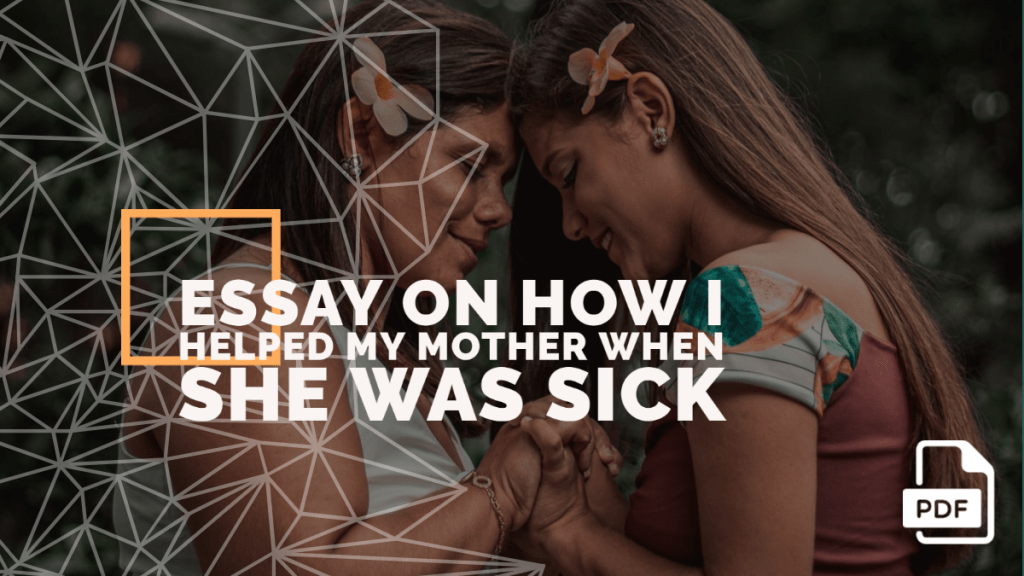 Mothers play a crucial role in a family whether it be keeping the family together or by helping everyone with their work. We often don't understand how hard they work for us.
I got an opportunity to understand the responsibilities my mother has on her shoulders when she was sick. It was during my class 5 mid-term examinations that my mother got sick and couldn't go to work or do household chores. It is then my father and I took over her responsibilities.
My father took leave from office during those days. Our daily routine included: my father cooking breakfast for us in the morning. I used to get up early, revise for some time and mop the house.
Then I would get ready by myself and would give medicines to my mom before going to school. After coming back from school, we three ate lunch together. My dad and I made sure that we are cooking light meals for her.
In the evening, I used to talk to her and helped her with whatever she needed. Then I used to study and help my dad with cooking. I made sure that she is taking her medicines on time.
My mother did not want me to do anything extra for her, she just wanted me to write my examinations well. My mother who is so bubbly, I didn't like her being dull.
She had become so weak. She couldn't sit up for long. And she would have trouble relaxing at night. Sometimes, I used to give her a head massage so she gets better sleep.
She is a teacher, so reading and checking examination papers would make her feel strained. I would at times used to read answers from the examination papers for her.
She did not get any better in the first two days, so I had to take her to the doctor. I did laundry for her, putting all the clothes in the washing machine and then putting it for drying.
I helped with doing the dishes. As my mother loves gardening, I watered all the plants and took her to sit in the garden for some time. With the assistance of my dad, I made a list and went to buy groceries and vegetables with him.
I used to pack my tiffin and water bottle by myself. I kept everything in their proper place because my mom does not like the house being messy.
My dad used to iron our clothes and I would fold it properly and keep it in place. I arranged my school bag at night and kept my uniform ready and the shoes polished so that I would not get late.
I helped her the most by being a good child and not behaving like a brat. I, along with my dad tried making her favourite dishes. My mom was so overwhelmed to see us doing so much for her.
She got emotional and thanked us for helping her when she was sick. I would say that it is the littlest of all that we could ever do for her. Life would have been so tough without her.
She had been helping us in like everything, getting me ready for school, packing my lunchbox, doing all the household chores plus she is a working lady. I felt like I respect my mother even more now.
I am so grateful to God for giving me, such wonderful parents. Fortunately, she got better on the fourth day and started going to work and doing all the household chores.
Now, I make sure that I do all my work by myself and be more organized by cleaning my room by myself. I think, that lessens half of her work. My dad and I, both are now trying to be less dependent on her so that she gets time to rest.
She is not just a wife, a mother or a teacher. She also has her own individuality and she deserves her me-time alone. On holidays, I try to help my mom with nearly everything. She is happy that we are helping her now.
It is from our mothers that our lives start and our mothers hold a special place in our heart throughout our life. They are the most selfless beings. We should understand their importance and treat them properly.
They deserve all the love, kindness and respect. They are our first friend. Last but not the least, I would like to end by saying that God can't be everywhere so he created mothers. No one can replace a mother so appreciate them for being in your lives until it's too late.
---
I hope you liked this essay on How I helped My Mother when She was Sick! I hope you all can relate with this. Moreover, if you liked this essay presentation then do not forget to share your thoughts on the comment section. Cheers! Bye!