Hey readers, hope you are doing good, today we came up with a new essay presentation on my hobby karate, so let's dive in.
This Essay is Formatted For Class 4 | Class 5 | Class 6 | Class 7 | Class 8 | Class 9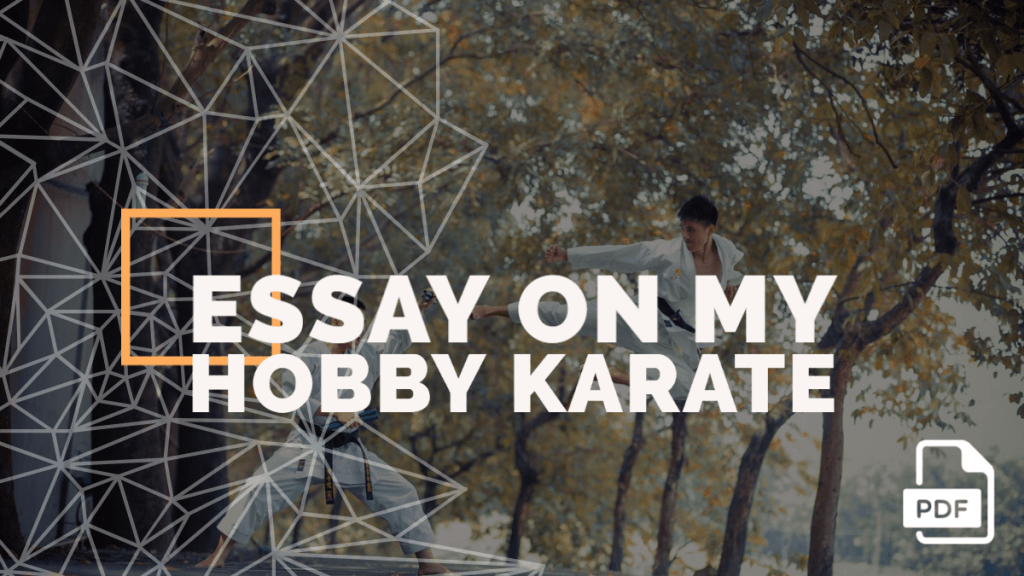 Karate has been a hobby that I have come to love and be passionate about over the years. This form of martial arts has helped me grow in life as I have realized tremendous benefits from it. Since my young age, I have admired my idols, such as Bruce Lee and the likes who were quite passionate about karate just like me.
I have undertaken various classes in it and hence learned the art and its craft quite well. Karate has helped me stay engaged in life and away from the ill-morals of life as I have learned that discipline is quite crucial when it comes to this form of martial arts.
In life, people will frustrate you, and once I get mad, I have learned to control this anger and not to use my hobby against a person as it's not worth it. Self-discipline taught to me during my training and practice in my hobby session has helped me live well with others and maintain a great social life.
The first lesson about karate is that you need to be embrace self-discipline. I have come to learn also that as a social being, you need to respect other people to earn it also. It will only get achieved through discipline, and through karate, I can undoubtedly say that my hobby has been worth it.
My hobby has helped me always maintain a straight line in my health and as a social being. Healthwise, you need to feed them right to train efficiently, and hence I still adhere to the right diet.
Embracing fitness has helped my body always stay in the right shape as I never want to have a hard time in my hobby sessions. As a social being, karate, for me, is a hobby and not a tool to abuse. Such kind of mentality has helped me always be polite to others and not use it for show-off.
When it comes to achieving my goals in life, I have become more of a persuader for them with no issue. It's by karate setting goals and being able to craft my path towards achieving and learning that there will stumbling blocks on the way.
Being a go-getter has been defining me, and I appreciate the fact that karate has helped me quite a lot at it. To learn karate and become a pro at it, you need to work hard and not give up along the way.
I have been able to put this in my real-life endeavors, and once I set my mind towards achieving a particular thing, I always go all the way till the end and see the results made.
Each lesson for me in karate is a door to opening new opportunities, just like being able to take one more step in goal achievement. These soft skills have seen me become more of a go-getter of my dreams and never being a pusher in life.
Focus is quite vital in life. Karate requires that you have your mind, body, and soul in while you train or attack an opponent. I have come to learn that to get results out of it, I need to be passionate about this hobby, and so does the endeavor of life. Being passionate about karate has helped me be focused in life and always have a purpose and definition of all I am doing.
Living a life with no purpose will lead you to nowhere, but having a defined purpose, you will have a focus on achievement. Focus, for me, is quite essential as it has helped me concentrate on what I am undertaking and have not just results but quality ones as I put all my energy at it.
Those who want to embrace this martial art, I would urge you to so as for me so far it has been fruitful. It's a hobby that keeps you busy and not idle, and you can make a fortune out of it as a profession either as a fighter or trainer. Karate for me has been worth it, and I would say that it's in my blood.
---
How was this essay on my hobby Karate? I hope you liked it, do share your thoughts in the comment section, and do not forget to share this paper with your friends and help us to grow!
Read More

Essay on My Hobby is Playing Kabaddi
Essay on My Aim in Life to Become a Police Officer
Essay on My Aim in Life to Become a Soldier