This Essay is Formatted For Class 5 | Class 6 | Class 7 | Class 8 | Class 9 | Class 10 | Class 11 | Class 12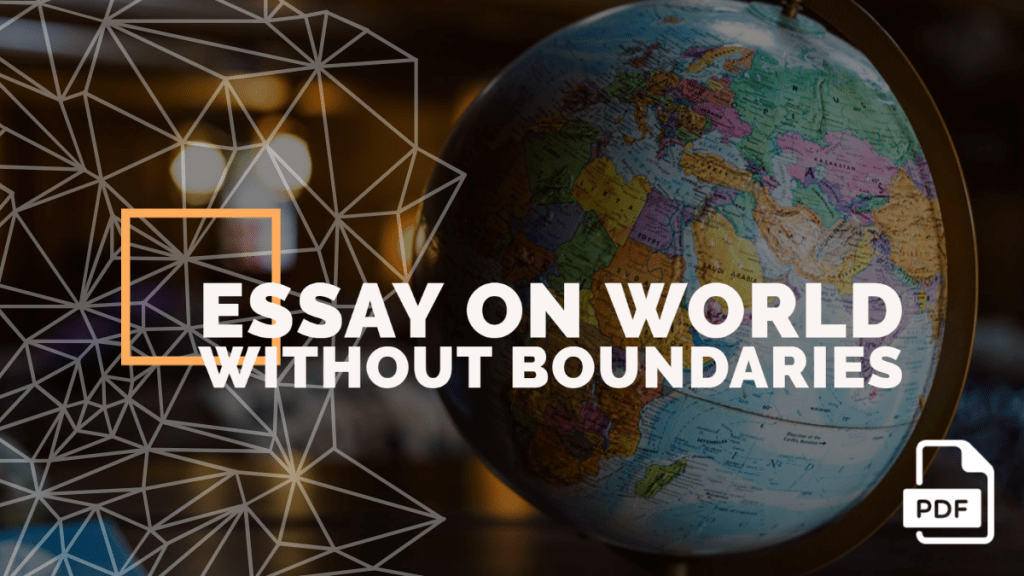 Especially in this century, where many nations and states across the world seem to be having disagreements and fights over territorial boundaries.
Over the last many years, people have been divided not only by national borders, but by other factors such as religion, language, race, distance, and cultural differences.
However, in this century, these boundaries have been removed, making the world boundless. Probably you are wondering how.
Technology development
Technology development is diverse, and there are many areas where technology has advanced.
Communication. Some years ago, communication was not as efficient as it is today. People had to walk for long distances to pass information, and this made communication very hectic.
With the advancement in technology, the invention of communicating devices such as phones has removed this barrier. Additionally, with the establishment of many social media platforms such as Facebook, WhatsApp, Twitter, Instagram, and skype, people can easily connect from every corner across the globe.
Take an example of someone in Europe and want to connect with someone in Asia, for whichever reasons. It is just a matter of a few minutes.
With the development of computers and the internet, you can access information wherever you are. For example, if you need information regarding any particular country, you can easily access it in the global search engines.
It has also enhanced easier access to good and quality education across the world. Many people get to enroll for various courses in any universities and colleges, where they get to learn online.
For example, you can be in Europe and enroll in an online program at an African university. This has increased the literacy level across the world. Therefore, there is no boundary to where you can access education in the world.
There are different languages in the world, with every community having their unique dialect, which could be a limitation for people to interact.
However, with the advancement in the internet, you can learn different languages, and get a translation of one language to another. Therefore, this makes it easy for people to communicate well, regardless of their language.
Advancement in the transport industry is another great contributor to removing global boundaries. It has made moving from one country to another quite easy and efficient.
With improved sea and air transport, people can conduct business transactions almost everywhere in the world. Additionally, you can tour any part of the world efficiently.
Research shows that due to efficiency in transport, many people embark on tours and vacations in foreign countries. Therefore, with good transport, the world has no boundaries.
International trade
One of the main reasons why people move from country to country is due to trading factors. As a result, many states have made trade treaties and removed trade barriers. Thus, making trading across the globe easy, and many people are venturing into international trade.
In conclusion, having territorial boundaries is vital to avoid clashes and disputes between nations. However, despite having the territory barriers, it is possible to have a world where neither language nor other differences do not limit people.
From the factors discussed in this article, it is clear that the 21st-century world has become a world without boundaries. The world has become a global village, where the people get to co-exist with each other.
With modern technology today, you can do all kinds of interaction with people across the globe. The physical barrier is no longer a limiting factor to human interactions.
---
How was the Essay on World without Boundaries? Write a comment in the comment section and do let me know your opinion on this. Thank you and keep visiting us.