In this article, I'll show you four examples of report writing on a road accident. We have also written an in-depth article on how to write a report writing with format and rules (Open in new tab). I'll highly encourage you to go through the article once and then back to this article for a better understanding. In this session, the following reports will be written in Newspaper report writing format as the topic demands.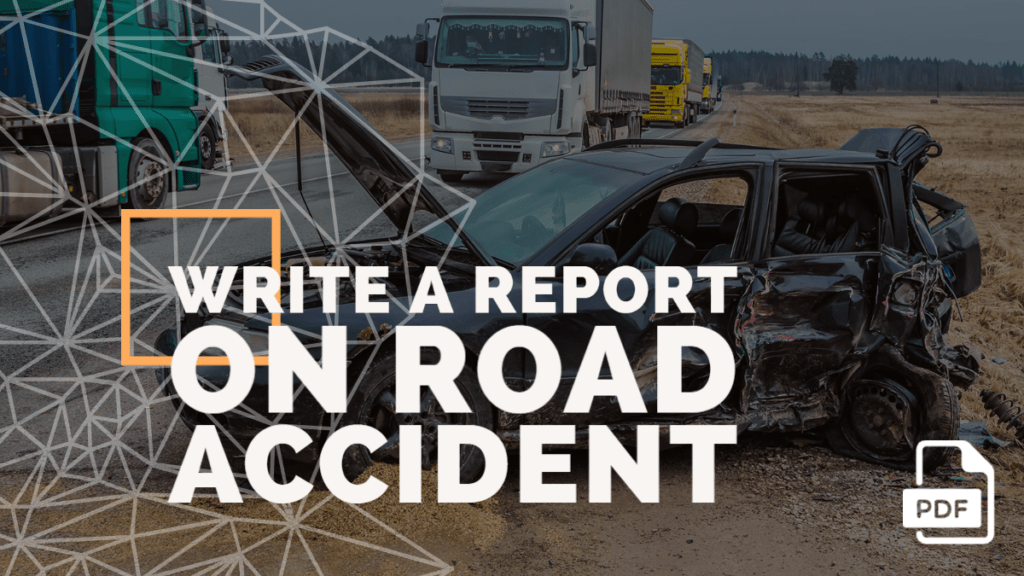 Question: Suppose, recently a road accident has taken place near your school. Write a newspaper report on that incident using the following hints. 
Hints: Reckless driving- Bike accident- Rider(26) Dead- 2 injured, 1 dead- Bike destroyed- Ceased- Police investigation.
FATAL BIKE ACCIDENT NEAR BASHUNDHARA HIGH SCHOOL
Special Report by Jamuna Das
Kolkata; 15th June 2022: The busy streets of Kolkata have again witnessed a fatal accident yesterday. It is MG Marg, Kolkata, that has been hit by a bike accident that killed one street vendor, along with the rider. Two people have also been severely injured and immediately admitted to the nearby hospital. According to a few eye-witnesses, around 3 pm., the bike suddenly hit the shop of the street vendor. The vehicle came at a speed of about 100 KMPH.
The rider couldn't be able to control the bike and smashed it against the shop. He was not wearing any helmet or other protective gear and due to severe injury in the head, he died on the spot. The name of the biker is Sribash Hore (26). The vendor (Atul Mishra, 58) was taken to the nearby hospital and declared dead. Two of his customers got severely injured. Now questions are being raised about how the bike could break the adjacent traffic signal and nobody stopped him. Kolkata Police is investigating the matter with grave concern.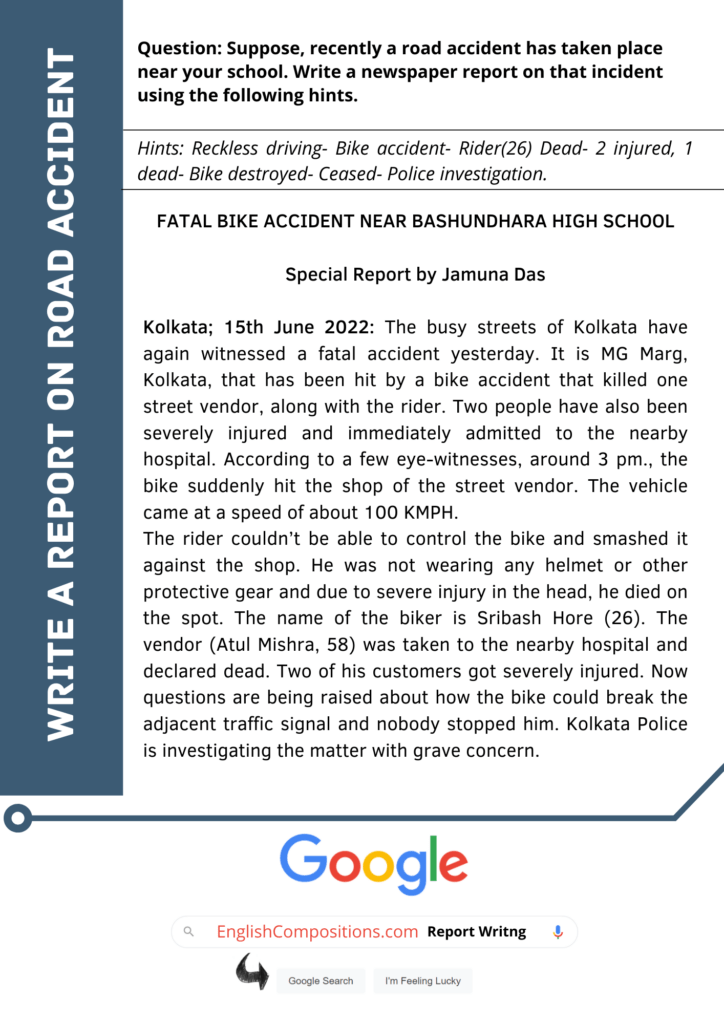 ---
Question: A road accident between a truck and a bus took place yesterday on the nearby highway of your house. Write a newspaper report on this incident as a special correspondent.
Hints: Bus & Truck Collision- Highway- Night time- Low Visibility- Bus driver died- Truck driver injured- No passenger- Truck driver intoxicated- Reckless driving- Police Patrol absent- Locals helped-Investigation
BUS & TRUCK COLLISION ON NONAPUKUR HIGHWAY; BUS DRIVER KILLED
Special Correspondent
Nonapukur; 19th October 2021: Noapara highway again witnessed a devastating accident yesterday night. A Bus and a loaded truck collided face to face which caused the death of the bus driver. The name of the driver was Nutun Shaw(45). According to the eyewitnesses, the accident took place at around 11:30 pm.
Buses and Trucks often run quite recklessly on the highway and no police patrol comes forward to regulate rash driving, said a local street vendor. Moreover, the locals have also accused the municipality of not installing sufficient light sources around the area which causes very low visibility on the streets. Due to all these reasons, that particular area of Nonapukur has become an accident-prone zone.
According to several estimates, it is the 13th accident of the year, and in almost every accident, Nonapukur witnesses deaths. Fortunately, there were no passengers on the bus as well as no conductor as the bus was returning to the depot. Though the bus driver was killed, the truck driver got severely injured and was admitted to the district hospital. According to reports, the driver was intoxicated and alcohol has been rescued from his truck. The government has ordered a high-level enquiry to find a resolution for this area.
---
Question: A train and bus collided in an unregulated railway crossing resulting in a fatal accident. Draft a newspaper report on this incident and highlight the menace of such unregulated railway crossings. Make use of the following hints.
Hints: Bus & Train Collision- Fatal Accident- Train Derailed- No Survivor on the bus- 11 passengers injured in the train- Unregulated railway crossing- Signal wasn't working- Inquiry commission set up
IN ANOTHER FATAL ACCIDENT ON AN UNREGULATED RAILWAY CROSSING, 28 KILLED
Soumya Ganesh Sarkar
Baruipara; 15 June 2022: 28 people died in a devastating accident yesterday on an unregulated railway crossing. It was a bus that came on the railway track and collided with a train. The train was coming from Lalgola to Sealdah approximately at a speed of 110 KM per hour. The bus was completely smashed against the train which left no survivors. Among the passengers, there were 11 females, 13 males, and 4 children.
The train tried to break itself but most shockingly the train got derailed and resulted in severe injury to 11 passengers. The locals came in to help rescue the affected people and the fire brigade was informed. All of them were taken to the nearest rail hospital. Now questions are arising, how even in 2022 there are so many unregulated railway crossings all over the country.
These crossings are causing several accidents and deaths every year. The locals are also claiming that the signal is not working for a few weeks, but the concerned authority has hardly taken any action. An inquiry commission has been set up to investigate this issue.
---
Question: A motorbike accident took place last night on NH18 that resulted in the death of 3 riders. Brief a newspaper report on this incident as a special correspondent. 
Hints: Reckless driving- Fatal accident- 3 passengers- All died- No helmet- All intoxicated- Age: 23 (Male), 24 (Male), 26 (Female)- Collision with a tree- Locals helped- Immediate police patrol- Investigation going on
THREE KILLED ON NH18 IN A FATAL MOTORBIKE ACCIDENT
Special Correspondent
Special CorrespondentPaikpara; 21 July 2022: Reckless driving again snatched the lives of three youngsters yesterday. It was yesterday night when a motorbike carrying three riders collided with a tree on NH18 and all fell to death. The riders were Female (26), Male (24), and Male (23) respectively. According to some local eyewitnesses, it was around 10:30 when the bike was coming from Gourdanga's side at a fearsome speed of around 150 km per hour.
As soon as the accident took place, locals came to immediate help the riders. They took the three to the nearby hospital but unfortunately all were declared dead upon arrival. As per the report, none of the three riders was wearing helmets or taking any other safety precautions. Highway police patrol immediately started investigating the issue and trying to find out more details about the riders.
According to the primary investigations, all three were intoxicated and that's why they lost control of the bike and hit the tree. The commissioner of police has again appealed to all the citizens to maintain proper safety norms while riding bikes and follow the ethics of Safe Drive, Save Life.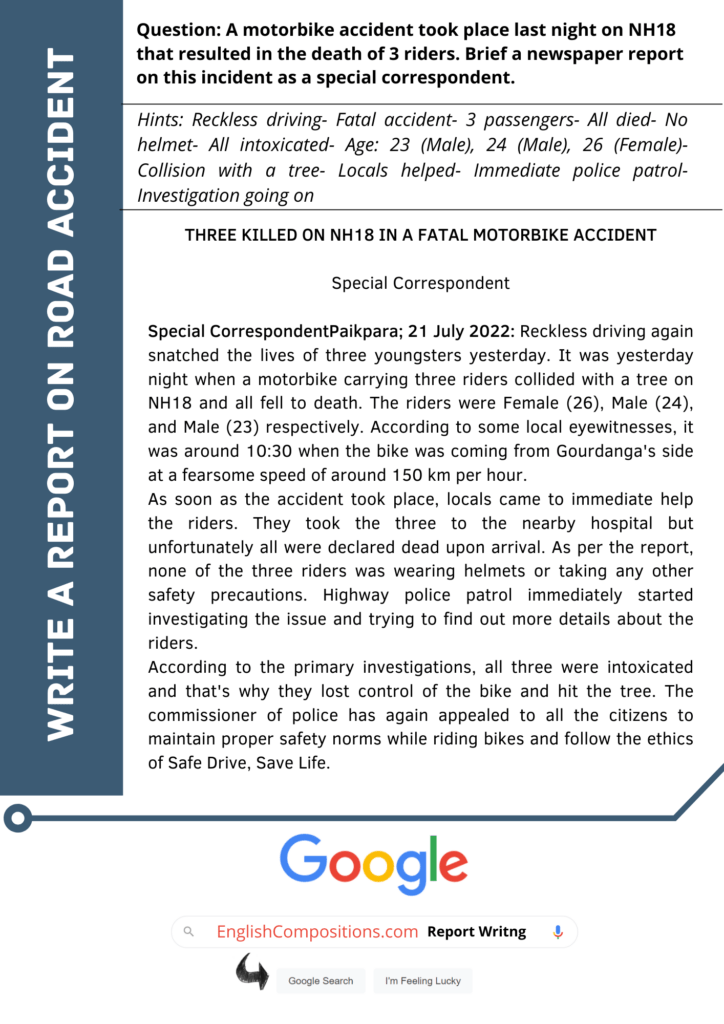 ---
I hope this article helps you. Do let me know your thoughts by commenting below. Also, you can put more topics which you want me to cover.
Till then we have a bunch of more compositions for you, so don't forget to see those too. I'll see you in any other writing compositions.
Join us on Telegram to get the latest updates on our upcoming sessions. Thank you for being with us.