Literacy campaigns are always a burning issue hence relevant for report writing. That's why we have decided to write few such reports on this topic in the following session. At the very beginning, I want to clarify that these kinds of reports can be classified into two categories:
Magazine Reports
Newspaper Reports
So our today's presentation will be based on both these categories. Each category will be mentioned prior to every report. Hopefully, at the end of this article, you will properly learn how to write a report writing on Literacy Campaigns or Programme. So let's get started.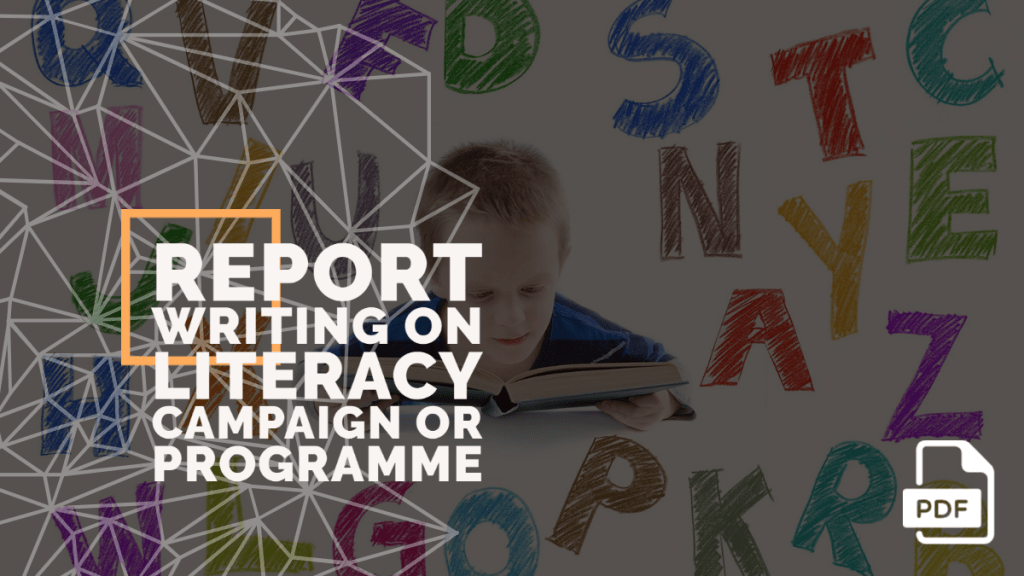 Example 1 [Magazine Report]
RAVENSHAW HIGH SCHOOL LAUNCHED A LITERACY CAMPAIGN
By Radhika Mohan
Our Ravenshaw High School launched a literacy campaign for the nearby localities on the school premises. Nearly 100 students from classes tenth to twelfth and thirty-two teachers will be participating in this literacy campaign.
Over the past few weeks, they had been collecting data and gathering the general public. We've decided to start with spreading awareness about the significance of education in one's life. They have successfully convinced some 250-300 illiterate, underprivileged and poor children dwelling in the nearby slums who cannot afford education.
The teacher in charge, Mrs Meenakshi Chaturvedi is the coordinator of this event. With a group of thirty teachers and hundred students, she planned to organise a program to educate those children.
The members got divided into various small groups and separately taught them some fundamentals of education.
The younger children were taught the alphabets and basics of mathematical operations such as Addition and Subtraction whereas the elders were provided with the intermediate level of basics of English and math. The dropouts were taught more advanced basics.
This event contributed to literacy promotion. After getting an overwhelming response, our school has decided to carry out this campaign for the next six consecutive months with great enthusiasm and passion.
---
Example 2 [Newspaper Report]
BIHAR GOVERNMENT IS CONDUCTING MASS LITERACY PROGRAMMES
Reported by: Ashis Jena
Bihar; 12 June 2020: A mass literacy campaign is to be carried out in the state of Bihar as per the directives of the State Government. The honourable education minister of the state has announced this campaign yesterday and told that it will be continued for one year.
As per the national surveys and reports, Bihar records the least literacy rate across the whole nation. According to statistics, the literacy rate in Bihar for the year 2019-20 is falling under merely a margin of 61.80%. Under this figure, individual literacy rates for men and women are 71.20% and 51.50% respectively. It is comparatively lesser than the national average literacy rate.
Realising the importance of adult literacy regarding the development of a future quality workforce, the honourable Chief Minister of Bihar, Shri Nitish Kumar, launched this initiative.
A database of Illiterate, underprivileged men and women will be prepared who have weak socio-economic backgrounds. They will be gathered and involved in this initiative and extensive awareness will be spread about the importance of basic education.
Various subjects such as language, ethics, mathematics, economics etc will be taught to them. This initiative aims to enhance the overall literacy rate of Bihar and also to provide more scope of employment opportunities.
---
Example 3 [Magazine Report]
MASS LITERACY CAMPAIGN IN SCHOOL PREMISES
Reported by Shankar Jubin, Cultural Secretary
Eklavya Senior Higher Secondary School has launched an initiative to drive a massive literacy campaign from 12th January 2020 to 12th June 2020 for six months.
All the planning have been done under the guidance of Shri D.K Pradhan, the honourable principal of our School. The main objective behind this campaign is to make sincere efforts for the underprivileged sections of society to provide them with equal opportunity to education.
In the campaign, approximately fifty students from senior classes along with fifty teachers will be coordinating to initiate this literacy program.
Our school distributed pencils, pens and notebooks among the mass. Regular training and counselling sessions will also take place to evaluate the individual performances of the participants and to get constructive feedback from them to improvise the strategies of teaching.
Substantially, a large number of illiterate adults have enlisted themselves with our campaign as they were attracted by the proposed approach and strategies taken by the members of the school.
---
Example 4 [Newspaper Report]
LITERACY CAMPAIGN FOR UNDERPRIVILEGED CHILDREN
By Anisha Swain
Bhopal; 12 June 2020: An ambitious literacy campaign has been launched by the members of Mahadevi Birla Academy School with a vision to promote education, ethics and experience among the unprivileged segments of the society.
The school introduced this initiative two years ago. Every year, the numbers of new enrolments rise considerably. As the number rises, the school takes utmost responsibilities to finance fifty deserving children every year under this campaign.
The deserving candidates are screened in by conducting many tests and tasks to identify their abilities. After the result, the school pay for the food, shelter, hygiene, books and stationeries of those children for a definite period.
Besides, the children are provided with an ample amount of resources and references as well. They are guided and encouraged by both the students and teachers of the school. Those children are consistently evaluated by organising tests, quizzes and interactive competitions. The selected students give the best of their efforts to learn as much as they can.
---
So that was all about reports writing on Literacy Campaigns/Programs. I hope you found this article helpful.
Do let me know if you have any other topic ideas that you want me to cover. Leave your valuable opinion as a quick comment just below the article.
Also, I've cover lots of other compositions as well feel free to check those too.