In the last few weeks, I have come to know through several comments that many students are still having some serious confusion regarding report writing. That's why despite going through the sessions, they're still unable to frame perfect reports. But both from a real-time and examination point of view, report writing has significant importance.
Talking about the exam, in the CBSE question papers' writing section, report writing tends to carry a lot of marks (5 marks) if attending. Though students have a choice between a few other types of writing comprehension, report writing is probably the easiest and scoring one if properly written. Keeping this utter importance in mind, I have decided to come up with a comprehensive guide dedicated to report writing in order to make report writing much easier for you.
I am going to divide this session into a few sections. First, you will be introduced to the exact definition of report writing and then we will gradually move forward to learn to write a proper report.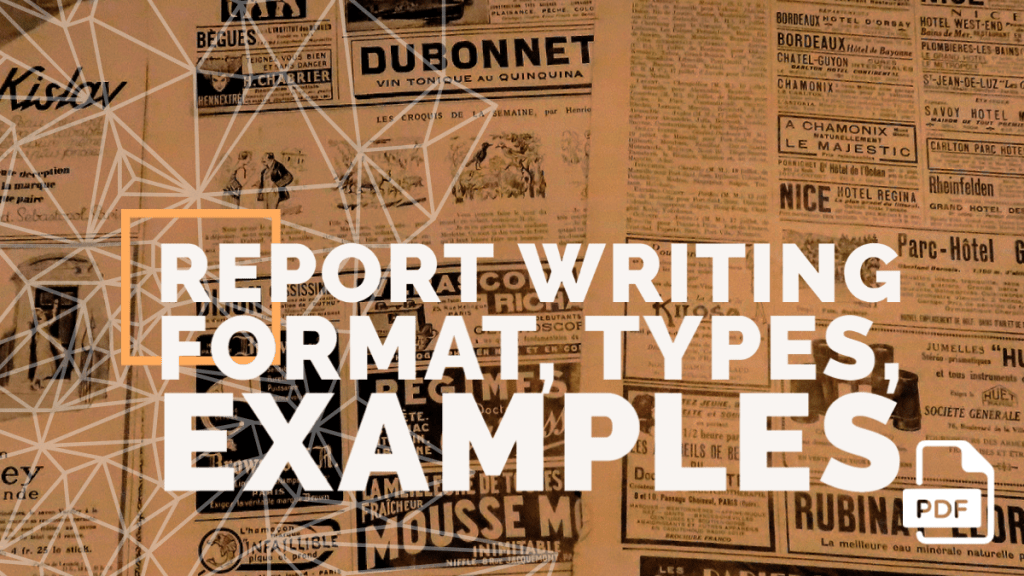 Table of Contents
Definition: What is Report Writing?
A report is a concise piece of write-up to summarise an event that already has taken place. Basically, it is a systematic and well-organised presentation of facts and findings without any kind of exaggeration or personal opinion.
Briefly, it was a perfect definition of report writing. Reports can be written for many different purposes. These purposes are where exactly the importance of report writing lies.
Importance of Report Writing
As I mentioned earlier, the importance of any particular subject lies in its purposes. The same applies to Report writing as well. That's why before knowing how to frame a proper report, it's very important to understand the purposes of report writing.
Reports are written to summarise an event that already has taken place to keep account of that event, to let people know about that event who haven't witnessed it. Besides it, in professional sectors, reports are written for problem-solving purposes. These kinds of reports tend to contain analysis along with information in order to create a way to find a solution for a specific issue. Other than these, reports can also be written for personal improvement purposes.
Hopefully, now you have understood all the purposes why reports are generally written in real-time.
Keep in Mind
Before jumping into the types and format of report writing, it's very important to note that reports are not essays. That's why there is no scope for excessive elaboration and personal opinion. A report has to be a concise one with limited words, irrespective of which type it is. The recommended word limit by CBSE for report writing is 150-200 words.
Besides this, in report writing, a neutral tone has to be maintained throughout the write-up. The information in the report must need to be authentic and ideally should be presented with proper reference if needed. Overall you have to maintain the originality of the event you are reporting without any post-incidental modification.
Types of Report Writing
Generally, there are many types of report writing depending on the event, reporter as well as publisher of the report. But among the many kinds, two types of reports are most popular hence the most significant for you. These are Newspaper Reports and Magazine Reports. CBSE has only these two types of reports in its syllabus. So, now let's understand what these two kinds of reports are in real-time.
Newspaper Reports
As the title suggests, Newspaper reports are those reports that are published or written exclusively for newspapers. The events that are reported in newspapers generally tend to be sensitive. That's why it is mandatory to maintain a neutral perspective and authentic information. The language in these reports needs to be simple and straight for the common people.
Magazine Reports
Magazine reports are generally published in school or college magazines. The events that are reported in magazines are significantly different from the newspaper reports. These are sports, internal programs, campaigns, etc. As the events here are of different types, the tone of writing also changes in magazine reports. The strictness of maintaining a neutral perspective loosens here significantly. Besides, a little touch of personal opinion can add value to these kinds of reports.
As these reports are generally published in domestic magazines, slight decoration words can be incorporated. But again, unnecessary elaboration can not be entertained and the reports have to be concise here too.
Format for Report Writing
Before knowing the structural format of Reports writing, you must be introduced to the elements that reports are structured with. Here we will discuss both the formats for magazine reports and newspaper reports.
No matter which type of report you are writing, the basic elements are almost the same.
A report needs a heading or a title at the very beginning. This heading or title can be of two types: 1) Summarising the topic within a line. 2) Creating mystery to attract the readers. The titles for magazine reports tend to be quite straightforward that summarise the event in a few words. But in terms of newspaper reports, the heading or the title generally appears to be mysterious to attract the readers to the newspaper article.
Date & Place are indivisible parts of newspaper report writing. Dates signify the day when the report is written and the place signifies where the event has taken place. It is important for keeping the proper account of the event and also helps to maintain the authenticity of the report. They are written either on the left side of the paper or just below the heading. It can also be written at the very beginning of the introduction. But for magazine reports, place and date do not need to be mentioned.
The Name & Designation of the reporter is another important thing to mention properly in all kinds of reports. They are written either on the right side of the paper after the heading or just below the heading. In report writing format, the Name & Designation of the reporter is referred to as bylines.
Then comes the body of the report. A report's body consists of three crucial elements: Introduction, main content, and conclusion.

Introduction: The introduction is the elaborative expansion of the heading itself. It tends to summarise the main event just within 2-3 lines.
Main Content: It is the primary descriptive part of the report. Here you have to write the details about the event, and the sequence with proper reference if available. At this point, try highlighting the issues regarding the event that are quite significant.
Conclusion: Here you will end the report. So, try to mention here what action is/will be taken if writing newspaper reports. If you are writing magazine reports, mention how the event ended and how the audience felt about the event. Always try to finish the conclusion on a positive note. Remember, this is the part that will help you to score better.
Now I am summarising the format for your better understanding.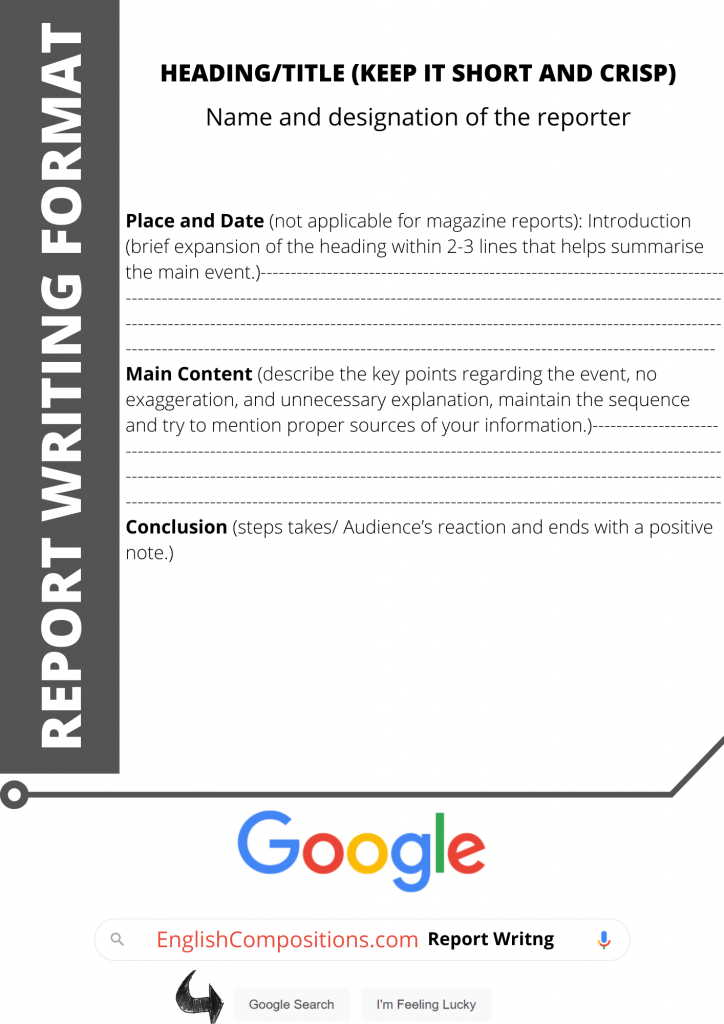 Dos and Don'ts While Writing a Report
There are always some points that help to add value to your report and some points that need to be avoided.
Dos
Think of the event you are about to write and plan to structure the information before you start writing the report. 
Always start writing the report from a fresh page and try to finish within it. 
Be direct and crisp with the information you mention in the report. 
Value-neutral point of view is the key to an excellent report. 
Always write your report in the past tense.
Use passive voice and indirect speech to write your report as you are writing from a third-person perspective. 
Be as brief as possible with your report. Try to fit all the information within the word limit. Always remember, your job is to express the event, not to impress.
Don'ts
Always avoid repeating the information. The info you once mentioned, do not mention that further. If you are running out of words, conclude it.
Never elaborate on the information you're putting in your report.
For newspaper reports, don't put administrative information without proper reference.
Always avoid giving detailed descriptions.
Related information doesn't need to be mentioned in reports.
Never mention your personal details throughout the report writing. If required use abbreviations like 'ABC' 'XYZ' etc.
Here are Some Examples of Different Report Writings
For your help, I am going to write one newspaper and one magazine report as examples. Hopefully, after reading them properly, you will clearly understand the entire concept of report writing.
---
Magazine Report Example:
GYANPEETH COLLEGE ORGANISED THE ANNUAL CULTURAL CEREMONY
Ashwini Sharma; Senior Class Representative
Our college is famous for having some special arrangements for this day every year. This year was no exception for us as well. The college celebrated the annual cultural programme this year in the college auditorium on 17th January.
Our college authority decided to celebrate this year's annual cultural program with a different vibe than other years. For the annual cultural ceremony, they invited some poor children along with their parents. According to the plan of the cultural committee of our school, we dedicated this day to helping the needy and serving the poor. We have also decided to raise some funds in order to help orphan children.
The fund will afterwards go to some social welfare organisation. All the invited poor and distressed children were provided with new clothes. Students gave their older books, notebooks, and other study accessories.
Then a small-scale cultural program was staged exclusively by the students. They sang, they recited, and even they staged a short drama. All the faces of the children were glittering with joy. By 4:30 in the afternoon, the program came to an end with a short speech by the college principal.
---
Newspaper Report Example:
JEWELLERY SHOP ROBBED AT ICHAPUR IN DARK RAINY NIGHT
Special Correspondents
Ichapur, August 11: A jewellery shop in Ichapur named Santosh Golden House got robbed yesterday night. It is the 2nd jewellery shop that got robbed this year in Ichapur. Shop manager Gautam Sadhukhan discovered this incident first when he came to open the shop in the morning.
According to him, like every other day, he came to open the shop and found that all the main locks of the front gate were broken and informed the police as well as the owner instantly. He dared not to further open the shop and touch anything. The police, as well as the shop owner Mr Bimal Biswas, came as soon as possible.
Then after opening the shop in the hands of police officers, it was discovered wholly looted with three broken CCTVs. But fortunately, everything was recorded till the robbers broke those cameras. The police are investigating the case and trying to trace the gang.
As per the report of Mrs Ranjita Guha, the officer-in-charge of the case, it was discovered from the CCTV footage that there were five members in the gang, and they entered the shop at around 3 am at midnight. The loss of around 77 lakhs of rupees is assumed by the owner of the shop.
---
Frequently Asked Questions (FAQs)
Even though going through an entire session, students tend to seek some straight answers to a few common questions related to report writing here. Below, I am trying to answer some of those commonly asked questions.
How do I start Report Writing?
You should start writing a report only after a proper evaluation of the topic on which you are going to write. After you are all set with the necessary information and the structure, start the report with an appropriate title and the reporter's name. Keep your tone professional, sentences simple and brief.
How can I get full marks in report writing?
You can score really high marks if not full if you follow the format properly. Make your title as appropriate as possible by keeping it crisp and directly referring to the main subject. Then divide the body of the report into three segments; first briefing the heading, then describing the key points and finally the conclusion.
Which tense is used in report writing?
Always use past tense in the report writing. Remember, in the report, you are just explaining an event that has already happened earlier. But sometimes, if the situation demands, you can make use of the continuous form of the present tense to explain some presently happening extension of the past event.
Which method should I follow to write reports?
If you are confused with many methods of report writing, consider referring to your respective board's guidelines. But frankly speaking, there should be no issue with following any of the methods as long as it's serving the primary purpose of report writing.
An In-depth Video Guide on Report Writing
---
That was all about our session on report writing. It was one of the most comprehensive sessions we have ever conducted on any kind of English writing. In today's session, we have discussed the definition, type, format, and basic elements of report writing. If you have gone through this session thoroughly, hopefully now you have a holistic overview of the report writing. Now go through our other sessions on report writing examples on various topics and try writing one yourself. Remember, self-evaluation is the ultimate key to scoring better in exams.
If you still face any issues while writing or have any further doubts, let me know through some quick comments. I will try to resolve your query as soon as possible. And don't forget to join our Telegram channel to get the latest updates on the upcoming sessions.
Best of luck with your exam. Thank you.