In this article, I will show you how to write a report on Yoga Day Celebration in School. So let's get started.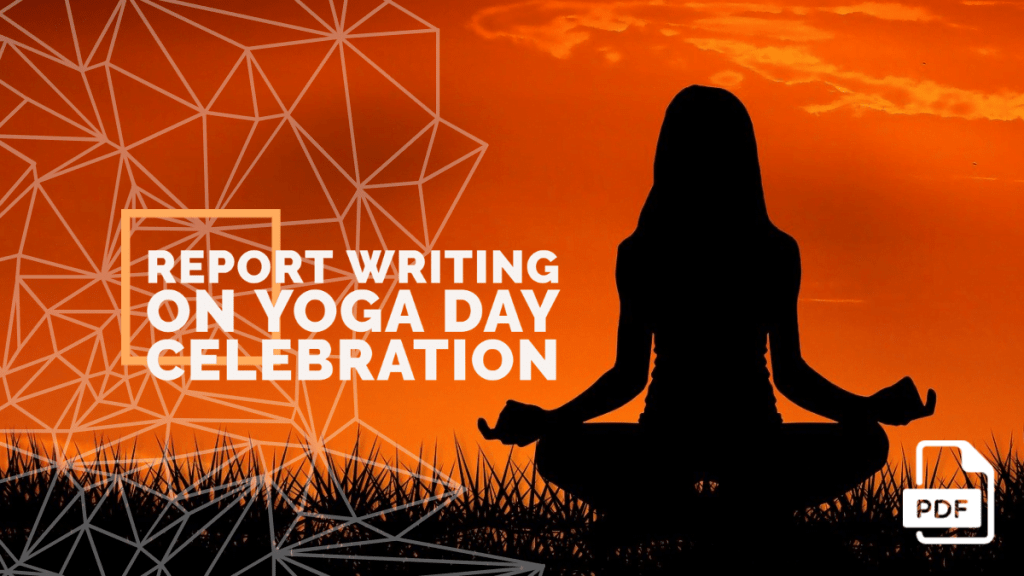 Example 1: You are Jain Anna, your school has organised a programme for yoga day celebration, you as cultural secretary of your institution. Write a report in not more than 200 words, for publication in your college magazine.
Yoga Day Celebration at School
Reported By: Jain Anna, Cultural Secretary
This year the Yoga day celebrations were held at Guru Nanak Public School on June 21. The session was held in our school ground. Students from classes 3 to 12th took part in the celebration. The inaugural speech was given by the district collector who emphasized the importance of Yoga and physical exercises in daily life.
A group of students who were yoga students performed several asanas. They also performed standing and sitting asanas. One could understand by watching their performance that they have been practising yoga for the last few years.
Some of the seniors even did some of the tough asanas. Our yoga teacher showed us some simple and beginner asanas which we did for about 300 minutes. The session was really organised. There were teachers all around us to help us in case we had trouble performing or understanding asanas. All the students participated eagerly.
Even our principal took active participation in yoga day celebrations. Next, we were given classes of yoga. About its history, a century of origin, how it helped the common people. They even told us that yoga helps increase concentration. Yoga day was celebrated with great enthusiasm.
---
Example 2: Write a report on the Yoga day celebration within 200 words.
Yoga Day Celebration
By: Irin Peter
This year's yoga day celebration was held with great enthusiasm at our school. A large number of students, teaching and non-teaching staff attended the event this year.
The theme for this year's yoga day was " Yoga for the achievement of the Sustainable Development Goals ". Various asanas were followed by omkar chanting. Warm-up exercises, sitting and standing asanas were performed. The trainers gave us a short class about the benefits of yoga.
They help in improving concentration and in attaining inner peace. It helps a person improve life physically, mentally and spiritually as well. Yoga Day is usually celebrated every year on 21st June.
This day is the longest day of the year also known as the summer solstice. They gave a brief history of the origin of yoga. It is a gift of India's ancient tradition. Yoga is said to be practised from the 5th century.
This was passed on to future generations. Yoga was actually done by sages as a holistic approach to God. Later on, it was passed to the common people. The event helped us feel confident and content physically, mentally and spiritually.
---
Example 3: You are Ritika Singh, general secretary of your school's club. your school has organised a programme for yoga day celebration. Write a report in not more than 200 words, for publication in your college magazine.
Yoga Day Celebration
Reported by: Ritika Singh, General Secretary
Our school celebrated yoga day with great reverence every year. Our physical education classes include yoga sessions every day. We learn different standing and sitting asanas.
This year, our Yoga day celebration started with meditation. After meditation, we shifted to sun salutation. We completed 51 sun salutations. After the sun salutations, we had a yoga competition.
The competition was conducted in three levels- beginner, intermediate and advanced levels. Shrutika Kaur, Jagjeet Mohan and Ritika Singh were the winners of the competition this year. Due to regular Yoga practice, most students were experts at their levels.
Next, we had yoga classes in three sessions, one was at 9 am, another at 10 am and the last session at 4 pm. This was held at the school auditorium. To avoid unwanted commotions the sessions were organised with precise planning. There was a talk given by Dr. Gaur Sehgal.
Dr. Sehgal has been a yoga practitioner for more than 25 years. He holds a master and has completed a PhD in Advanced Yoga. Students were organised in rows to avoid crowding.
There were several exits to avoid the rush at the end of the sessions. We pledged to make yoga a daily part of their lives so as to increase our physical, emotional, mental and spiritual well being.
---
Example 4: Your school has organised a virtual yoga session for yoga day celebration. Write a report in not more than 200 words.
Yoga Day Celebration at School
By: Shruthi Hassan
This year due to the widespread pandemic, large gatherings were not possible and also not allowed. Covid – 19 was already taking a huge toll on us but we decided to celebrate yoga day virtually.
Our school held a virtual yoga session for us. This year's theme for world yoga day was "Staying fit at home". This was an excellent theme since due to the covid situation, gatherings and celebrations were not possible.
The school authorities helped us understand the importance of yoga in daily life. Yoga plays a significant role since it helps people lead a better life with elevated physical, mental and spiritual health.
There were different videos showing the benefits of yoga in daily life. Yoga also helps in the regulation of hormones. It also helps in maintaining physical fitness. Yoga helps people increase flexibility.
Even though the yoga day celebration was at home we were still happy. Our school physical education teacher showed us the sun salutation and carefully explained the meaning of each asana in the sun salutation.
A few teachers were monitoring all of us online and pointed out our mistakes instantly. We took a pledge that we will do exercises every day and eat healthy food to improve our immunity. After the program was done, a virtual pdf was shared that explained the basic asanas and their importance.
I'd Love to Hear from You
So there you have it: Report Writing on Yoga Day Celebration in School.
I hope you find these article helpful.
Do let me know if you have query by leaving a comment.