This example report writing is on an IPL Match. So with out much delay let's get started.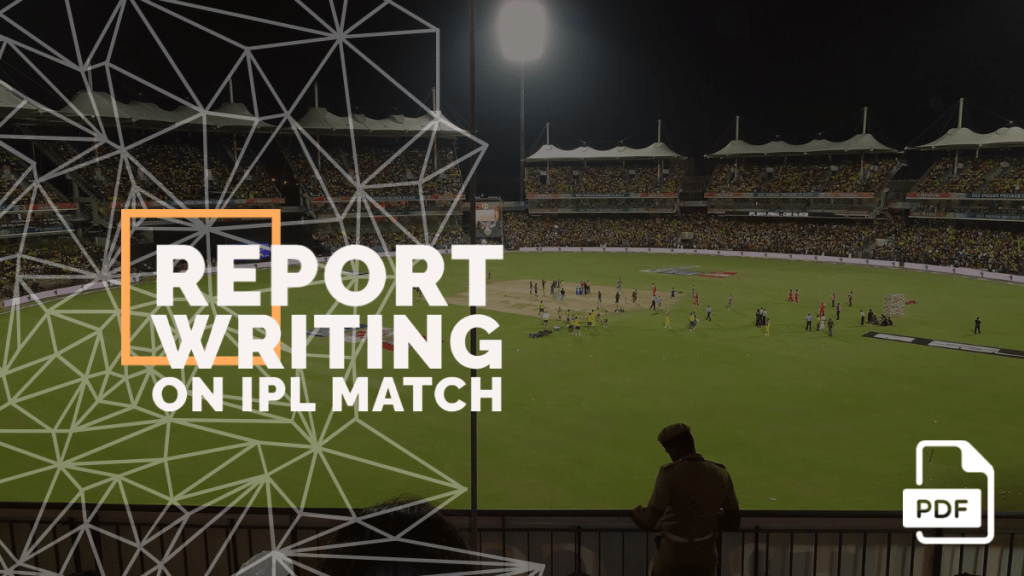 Example 1
MI VS DC: FINAL MATCH IPL FINALS 2020
By Gopinath Sahoo
12th February 2020, Mumbai: IPL Finals were played at Wankhede Stadium on Saturday. The final match was played between The Mumbai Indians and The Delhi Captains respectively.
The stadium was flooded by thousands of spectators who had gathered to cheer their respective teams. For the final match, the umpires reached the fields. MI won the toss. Both of the teams were playing carefully.
Rohit hit a four and kept playing till the 7th over when Krunal Pandya was out caught behind. The score of MI/DC stood at 45/1. Needing 145 runs to win the final, MI were off to a great head-start as Rohit completed 3000 runs, taking the score to 67/1.
Surya Kumar replaced Krunal as DC bowled three tight overs, hitting the spinner for two sixes. MI moved closer to 92 at halfway of the chase.
Later, Anrich and Kagiso picked four wickets while Kishan took the team home with 8 balls. MI spinned into attack in the fifth over. DC brought a century in the 14th dismissing Iyyer. While Trent Boult starred with the ball, MI beat DC by five wickets in the Dream11 Indian Premier League 2020 Finals.
---
Example 2
DREAM11 IPL MATCH: SRH VS DC
By Kaushani Nath
12th February 2020, Dubai:  In an IPL Match between Sunrisers Hyderabad and Delhi Capitals, unfortunately, Wriddhiman Saha, SRH skipper was badly injured while hitting the ball as a result of which he had a severe pain in his groin. In order to play well, SRH had planned to adopt a cautious approach with regards to fitness of national team players, as per the statements of a senior BCCI source.
The skipper had played gracefully by scoring his 45-ball 87. He smashed 12 fours and two sixes in its 86-run victory over Delhi capitals, which clearly reflected his batting skills.
The skipper had tremendously contributed towards the success of this match.
Meanwhile, Delhi capitals coach, Ricky Ponting is concerned about his team and looked for improvement in both batting and bowling performance of his team. Chasing a big target, DC promoted Marcus and Simron ahead of skipper Iyyer and Rishabh.
BCCI official authorities as well as other cricketers, appreciated the efforts made by Wriddhiman Saha. There was no slogging- the match was played smoothly. The spectators thoroughly enjoyed watching the game.
---
Example 3
DREAM11 IPL: NITISH RANA'S KNOCK BOOSTS KKR
  By Chandrakant Sukrishna
12th February 2020, Dubai: In the recent IPL match which was played between Kolkata Knight Riders and Chennai Super Kings, Nitish Rana, the left-hander got back on track with a scintillating 89 off 63 balls(11×4, 9×6) to a fierce 176 for five against Chennai Super Kings at the Dubai International Cricket Stadium.
Shubham Gill and Rana gave KKR a complacent start, putting on 52 for the opening wicket. Gill did the heavy-hitting with 17/ 26 striking boundaries with ease. Rana lost against Mitchell in the sixth over.
However, CSK counter-attacked in the next few consecutive overs. Karn and Santner kept the scoreboard ticking. The Super Kings were 100/12~ Ruturaj(53), Rayadu(27) and Watson(13) respectively.
On the other hand, Rana got his half-century off 46 balls. However, the left-hander was caught in the fine-leg region by Ravindra Jadeja. For the next few minutes, CSK kept things under control.
Rana hit three consecutive sixes in the 16th over to drive KKR beyond its horizons. The final push was given by Dinesh Karthik, as he hit a 10-ball 21 with three boundaries.
---
Example 4
DELHI CAPITALS WINS OVER ROYAL CHALLENGERS BANGALORE: DREAM11 IPL 2020
By Kusum Patodia
12TH February 2020, Dubai: Delhi Capitals hurdled Royal Challengers Bangalore to 152 for seven at International Dubai Cricket Stadium, Abu Dhabi on Saturday.
Out of them, Paddikal remained the consistent top-scorer with half a century. This was his fifth half-century in this tournament.
For Team RCB, Kohli and de Villers run outscoring a by fetching just 40 runs to RCB, and didn't succeed to give a tough competition to opponents.
Josh grew helpless by scoring 17-ball 12 and caught Prithvi running opposite to the cover-point off Rabada. Rabada went for a second run to retain the strike and made Dube out of the game, followed by de Villers in the next over.
The 18th over from Sams fetched 17 for RCB, de Villers then smacked a full-toss which won the game for the team.
Now I'd Love to Hear from You
So there you have it: Report writing on IPL match.
I hope you found this article interseting.
If you have any queries feel free to share that in the comment section, also if you have any other topic ideas that you want me to cover put those also.