Nowadays, cell phones have become very essential and relevant to human life. This gift of modern technology has replaced the personal letters that people used to write to maintain basic contacts.
However, many educational institutions still continue to use personal letters to evaluate their students' comprehension skills. So, in today's session, you will learn how to write letters to your friend telling him about your new cell phone.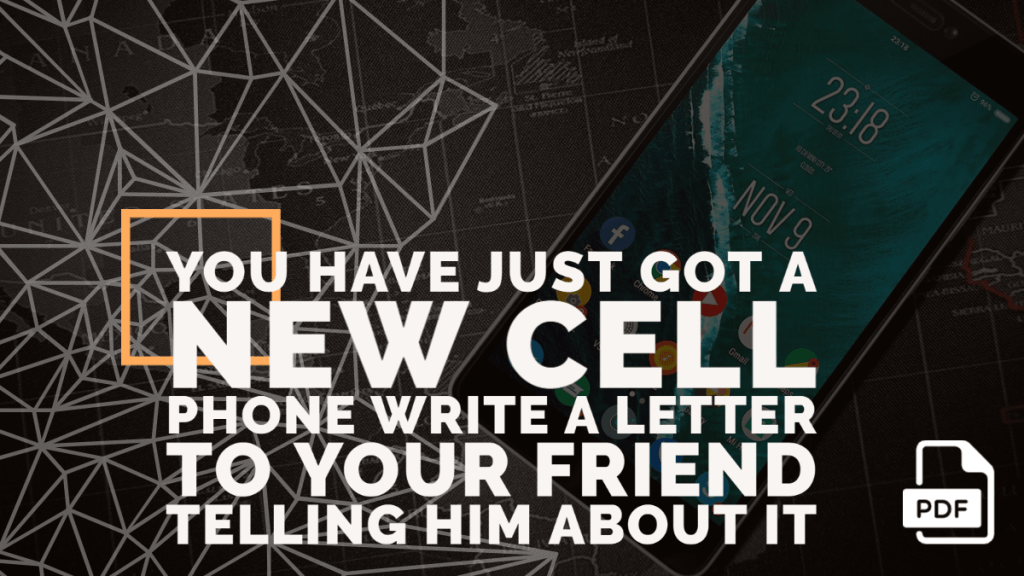 Example 1
Question: Suppose, you have recently got your first cell phone. Write a letter to your friend telling him about it.
Hints: You were asking for a cellphone- Uncle bought you this Diwali- A surprise gift- Not a smartphone- Has physical buttons- Can call, text, listen to music- You will have a smartphone after passing out from school- Conclusion
Ramchandra Bismil Street, Agra
Uttar Pradesh
November 12, 2020
Dear Harsh,
It's been a long time that I haven't received letters from you. How are your days going? You know, recently I got my first cellphone. Through this letter, I want to share my experience with this new cellphone with you.
Actually, I was asking for a cellphone from my parents a year ago. Finally, on the occasion of this Diwali, my uncle has gifted me this cell phone. It was a complete surprise, you know. I just returned from coaching class and saw a gift box on my bed. After I opened it, I saw the cellphone. But it's not like modern-day smartphones that can be used for everything. This phone has buttons like old-school cell phones. I can call, text and listen to music on this phone. Basically, my parents prevented my uncle from buying a smartphone for me now. My father said I'll have a brand new smartphone after I get passed out from school.
So, I'll wait for that day. But I'm glad that I can listen to music now, call my friends and text them. What do you think? Let me know in your next letter.
Your dear friend,
Manna
---
Example 2
Question: As your previous cell phone was stolen your parents bought you a new one. Write a letter to your friend telling him about the features of the cell phone.
Hints: Your smartphone was stolen in train- Faced trouble- You have to travel alone- Need a phone- Parents bought a new phone- Smartphone- Can browse the internet- Will be a help in the study- Online classes- Conclusion
2/61 Chompaberi Road, Falta
North 24 Parganas, West Bengal
September 23, 2021
Dear Chitra,
I have just finished reading the last letter you wrote to me. There you have wanted to know what I did after my old smartphone was lost. Through this letter, I want to share all the things in this regard with you.
When I was returning from a coaching class by train last month, my old cell phone got stolen. As I have to travel alone to my classes, a cell phone is very necessary for me to contact my parents. But after the phone got stolen, I faced a lot of trouble. Finally, last week my father bought me a new cell phone. I am so glad that this one is a smartphone. I can even browse the internet through this device. The Internet is very essential nowadays for studying. Moreover, the norm of online classes also requires smartphone access.
I also want to start photography with the help of this smartphone camera. Besides, I am eager to explore the online world. How are you doing nowadays? Take care.
Your loving friend
Amitayu Chakraborty
---
Example 3
Question: On your last birthday, your father has gifted you a new cell phone. Write a letter to your friend telling him/her about your experience with this new phone.
Hints: Your father gifted you a smartphone- Surprise on birthday- Can click photos- Browse the internet- Watch movies, play games- The previous phone was dumb- It has snapdragon 665 processor, 4GB RAM, Quad Camera and 4G support- Can click amazing photos- Conclusion
87/C Rahid Ali Road, Moulali
Nadia
February 11, 2021
Dear Kamal,
Why did you not come to my birthday party? How are you doing? Is everything all right? You know, on this birthday, my father has gifted me a new cell phone. I am so eager to share that experience with you in this letter.
On the morning of my birthday, after having my breakfast, my father surprised me with a gift box. After unboxing it, I got a brand new smartphone. It's a Samsung H20. I am so happy to think that I can capture photos with its amazing camera setup, browse the internet, watch movies and videos, and play so many amazing games. Compared to this one, my previous cell phone was too dumb. This smartphone has 4G network access, a Snapdragon 665 processor, along with 4GB of RAM. Most importantly it has a quad-camera setup in its back that can click amazing photos. I can pursue my hobby of photography through this phone as well.
So, what is your opinion about this smartphone? Let me know in your next letter soon.
Your best friend,
Altaf Hossein
---
Example 4
Question: Recently you have got your first cell phone. Write a letter to one of your friends explaining how the cellphone is now helping you to ease your life.
Hints: Your mother bought you a smartphone- A help in pandemic and lockdown- Help in online classes and study- You can find all solutions in google- Internet connectivity helps- Can click photos, listen to music and play games- Distracting and addictive device- Have to control and adjust- Conclusion
88/7, East Station Road,
Belgharia
Kolkata: 700110
December 11, 2020
Dear Rehan,
I have just finished reading the last letter you wrote to me. In that letter, you wanted to know how my new cell phone is affecting my life. Through this letter I'm writing, I want to share that experience with you.
Hope you already know that my mother bought me this cell phone to ease my life in this pandemic and lockdown situation. This cell phone is incredibly smart. As all my studies and classes have gone online, I attend those classes and pursue my study with the help of this smartphone. The fast internet connectivity helps here the most. I can find all my study problems' solutions on Google now. Besides, I can click photos, listen to music and play games on this phone during my leisure time.
But I must say, the smartphone is quite distracting and also addictive at some point. I have to control myself and focus on my studies. So, if you're also thinking of buying a smartphone, go for it. But you must learn to use this device specifically at your ease.
Best wishes and regards,
Sangita
---
That was all about our presentation on writing letters to your friend telling him about your new cell phone. In this session, I have tried to discuss the context from four different aspects. Hopefully, all your doubts have been cleared after going through this presentation and you will be able to write such letters on your own.
Never forget to add your own unique points to your write-ups. If you still have any doubts regarding this session, let me know through the comment section below. I will address your doubts as soon as possible. To read more such sessions, check out our website. You can also ask me to cover any specific topic by mentioning them through some quick comments. 
Thank you. See you again, soon.