In this session, you are going to learn how to write a letter to your mother about your daily routine.
Let's get started!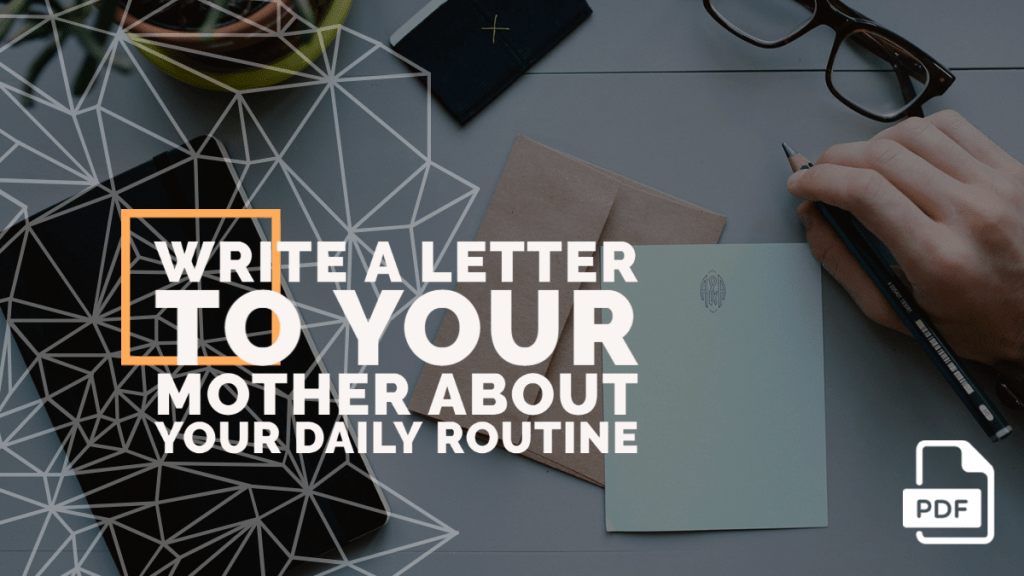 Example 1
Question: You have recently been promoted to a higher class. With all the pressure of studies, your daily routine has become very busy. Write a letter to your mother describing how you are coping with the new class and busy schedule.
Hints: Description of your morning- How you are spending the whole day at school- How do you find time to do other stuff.
74 Patel Street
Mumbai 401 201
Feb 10, 2021
Dear Mother,
I am glad to receive your letter. I feel relieved to know that our pet's health has improved so much. Classes for the new session have begun and my daily routine has become much more hectic.
The pressure of study has increased a lot and now I hardly get time to play. My day begins at 7 a.m and as soon as I wake up, I start organizing my books for school. My school bus arrives at 8 a.m, so I always get ready before that.
After continuous classes at school, I come back home and within half an hour I head towards my tuition classes. Since I do not get time for any other kind of recreation, I try to read a storybook every night before sleeping.
I hope you will appreciate my hard work. Convey my regards dad and lots of love for you mom.
Yours lovingly
Naina
---
Example 2
Question: Your summer holiday has just begun. You have quite a bit of free time in hand. Write a letter to your mother about how you are spending your holidays and how you are using all this free time.
Hints: Description of your whole day- Any new skill you want to learn- How you are enjoying your day with family members
19 East Road,
Lucknow 800 420,
Feb 12, 2021.
My dear Mother,
I hope you are fine. With the summer vacation going on I have plenty of time on my hand. I am enjoying every single day and I do not want my vacation to end soon. Let me tell you how I am spending my holidays.
This summer vacation I thought of learning a new skill. So I have started going to swimming classes every morning. I really want to be a skilled swimmer by the end of this summer.
After the swimming class, I study for almost two hours and complete all the holiday homework. During the afternoon I sit with my grandma and listen to her beautiful stories and I too share my fun school stories with her. I am also preparing for the story writing competition in the evenings that is going to be held in our locality.
Take care of yourself mom and write to me soon.
Yours affectionately,
Rahul
---
Example 3
Question: You have gone to visit your cousin's place during your vacation. You are enjoying it a lot. Write a letter to your mother describing how you are spending your days there and what are the things you like most about that place.
Hints: Description of the place- Things you are exploring there- Your friendship with your cousin- Any new thing learnt
44, College Street
Ludhiana
Feb 20, 2021
Dear Mother,
I hope you are in good health. My days at my cousin Ria's place are going very well. I want to stay for a few more days.
Ria and I have become really close friends and their locality in Darjeeling is very beautiful. Every day in the evening we stroll around the neighbourhood and discover many new trees. We spend our afternoons in their pretty garden.
We play hide and seek and we are watering the plants every day. Sometimes in the evening aunt makes some delicious fried food which we enjoy a lot. I also help Ria in her studies if she has any problems. Ria also taught me how to make hot chocolate.
I will make you a cup of hot chocolate when I return. I am also sending some lovely pictures of this place. Take care of yourself and dad.
Yours lovingly,
Shreya
---
Example 4
Question: Your mother has joined a new office for which she has to work on a Saturday as well. You miss spending your day with your mom. Write a letter to your mother describing your daily routine, how do you spend the day without her.
Hints: Description about your morning- How you are spending the evening with your friends- Any exciting story to share- Missing your mom.
34 Kareem Street,
New Delhi 110 002,
Feb 15, 2021.
My dear Mother,
Thank you for sending the chocolates. I loved it. I wish we could spend our Saturdays together like before.
My Saturdays have changed a lot since you have to go to work on that day as well. In the morning I finish all my homework to keep my Sundays completely free. After that, I go to a guitar class for an hour. I have learned to play songs now on my guitar.
The evening is kept only for playing. We have a football match every Saturday there and I must say to you that our team is always winning. I also go to the nearby ice cream stall after the game and treat myself with the pocket money that you gave me.
I miss you but I am glad that we can spend Sunday together. Please share your daily routine mom with me. I am very eager to know.
Yours affectionately,
Karan
---
Here we saw the different daily routines of each and every student. We have tried to cover different types of letters written to their mother describing their daily routine. Hope you enjoyed this session and found it helpful. Let us know your thoughts in the comment section below. Your opinion matters the most to us.