In this session, you will learn how to write a letter to your friend describing a book fair you have visited recently.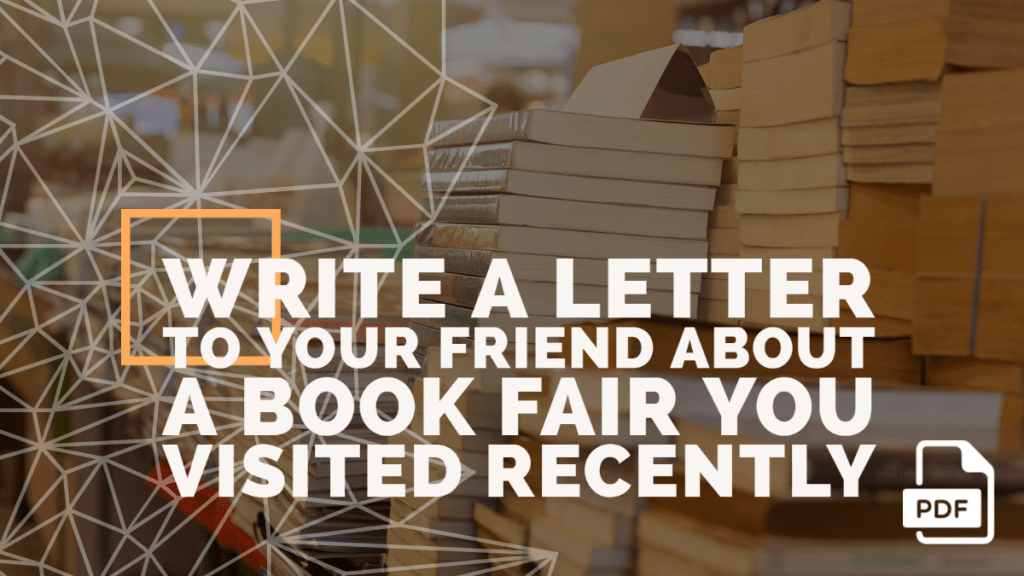 Example 1
Question: You are Nirali. Write a letter to your friend Elena about a book fair you recently visited.
Hints: Greetings – venue, date and time – classification of stand – your choice in books – conclude
17 A Saltlake,
Kolkata
20th November 2021
Dear Elena,
I hope this letter of mine finds you in good health and high spirits. I am writing this letter to you to narrate about a book fair that I recently visited.
The fair took place in Salt Lake stadium in Kolkata. It started on 10th March and went on for three days. The stalls were divided according to the genre. The basic classifications were fiction, non-fiction, autobiography, Hindi and Bengali. This fair was unique because there were guides who gave an overview and reviews on the book we selected. There was also a sitting area where we could sit and read the first few pages. This was helpful as it helps the readers to get an idea and select their books wisely.
The timing of the fare was from 11 a.m. to 7:00 p.m. I pick up the Hunger Games by Suzzane Collins. It is a thrilling and dystopian novel. I am certain that you must have visited a book fair in your city too and it would bring me great delight to learn about your experiences in your next letter.
Yours affectionately,
Nirali
---
Example 2
Question: Your friend Sue is a bookworm. You visited a fair recently. Narrate your experience to her in a letter.
Hints: Acknowledge your friend's reading skills – Give the fair a theme based on genre – list the popular names of authors in that genre – Ask her to share her experiences with you
Rose Valley,
Kolkata
21st April 2022
Dear Sue,
I hope my letter finds you in the pink of your health. I miss going to book fairs with you. Your voracious reading skills always made the exploration of new genres more interesting for me. I visited a book fair last weekend, and I would love to give you a very inside full sensory experience and a vivid description of it in this letter.
The book fair was unique as it only contained books of mystery, thriller and suspense. Our favourite author Dan Brown had a whole segment to himself. J.K. Rowling, Anton Chekhov and Douglas Adams were among the highlights. This book fair was special due to its organisation. The management team did a commendable job. A volunteer stood at every corner who would not allow people to spend more than 5 minutes at a single stall. He was also well worst with the books and the authors. He helped us in selecting the book by understanding our needs and interests. I bought The Lost Symbol and the Inferno from the stall.
Write about the books you have recently read and recommend some of the authors to me. I love to hear the descriptions from you. If you too visited a book fair, share your experiences with me.
Yours lovingly,
Riythisa
---
Example 3
Question: Write a letter to your friend John narrating to him about a book fair during Bengal Literary Week.
Hints: Ask about his health – Mention the venue and occasion – Give it a theme – Describe your journey as a reader – Pay your respect to his parents
7C Newtown,
Kolkata
14 September 2022
Dear Josh,
How have you been? I've been well. You always had a reputation as a bookworm, and I visited this grand bookfair in my city yesterday. I can't wait to tell you all about it in person. However, I shall share pieces of my experience with you today in this letter.
I recently visited a book fair at Newtown. It was the West Bengal Literary Week. Many renowned authors such as Ruskin Bond and Sudha Murthy were chief guests. There were many stalls. It was not easy to visit all the stalls in one go. The stalls were divided based on continents. I learnt the name of many renowned authors as well as indigenous authors.
As you know, books take us to a whole new world. I am very fond of reading. I like to maintain a journal of all the books I have read. I have written many reviews as well. I post them on Goodreads. All the books smell like they were just written and brought out from the factory. The book covers were so captivating that I often got lost staring at them.
If you have been to any book fair recently in your city, I would be delighted to learn about it. Give my warm regards to my uncle and aunt.
Yours lovingly,
Medha
---
Example 4
You are Nikita. You visited a book fair recently and bought a play by Shakespeare. Write a reply letter to your friend Ira who told you about Shakespeare's plays. Share your experience as a reader.
Hints: Acknowledge your friend's talents – Comment on Shakespeare – Pick up one play and one character from that play – Describe your experience – Give some reading suggestions
7C Chandni Chowk,
New Delhi
16th May 2022
Dear Ira,
I got so turned up when you told me about the recent books you have read that I visited a book fair in my city with my parents and bought those gems too. In this letter, I'll tell you about my favourite excerpts from those books.
Since you mentioned Shakespeare, and everyone knows the bard, I decided to read Macbeth. The plays have always interested me. But Macbeth tops the list. I was particularly fascinated by Lady Macbeth's character. The power and enthusiasm she portrays at the beginning of the play to her transition as a fragile and low-spirited woman at the end are powerful and marvellous. She is often recognised as the fourth witch, but the humane in her takes the better half as she takes her life by the end of the play.
If you have any more new recommendations for plays, don't forget to write to me about them. Meanwhile, you can read Edward Albee's Who's Afraid of Virginia Woolf. It's a fascinating subject. You will be delighted. Give my love and respect to your parents.
Yours affectionately,
Nikita
---
This was all about our presentation on writing a letter to your friend describing a book fair you have visited recently. If you have any questions or thoughts that you would like to share with us, please do so by commenting below. We'll respond within 24 hours. In the meantime feel free to check more letters like this.