In the school examinations, you need to write down their experience on different topics for diary entry using creative skillset. So, you should concentrate on how to write diary entry in the appropriate format to get good marks in the examinations. With four examples, this article shows the proper technique of diary writing on how to describe circumstances. Take this article as a reference and you will get the best ideas for making diary entries in an attractive manner.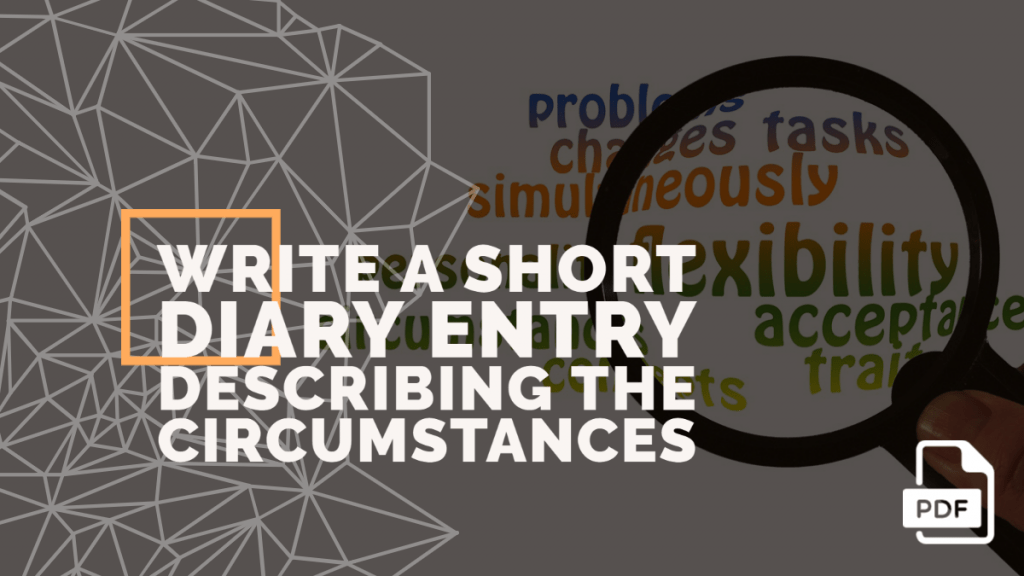 Set 1
Question-1: Sometimes, as per circumstances, you have to tell lies just only to keep your impression good. Now, using the hints makes an attractive diary entry along with the description of the specific circumstances and the story of your lying and also about your intense feeling after telling lies to others.
Hints: Odd day for you – Feeling hungry – No one at home – Eating sister's chocolate – Sister complained mother – blamed our maid's daughter – Mother scolded her – Felt guilty for this lie.
Answers:
Baguihati,
17th April 2019,
Thursday,
Time: 10:30 am.
Dear Diary,
Yesterday, after returning from school, I was feeling very hungry. At that time, I was alone at home. My mother was not there to prepare my tiffin. I was looking for something to eat and I noticed a box of imported dark chocolate, which we got from one of our relatives as a gift. I was so hungry, I forgot that I had to share it with my sister. I finished all the chocolate balls.
In the evening, my sister did not find the box and started to cry for chocolates. My mother asked me about the disappearance of the chocolates. I told that I saw our maid's daughter eating chocolates. The next morning, my mother scolded our maid very badly for stealing the chocolates. And while I saw that our maid was wiping her eyes with her saree, the scene made me disappointed for telling a lie about her. I promised myself I would always stay from lying.
Riya Das
---
Set 2
Question-2: Sometimes, your inability creates tough circumstances for you. But, you do not want to disclose that matter in front of your family members just because only, it can affect your bonding with them. At the end, you also feel guilty for your lies. Now, go through the following hints and make a diary entry based on the specific circumstance, while you told a lie and repented for that.
Hints: Result out at school – First time passed with a low score – Trying to give an excuse for not getting results at hand – After a few days mother showed a lot of faith in you – Finally confessed everything.
Answers:
Park Street,
17th March 2019,
Thursday,
Time: 10:30 am.
Dear Diary,
This week, before the last class-test, I was not happy with my preparation for Maths. And while I got the results of the test, I came to know that, for getting very low marks in Math, I got Grade – B as an overall result. I became very frustrated as it was the first time. Before this class test, I always scored Grade – A. So, I was so afraid of how I would explain the reason to my parents for my low score on the class test.
In that session, from the very beginning, I was not easy with the problems of the Maths syllabus. But, I started to avoid the difficulties of the Maths syllabus. And during the exam, it became a trap for me. Due to lack of practice, my silly mistakes lowered my marks in Math. But, I was not ready to inform my parents about this.
So, I told them our school decided instead of handing over the exam papers to the students, they only let us know our marks and grades. But, while my mother told me she has a lot of faith in my capability, I told her my mistake. And I also promised myself not to lie to the parents, as they always guide us towards the right track.
Shubhra Dasgupta
---
Set 3
Question-3: Due to being nervous or getting tensed about the consequence of any mistake, you can feel insecure. And this feeling pushes you to tell a lie. But in reality, you never want to cheat anyone. Now, take a look at the following hints and describe your story of lying about an uneasy circumstance through diary entry.
Hints: Playing indoor games – Father told not to create any mess in his study room – But forgot his words –  Broke an expensive showpiece – Father asked – Blamed brother for breaking the showpiece – He started crying – Confessed fault.
Answers:
Park Street,
17th December 2019,
Thursday,
Time: 10:30 am.
Dear Diary,
This Sunday while my father went to the market, I started playing cricket in the drawing room. While hitting the ball, it entered my father's study room. And I hit the ball with the bat from the study room towards the drawing room. Suddenly, it hit an expensive candle holder and it fell down from the table. I went to pick it up to keep on the table, but it was broken into pieces. I remembered my father's words about not to play indoor cricket. And my imagination of his angry face made me reluctant about telling the truth to the candle holder.
While my father asked about it, I told my brother entered father's study room to take the music CDs and he broke the candle holder. While my mother started to scold my brother, he started to cry. Then my own words pinched me a lot for misguiding my parents about my innocent brother. I told the truth to my parents and they forgave me for my lying with advice not to blame anyone for my own fault. I also promised them this incident would not happen again.
Shovon Khan
---
Set 4
Question-4: Fear of losing your impression sometimes pushes you to tell a lie. But maybe your intention is not hurting anyone. Now, describe what circumstance forced you to tell a lie. Take a look at the hints and make a diary entry about the story of lying based on any specific circumstance.
Hints: Met a new friend – Got invitation for his birthday – Not easy to be absent at school on a weekday – Give excuse of illness – Mother came to know and scolded – Promise not to tell lie.
Answers:
Park Street,
17th June 2019,
Thursday,
Time: 10:30 am.
Dear Diary,
This Wednesday, evening I met one of my friends, who shifted with his family in the opposite housing complex of our building. He invited me to be present on his birthday on Thursday. I could not neglect his invitation as we became friends recently. I made a plan for attending his birthday. It was a weekday, so I called my class teacher and informed about my absence with an excuse of my illness. She advised me to rest and take proper medicine. After having breakfast, I packed one of my casual dresses in a school bag and told my mother that I am going to school. Then I reached my friend's home to celebrate his birthday.
We enjoyed a lot of video games, delicious foods throughout the day. While I returned home, my mother asked me about my classwork. I remained silent, as I could not show the sign of the class teacher in the notebook. My mother told me that my class teacher spoke with her to get the information about my illness. I felt so guilty and promised my mother not to tell lies.
Soham Ghosh
---
All the circumstances described here will guide you to follow the proper format for making an attractive diary entry. The topic of how to describe the circumstances in a diary writing represents the ideas through four examples. Hope, the points covered in the examples will make you skilled in diary writing. Let us get your valuable feedback through the following comment section. Thank you.