Diary Entry on a Kite Flying Competition [With PDF]
Diary entry is a tricky question to deal with if you are not careful with the format. This question appears often in the exams and without a proper structure, marks will be deducted. The examples in the following exercise will illustrate four different scenarios on the topic of kite flying competition and you can refer to these to understand the correct format while writing a diary format.
Whenever asked to write, these examples can come in very helpful. So, let's start.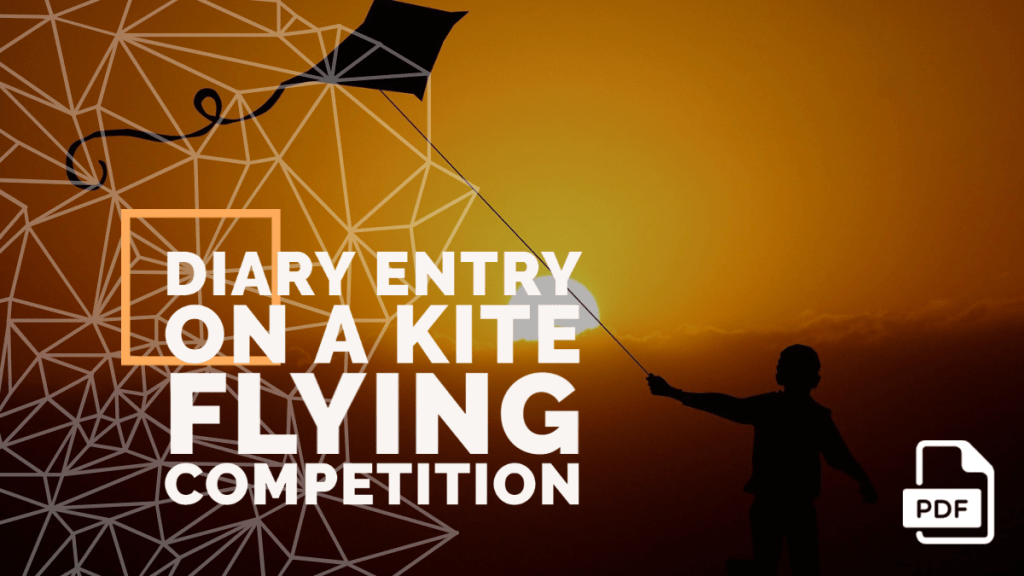 Set 1
Question-1: Write a diary entry, About a kite flying competition in your housing society.
Hints: Describe the kite flying competition?- How was the event organised -Who were the participants- How did the event come to an end.
26th  January 2021,
Monday,
8:00 pm.
Dear Diary,
My housing society hosts a kite flying competition to celebrate Republic day every year. It is one of those events where all the residents come together to participate. My family takes part in this competition as well. We buy a roll of strings a few days prior and then make Manja, a mixture made of wheat and small glass pieces that are stuck to the strings to make it sharper and more durable.
The competition starts at 4 pm,  each kite is marked and the last flying kite wins. Kites of different colors and shapes flying across the evening sky is a wonderful sight to see and the excitement during kites clashing was always high. The best part is that during this competition the housing society does not feel like individual apartments filled with strangers but like an extended family coming together to have great fun.
Akash.
---
Set 2
Question-2: Write a diary entry, about an inter school event, where you participated in the kite flying competition.
Hints: Describe the inter-school competition- How was the event organised - What was your role- Describe the kite flying competition.
13th  March 2021,
Saturday,
7:00 pm.
Dear Diary,
My school participates in an inter-school event every year. This year it was our chance to host the event and the entire school seemed busy taking care of it. There were a lot of competitions arranged and I was really excited to participate in the kite flying tournament. The event started at 9 am in the morning and the school grounds were filled with students cheering for their friends participating.
My event started at 4 pm, you could see a variety of kites flying in the sky creating a beautiful scene. The thrill of kite clashing was amazing, I flew my kite for quite some time and ranked in the top ten. Unfortunately, I could not win but this experience is something I will always remember and cherish and I hope that next year I will win the competition as I will practise hard for it.
Ankit.
---
Set 3
Question-3: Write a diary entry, About a kite flying competition during a festival.
Hints: What was the festival- How was the competition organised. - What was your role- Describe the kite flying competition held during the festival.
16th  August 2020,
Saturday,
6:00 pm.
Dear Diary,
Every year during Vishwakarma puja all of us in the neighborhood come together to organize a kite flying competition and this year I decided to take part in it. Days prior to the festival I prepared a collection of kites. Kite flying is a hobby of mine and I was excited to show my skills in the competition. The day of the festival was filled with people celebrating all around, the kite flying competition started after the puja got over.
Kites of various colors flew around the sky and I flew my kite sky high. It was exciting to clash kites with other participants, you have to pull the strings properly in order to maintain flight or bypass other kites. The event came to an end by sundown and all of us enjoyed it thoroughly. I pray that I will be able to perform even better next year and cannot wait for the festival to arrive again.
Anuj.
---
Set 4
Question-4: Write a diary entry, About a kite flying competition you witnessed during a vacation.
Hints: Where was the vacation- How was the competition organised. - Describe the kite flying competition and anything. that you found interesting.
13th  February 2020,
Friday,
5:00 pm.
Dear Diary,
I was very excited to know that my parents decided to go to Rajasthan for our family vacation. It is a beautiful state with many  beautiful cities and villages. While we were travelling towards the Thar desert we came upon a village. Ramnagar was beautiful and we happened to visit on a special day, there was a kite flying competition going on.
Kites of different colors floated around in the sky and I could see people of all ages flying kites around, the anchor hosting the competition cheering and giving us some details on the talented participants. The competition lasted till sundown and all of us cheered as the last kite standing flew in the sky. I enjoyed this famous sport from our Indian culture and will have cherished memories of that day always.
Shivam.
---
These examples will give you an understanding of diary entry. They cover four different scenarios so you can refer to them to gain an understanding of diary entry format. The topic explains how you can tackle the topic- Kite flying competition. Hope you found this session to be helpful. Let us know your valuable opinion as well as suggest anything you want to bring to our notice in the comment section below. Thank you, hope to see you again soon.