In this article, I'll teach you how to write a report on the visit to an old age home by showing a couple of examples. But initially, I want to clarify these kinds of reports can be classified into two different types:
Magazine Reports
Newspaper Reports
The category of each sample will be mentioned prior to every report. Don't miss to check on them. So without further delay, let's dive into the topic.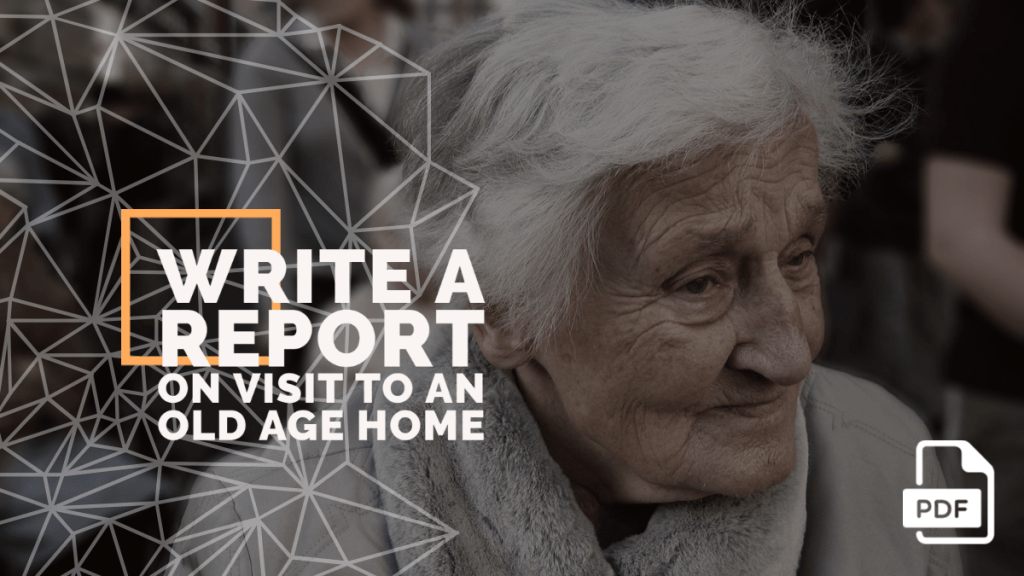 Example 1 [Magazine Report]
A VISIT TO THE OLD AGE HOME FROM ARMY PUBLIC SCHOOL
Reported by: Minakshi Sethi
A group of Scouts and Guides students of Army Public School, Nashik went for a visit to Ammucare Charitable Trust, an old age home located near the outskirts of Nashik in Maharashtra on Saturday, August 12, 2020. The Non-Profit Organization accommodates nearly two hundred old men and women, generally aged between fifty to ninety years,
The purpose behind this visit was to help the Senior citizens in all the possible ways the students could.
Nearly thirty-six scouts and forty-seven guides took part in this voluntary service under the guidance of three teachers. The visit was held on the 12th of August 2020 from 7:00 to 19:00 hours.
The enthusiastic and determined candidates reached the old age home within an hour from the school. They took charge of all the responsibilities of the organization for the rest of the day. All the candidates greeted the residents and took utmost care of them.
They helped everyone in doing their daily works. The breakfast, as well as the lunch, were served by the students. The old residents expressed their gratitude towards the candidates.
---
Example 2 [Magazine Report]
OUR VISIT TO AN OLD AGE HOME NEAR SCHOOL
By Bibek Roy
We, the students of Loyola International School, Unit-8, Allahabad visited an old age home near their school campus on the 11th of August 2020.
Srishti Drishti Care Organization, located near the Chamcham Bazaar, Haveli Nagar is a home for both orphans and aged people. Newborn babies are also left there. Visitors are allowed only for fixed hours from 7:00 am to 9:00 pm on all the working days.
We visited the organization as a part of our community project that aims to preserve the cultures, traditions and ethical values from one generation to another. Both us as well as the residents of the organization were greatly overwhelmed as we shared stories and experiences of our lives with each other. The young visitors were shattered and saddened after listening to their grieves and the demises of the older.
The plight of living in an old age home where you are forced to adjust and reside with unknown people is quite challenging. However, with the passage of time, every member of this organization lives happily and peacefully with a sense of unity among themselves.
---
Example 3
A Visit to an Old Age Home
Reported by: Mohit Aggarwal
On the 11th of August, to celebrate my seventeenth birthday, I went to Shri Krishna Old Age Home, 5 km away from Sarojini Market, Noida with my parents.
Shri Krishna Old Age Home provides shelter and food to nearly two hundred aged people-both men and women. Every year, I visit some nonprofit organization or nearby slum localities to help those who need help, love and affection. I spent quality time with them. And it gives me immense happiness.
We visited the old age home at 10:30 am. It was an overwhelming experience for us. Initially, it was quite difficult to digest the reality that we witnessed the elderly parents not taken care of and being neglected and eliminated from their families, societies and communities as well. We distributed some fruits, sweets and snacks among them.
We had an amazing time by singing songs and narrating jokes, narratives and stories from real lives. The people looked blissful in our company. A donation was also given by our family for improvement of the conditions of the organization. I was grateful for having such an indelible memory on my birthday.
---
Example 4
A Visit to an Old Age Home
By Nitin Kumar Raj
I had an opportunity to visit a local old age home as one of my cousins was a junior volunteer for a local non-profit organization. To mark the annual day of International Service Day, all the local people were invited to provide voluntary services to the helpless and hopeless hearts.
The old age home was situated in the outskirts of the city and was a three storey building. The walls of the home were old and were poorly maintained. Nearly 342 aged people dwell in that building.
As we entered the building, all of them were involved in many tasks such as watching television, knitting, sipping tea and gossiping as well as cooking lunch for the group. We distributed some food packets and blankets among them. They shared their emotions with us, which left us feeling shattered and nostalgic.
The visit was a life-changing experience as it was filled with many emotions and sentiments along with a bunch of valuable life-lessons. The old age homes are the last hopes of old people to lead better lives.
Conclusion
So this is all about the report writing on visit to an old age home. Let me know your thoughts by commenting below this article. Also if you have any query regarding this report, feel free to ask, I'll get back to you within 24 hours.