In this report writing example, I am going to show you how to write a report on Diwali Celebration.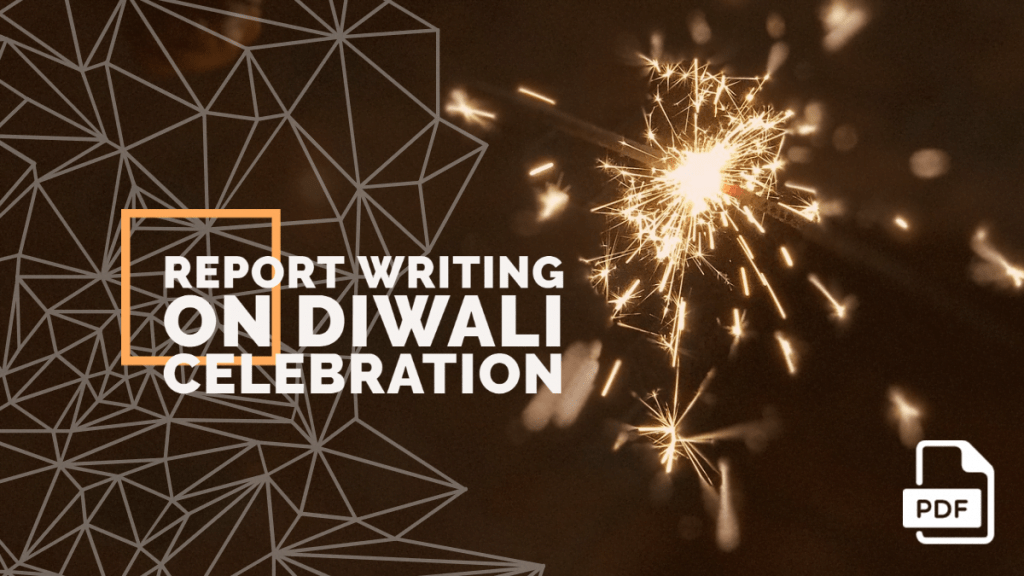 Example 1
Diwali Celebration In Our School
By Eyeleen Anna Geo
Delhi Public School
November 5, 2020: New Delhi: This year our school celebrated Diwali in a grand way. We had invited all our grandparents and the elderly people from the nearby old-age home. They were our special guests. Diwali is known as the festival of lights, and depicts the victory of light over darkness, good over evil and so on.
This year we wanted to celebrate our Diwali differently. We had planned the whole program precisely. There were games and entertainment programs by our students. And to our amazement, all the elders had an active participation in the programs. Their faces were gleaming with joy and laughter.
This also had a positive impact on the students, helping them understand the importance of their grandparents in their lives. We were happy that we could remove the darkness from their hearts by filling it with light.
There was a speech given by our school captain regarding the importance of looking after your loved ones and grandparents. The speech was well said because during the conclusion one could see teardrops in every eye. The principal gave away prizes to all the elders as a token of appreciation for their active participation.
---
Example 2
Diwali Celebration In Our Colony
By Lara Mark
November 5, 2020; Kerala: The celebration was conducted by the members of our own Colony. There were lights and decorations everywhere. Rangoli designs were being drawn and kids were playing in the park. Diyas were being lit all around the place, in every nook and corner. The place was filled with light, and it looked beautiful in the evening.
Firecrackers was another entertainment of the event. There were programs conducted by different age groups. There was a welcome dance, a prayer song, and a long list of programs. Sweets were being distributed and all the elders of our colony were honoured with small gifts as a token of appreciation for their participation in the function.
Our President took pride in introducing Dr Anand who was a part of the colony and had recently completed his MBBS from AIIMS. Dr Anand took a few moments in thanking everyone for this honour and spoke a few things to the youth. He was honoured with a small memento.
Last but not least every single mother in our colony brought homemade sweets including laddoos, gulab jamun, jalebi and so on. Everybody dispersed after having dinner.
---
Example 3
Diwali Celebration At Ancestral Home
By Deepthi Singh
October 12, 2018; Gujarat: Diwali, the festival of lights is a huge celebration at my Ancestral Home. Relatives from everywhere come to take part in the celebration. The days before are spent cleaning their homes. They decorate floors with beautiful rangoli designs.
The festival is also known as the harvest festival. The house is fully lit with beautiful diyas. A pooja is conducted by the head of each family. This festival brings a lot of joy and happiness as it involves shopping, purchasing things and so on. We children have lots of fun during the festival since we receive gifts from our elders.
It also helps the bond of love and happiness grow in our family. Mother's make a large amount of sweets starting from laddoos to gulab jamun. Our grandmother sings a Bajan in the evening after the pooja marking the beginning of the celebration.
Firecrackers are another attraction of the celebration. Children and elders are equally dressed up in their best dresses. This celebration lasts for about a week. Slowly the relatives all go back to their own homes wishing each other farewell and hoping to see each other soon.
---
Example 4
Diwali Celebration during Covid-19
By Michelle James
November 5, 2020; Kerala: This year's Diwali Celebration was really different. The times were really difficult and struggling. So many families were suffering, in spite Diwali was happily celebrated. We thought of what we could do to help others. We came with the plan of giving gifts to those who are struggling and making their Diwali colour full.
Since gatherings were not allowed, each house celebrated their Diwalis with precaution and social distancing. Neighbours gave each other their sweets and delights. And for the families that were struggling, we brought them homemade sweets and other delicacies bringing tears of joy both to the giver and to the one who was receiving.
We bought children gifts making their Diwali colour full for them. The children were so happy that they heartily thanked us and blessed us with a very good future. It was indeed a very different experience from the earlier years.
Those days of gathering were not possible at least during the present situation but insof all these facts and difficulties it was a wonderful Diwali. This Diwali Celebration was different from the others and one which touched the hearts of many.
Now I'd Love to Know Your Thoughts
There you have it: Report Writing on Diwali Celebration.
I hope you find this article interesting.
Do let me know if you have any other topic ideas that you want me to cover by leaving a quick comment just below the article.