Personal letter writing is the most traditional way of maintaining contact with close people. Before this contemporary telephonic revolution, even a couple of decades back, people used to write letters to each other for general communication.
Nowadays, though the writing of the personal letter has become practically irrelevant for real life, many institutions have still continued to use this to check their students' English comprehension tests.
Today's session is going to be based on such a relevant topic that you may find important for your next English comprehension test. Here, you are going to learn to write letters to your friend narrating your recent act of bravery.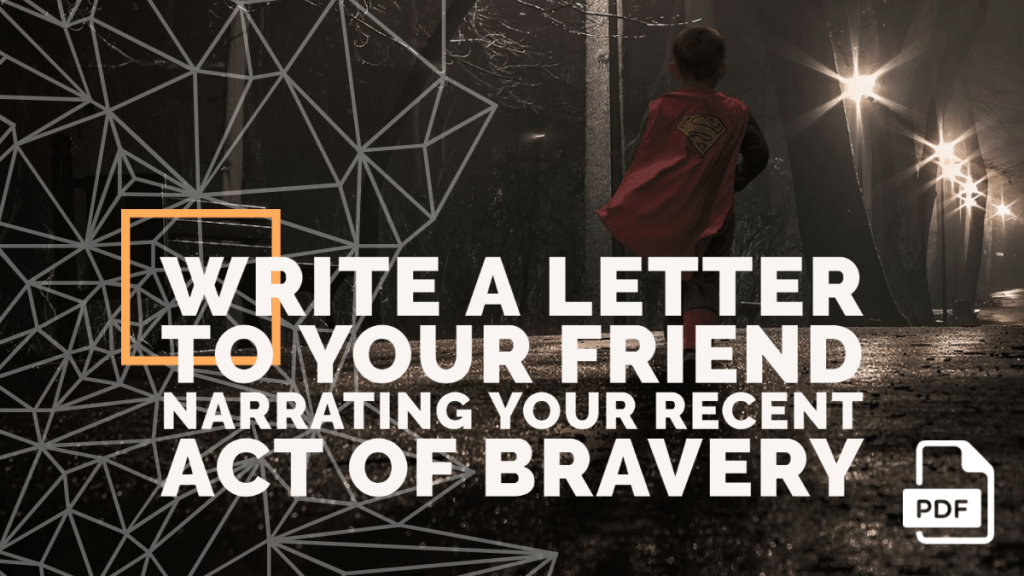 Example 1
Question: You have recently helped the police to catch a notorious thief. Write a letter to your friend narrating this recently of your bravery.
Hints: A thief disturbing local livelihood- Police couldn't arrest anyone- You returning from coaching one evening- saw a person roaming around suspiciously- Asked your father to inform police- Police trapped him that night- Caught him red-handed
Sardar Patel Road, Ahmedabad
Gujrat
August 12, 2020
Dear Prafull,
It's been a long time that I have not received letters from you. How are you doing nowadays? I have recently helped the police to catch a notorious thief from our locality. Through this letter, I want to share that experience with you.
For the last few months, a thief was disturbing the normal livelihood in our area. Almost every alternative day, something was being stolen from somebody's house. Despite informing the police, they could not arrest someone due to the lack of evidence. In such a situation, one evening while returning from my coaching class, I saw a person roaming suspiciously around one of our neighbours' houses. The entire incident seemed fishy to me and after coming home, I asked my father to inform the police. The police trapped the person that night and caught him red-handed. I even had to go to the police station to identify the person.
What is your opinion about this incident? Let me know soon in your next letter.
Your dear friend,
Manna
---
Example 2
Question: You are Ankita, recently saved a boy from drowning in the lake nearby your house. Write a letter to your friend explaining the entire incident and tell how people are appreciating you for this act of bravery.
Hints: You returning from school- Noticed a boy drowning in the lake- Nobody around- You knew swimming- Jumped and pulled him out of the lake- Informed your and his family- Everybody praised your bravery
2/61 Brahmanbaria, Gobra
Burdwan, West Bengal
September 23, 2021
Dear Mithila,
I have just finished reading the last letter you wrote to me. There you wanted to know why everybody was praising me till when you last visited my place. Actually, the reason is I saved a boy from drowning in a nearby lake near our house.
We have a big lake near our house. Around a week ago, One day, when I was returning from school in the afternoon, I noticed a little boy shouting from inside the lake to save him. I immediately understood that he doesn't know how to swim and hence is drowning in the lake. As I knew swimming, I decided to take a risk to save the boy. Putting my school bag on the ground immediately, I jumped into the lake to save the boy. When I reached him, he swallowed a lot of water. Then I grabbed his hair and pulled him out of the lake.
After pulling him out of the lake, I informed my family and other residents of the locality. Due to this incident, everybody in the locality was praising me. But I still consider it my duty as a human being.
Your loving friend
Ankita Sarkar
---
Example 3
Question: Recently a massive fire broke out in a multi-storeyed building located in your neighbourhood. You have helped the fire brigade in the initial rescue process of people. Write a letter to your friend narrating this act of your bravery.
Hints: Neighbouring multi-storeyed residential building caught on massive fire- Fire brigade was informed- Locals started initial rescue operation- You took part- You saved 15 people- Helped in extinguishing the fire- Little injury on your fingers- Everybody appreciated
87/C SN Banerjee Road, South Taltala
Kolkata: 700088
February 11, 2021
Dear Arijit,
It's been a long time that I haven't heard from you. How are you? You know, recently I have helped the fire brigade in a rescue operation in our locality. I am writing this letter to you today to share this experience with you.
A few days back, a multi-storeyed building nearby our house was put on a massive fire. It was basically a residential building and around 50 families used to live in that building. After everybody noticed the fire, the fire brigade was immediately informed and the initial rescue operation was started by the locals, along with the fire brigade later, to save the people trapped inside the building. I also took part in that rescue operation and helped to rescue around 15 people. Along with rescuing the people, I also helped to extinguish the fire with sand and water. I also had a little injury on my left-hand fingers.
I am so proud to be a part of such a brave operation. My family members have also appreciated me for this. What do you think of this incident? Let me know in your next letter.
Your best friend,
Altaf Hossein
---
Example 4
Question: You are Rehan. Write a letter to your friend explaining why basic bravery is important for human life along with a specific reference to one such recent act of bravery by you.
Hints: Life is a journey- Have to deal with difficulties- Must be prepared- Need for bravery- You lost among a crowd while travelling- Initially feared and panicked- Then calmed yourself down- Approached a police officer- Helped to find your parents- Excessive bravery is dangerous- Basic is needed
88/7, West Station Road,
Vellore
TamilNadu
December 11, 2020
Dear Ankit,
In your last letter, you have asked me about the need for bravery in human life. Through this letter today, I want to discuss the need I feel for bravery in a person's life.
Look, our life is a long journey. We expect this journey to be a smoother one, but it often comes out to be the exact opposite. So we all have to deal with many tough situations in our life. And difficulty may come in many forms. That's why we should always stay prepared to deal with them. But how can we prepare ourselves for such difficult situations? The initial answer is bravery. Without basic bravery, we will often feel defeated in our life very easily.
Recently, while travelling with my family to a hill station, I lost myself among a crowd. Initially, I got pretty afraid and started panicking. But then I calmed myself down and went to a police officer I saw nearby. I told him about the whole incident along with my parents' names. He helped me to find my parents.
Obviously, excessive bravery can be dangerous. But such basic bravery is highly needed to sustain in our life.
Best wishes and regards,
Rehan
---
That was four different letters written in this context based on four different aspects. In this presentation, I have tried to explain the topic holistically through the different examples. Hopefully, all your doubts regarding the context have already been resolved. Let me know about your doubts (if you have any) in the comment section below.
Apart from this one, you can find hundreds of such sessions on English comprehension tests on your website. Browse them on to read further. And, what is your opinion about this initiative taken by us? Let us also know that through some quick comments. 
Thanks for being with us. See you soon.