In this article, you are going to learn how to write a letter to your friend describing how you spend Durga Puja.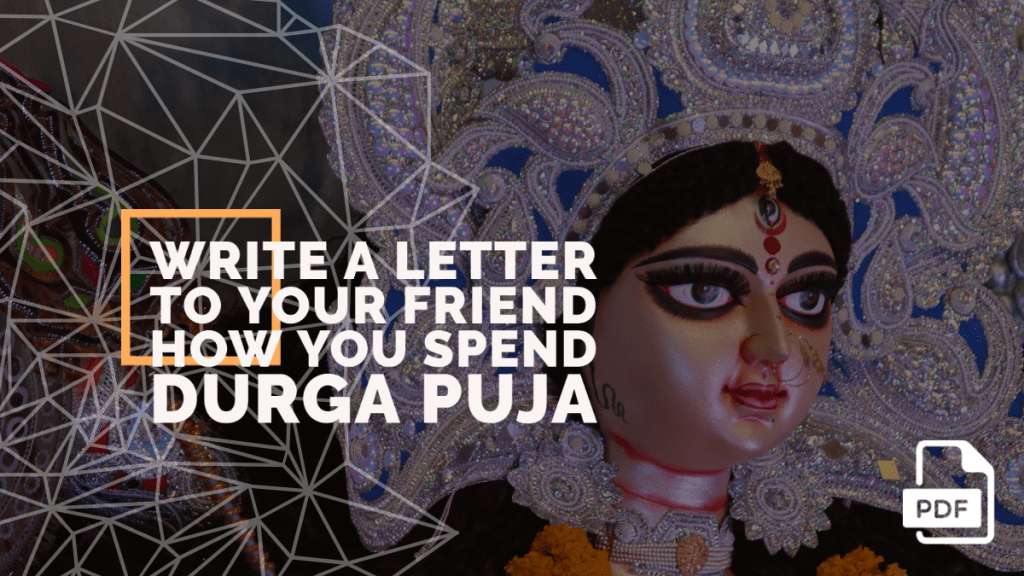 Example 1
787- Ramanuj Nagar,
Keshiary, 8950841,
Sriganganagar,
Rajasthan,
October 21, 2021
Dear Sharan,
I hope you are well by the grace of the Almighty. I am well too. Hope your parents and younger sister are fine. It's been so long since I wrote a letter to you. I had a great Durga Puja festival this year.
As you know our Durga puja holidays have started and as usual I am very excited for them. Durga Puja is my favorite time of the year. This year we went on a road trip to Kolkata with my family to celebrate Durga Puja.
Before the 10 days of Durga puja started, I went shopping with my family and my cousins.
Please do tell me what you did in this Durga Puja.
Yours,
Ancheta.
---
Example 2
232/45, Rekha Society
Jamnagar, Odisha
November 23, 2021
Dear Angshu,
I hope you are well by the grace of God. Your letter just arrived. In your letter, you have wanted to know how I spent my Puja holidays.
This year, I celebrated my Puja holidays with my family and friends. On 'Saptami', I visited every Puja pandal in the town with all my society friends. On 'Navami' I visited every Puja Pandals of our Village with my family.
Finally, on the day of 'Dashami', we all followed the vehicle which was carrying all the Idols of Devi Durga. The roadside carts were filled with desserts and different food items. I and my friends indulged in every street food during the ten days.
Please reply about how you celebrate your Puja holidays. Do convey my love to your parents and sister.
Your loving,
Deepak Goyal
---
Example 3
114B-block,
Padampur 335041,
Rajasthan,
November 23, 2021
Dear Guddu,
I hope you are good and well by the grace of God. I am well here. I received your letter today about how I spent my Durga Puja vacation. So, here I am.
During the starting days of Durga Puja, on the first day, I went to the market with my family. Then next two days I was sick and couldn't go out but my friends would come to check on me and we still had fun. On ' Saptami' we went to pandals around the city and ate some delicious delicacies. Then we went out on 'Navami' and visited different pujas happening around in the city. 
Do write to me about your Durga puja vacations.
Your,
Anafi
---
Example 4
114 B-block,
Jhargram, 721507,
West Bengal,
November 11, 2020
Dear Sudhir,
I hope this letter finds you healthy, happy, and enjoying the festive season. Well, I am so happy and excited. Durga Pooja celebrations are going on in full swing.
The entire region is decorated like a new bride. We have holidays for a week. I go to the market and malls for shopping each day. We visit a nearby temple every day and offer prayers and prasad to Goddess Durga. The festival will end with the immersion of the idol.
This is my favourite time of the year. And the food during this entire season was mesmerizing. Mom prepared yummy rasgullas, jhal muri,shukto, Sandesh, bhapa doi and more. 
I am stopping for the day. Please pass my love to uncle and aunty. Waiting eagerly for your response. Do write to me soon.
Yours affectionately,
Deepak Goyal
---
There you have it: Write a Letter to Your Friend How You Spend Durga Puja.
I hope you found this article helpful. Do let me know if you have any doubts by leaving a comment below. I will get back to you within 24 hours.