Today, I have come up with another new and exciting topic. I am going to show you how to write a letter to your friend describing your city. We all love the city we live in right and there is nothing more than fun than sharing it with your friend. So refer to these examples if you are asked to compose such letters. Let us begin now.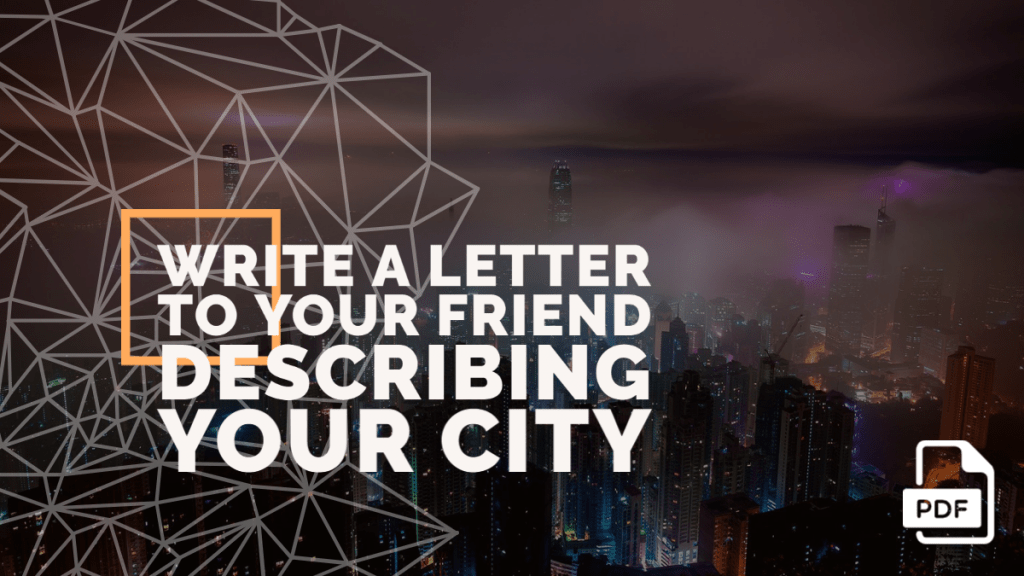 Set 1
Question-1: Your friend lives in another city and has never visited your city. Write a letter to your friend describing your city and tell her to visit once.
Hints: The nostalgic charm of Kolkata- College street, Princep Ghat, the Ganges- Must visit places
36, Park Street,
Kolkata 700089,
March 22, 2021.
Dear Aakriti,
It has been a really long since I wrote a letter to you. I hope you and your family are doing well.
I really want you to visit Kolkata with your family.
Kolkata is a very beautiful city. It is the right mixture of tradition and contemporary. I live in the parts of South Calcutta which is more urbanized than that of North Calcutta. My city also has the famous Victoria Memorial. On Sundays, we visit the place and it feels wonderful to sit on the lush green meadow of the monument. We also sometimes go for the boat ride on the Ganges at Princep ghat and watch the sunset.
The scenario is just breathtaking. If you come to visit Kolkata, I will take you to the famous zoo. One of my favorite places in Kolkata is the house of Rabindranath Tagore which is at Jorasako. I love going there during vacations and explore the abode of our renowned poet and novelist. Also, you cannot miss visiting the famous book lane called College Street. It is the world's largest second-hand book market and the whole place smells nostalgia and is an emotion for every Bengali.
I hope I have intrigued you enough to visit my city. I will be eagerly waiting to see you. Take care.
Yours lovingly,
Snighdha.
---
Set 2
Question-2: You have moved to a new city with your family for your sister's higher studies. Write a letter to your friend describing your city and what do you love about the city.
Hints: Places to visit- What attracts you the most- Your favorite places- Invite him to come to your city
14, Sadar Bazar,
Delhi 110005,
March 20, 2021.
Dear Ramesh,
How are you? I am missing you a lot. Initially, after moving to Delhi, I was quite upset. But the city has welcomed me with warmth.
I am enjoying my stay here to a great extent. Moving to a metropolitan city was always a wish for me. I am amazed to see the modern architecture of the place and the amazing roads. However, my heart is for Old Delhi. Those narrow lanes, crowded shops, and the vast array of famous food are irresistible. I have always read about renowned historical places like the Red Fort, Qutub Minar, India Gate, Hauz Khas, Humayun's Tomb, and many more. But now I got the chance to visit them in real.
I have already visited these places and all of them have their own charm. But my favorite is the Red Fort for its historical significance and magnificent architectural design. Also, I loved the Lotus temple. The place is so serene and calm. Spending an afternoon at Lotus temple is a must for every visitor away from the hustle and bustle of the city.
So, when are you coming to Delhi to meet me? We will have lots of fun together. Please write to me soon.
Yours lovingly,
Ranvijay.
---
Set 3
Question-3: You love your city. Write a letter to your friend describing your city and tell her why she must visit once.
Hints: Your favorite place of Mumbai- Sea flowing in the city- Other historical places
21, South Street,
Mumbai 400002,
March 25, 2021.
Dear Juhi,
I hope my letter finds you in good health and spirit. I am glad to know you had a wonderful time visiting your grandparents in Shimla. I think you must come to Mumbai for your next trip.
Mumbai is a very pretty city. I never imagined that a booming city can have the Arabian sea flowing in the middle of it. The Bandra-Worli sea link is one of the most attractive places in this city. We have many beaches in our city. But my favorite is Juhu beach. We often go there for our evening stroll and have coconut water. Watching the sunset at the sea beach is one of the best feelings in the world.
My city also has the famous Gateway of India. Many people visit this place on holidays with their family. Another very beautiful place is the hanging garden which is situated in the Malabar hills. It has colorful flowers and looks heavenly. If you come to visit Mumbai, I will take you to one of the most popular parks of the city that is Shivaji Park. Mumbai has many fascinating charms and I love my city.
I cannot wait to meet you in person. Take care and lots of love for your sister.
Yours affectionately,
Shakshi.
---
Set 4
Question-4: Your friend has wished to visit your city. Write a letter to your friend describing your city and the places you want him to visit.
Hints: City's weather- Your favorite place- Famous tourist spots- Description of the architecture
56, Airport Road,
Bangalore 560011,
March 25, 2021.
Dear Suresh,
I just finished reading your letter. I am thrilled to know that you have a desire to visit Bangalore. I must say you will totally enjoy the trip.
Bangalore is a marvelous place. Everyone loves its weather. It is never too hot nor too cold. Just perfect weather one can imagine throughout the year. Another interesting fact about my city that there are many hill stations nearby. So whenever we have a short vacation we go to one of the places to enjoy nature. Lalbagh Botanical Garden is a very popular tourist spot attraction.
The garden is full of exotic flowers which are imported from countries like Arabia, France, and Afghanistan. One of my favorite places is the Bangalore Palace. You will be awestruck by its architectural beauty. It is a grand spectacle and no visitor misses this place. The whole palace is built in the Tudor style. I know that you are an animal lover, so I will take certainly take you to Bannerghatta National Park which is a reserved forest. We can take a jeep safari and enjoy the wildlife.
Let me know when you are planning to visit. Take care.
Yours affectionately,
Sourav.
---
In this article, I showed you how to write a letter to your friend describing your city. Which is your favorite city and what is your favorite place to visit in your city? Let me know in the comment section below. Stay tuned to our website for some amazing content like this.