We all love animals. Most of us have a pet at our house or plan to have one. Let's suppose we already have one. So in today's lesson, I'll show how you can write friendly letters about your new pet in four different ways.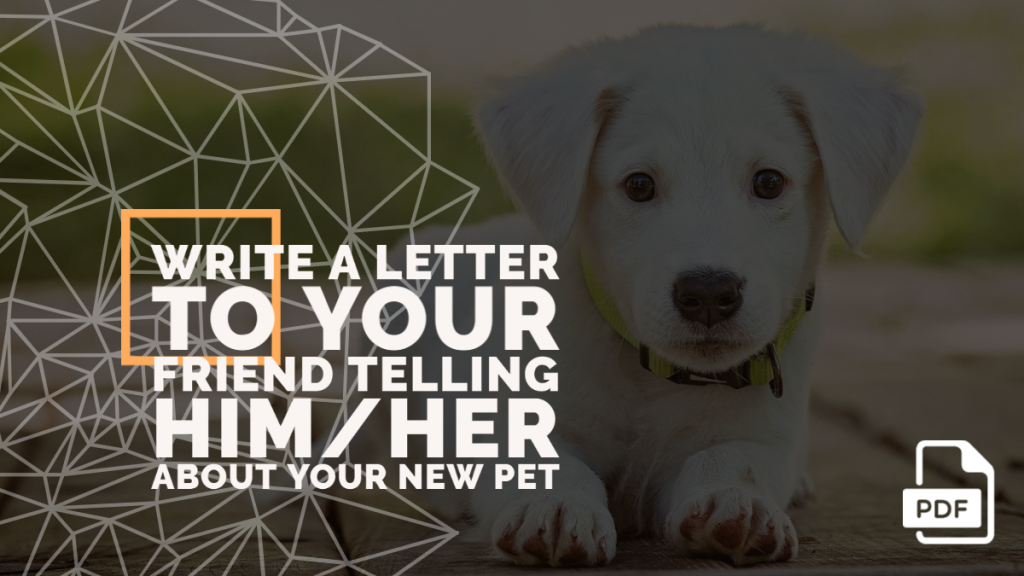 Example Letter Writing 1
Question-1: You have rescued an abandoned puppy and brought it home. Write a letter to your friend about your new pet.
Hint:  where you get it – description of the pet – how you take care – bonding with the pet
80 Central Park,
New Delhi 520600,
October 13, 2021.
Dear Tim,
Your letter has reached me. I am proud of you to know from the letter about the initiative you have taken for stray dogs. You'll be glad to know I have also rescued an abandoned puppy.
Last Sunday, while playing, I suddenly noticed a poor puppy was crying in the corner of the park. I immediately ran to it and surprisingly found that it was a baby Labrador, blind in one eye. Being an ardent animal lover, I decided to take it home.
My mother too couldn't hold her tears after learning about its condition. We cleaned it and my mother fed it a bowl of lukewarm milk. I made a comfortable sleeping arrangement and the pup slept for the rest of the night. The next morning, we took it to a vet for a check-up. Unfortunately, the doctor said nothing can be done to regain its eyesight but otherwise it is a healthy puppy.
Since last week it is staying with us, we named it "Bravo". It is in better condition now. It is a very quiet and obedient little puppy who loves chicken. Everyday Bravo and I go for walk, it never fails to shower me with unconditional love. We are having a great time.
Please visit us soon. Keep up your good work and let me know if I can support you in some way. Convey my regards to your parents.
Yours lovingly,
Joana
---
Example Letter Writing 2
Question-2: Your father has brought home a new pet. Write a letter to your friend telling her about the pet.
Hint: description of the pet – How you take care – relation with the pet
32 B New Town,
Kolkata 700023,
December 23, 2021.
Dear Sneha,
I am dancing in joy to hear from you after so long. We all are fine here. After reading this letter you'll be surprised to know that we again have a new pet in our house.
Last Friday night while my father was returning from the office, he found a little bunny beside the road suffering cold. My father being an ardent animal lover picked it up and brought it home. My mother was very angry about the fact because she knows how the family suffers each time the pets pass away and she didn't want the family to suffer again.
My sister and I were very happy, we took it to our veranda, wrapped her in a soft piece of cloth to provide warmth and comfort. Initially, she was not cooperating but after a few days of care, she became fit and fine. She has grown up into a fluffy white rabbit with bright red eyes who loves to binge on carrots all day long. We call her 'Snowy'. The fun fact is, she is closest to my mother. My mother takes care of Snowy more than we do.
No more today, more when we shall meet. Take my love and regard to Uncle and Auntie.
Yours affectionately,
Yukti
---
Example Letter Writing 3
Question-3: You have a new pet in your house. Write a letter to your friends in about 100-150 words telling him/her about it
Hint: Describe the pet – where you brought it – how you take care of it – ask your friend about his/her pet
10, Regent Park,
Kolkata 70004,
February 23, 2021.
Dear Trina,
It has been a long since you write to me. How are you? We are all fine here. I have three little new guests in our house. Read the letter to find out about them
One fine morning I discovered three little kittens from our backyard. Without wasting a moment I picked them up and ran into our house. After a few hours, to my surprise, I found that their mother was sitting near my window. I didn't want to separate the mother from its baby so I welcomed the mother cat also.
I take care of the babies, they are quite grown up now. Every day I feed them a bowl of milk. My father brings fish from the market, especially for the mother cat. I called them by funny names "Tip, Tap and Toe". Toe is very mischievous yet the closest to me. One day Toe followed me to the park in the evening. The other two are very quiet. I spent a lot of time with them.
Let me know how is Nemo, your pet fish. I am waiting eagerly to hear from you. My love to you and convey my regards to Uncle and Auntie.
Yours lovingly.
Sam
---
Example Letter Writing 4
Question-4: Your aunt has offered you a pet on your birthday. Write a letter to your friend writing about your new pet friend.
Hint: When you received the pet – your reaction to receive it – how you take care of it – bonding with the pet.
32 Whitefield,
Bangalore 560300,
July 26, 2021.
Dear Hardik,
I am dancing in joy while writing this letter to you. Finally, I have a companion in this new city. I have received a little puppy from my aunt this birthday.
It was my long wish to own a pet. On my birthday morning, I discovered a basket beside my bed. As I opened it I was amazed to see a little puppy sleeping peacefully there. My mother told me that it was my birthday present from my aunt. I took him out and started showering with immense love. I named him "Bruno".
Bruno is a Golden Retriever. I nurture him with great care. My mother helps me in feeding Bruno. He loves to eat chicken. Bruno is growing up into a playful and obedient dog. It gives me immense pleasure when he comes running to me after I come back from school. Every evening I take him out for walks. My father and I were discussing to appoint a trainer for Bruno from next month.
I miss you here in the new city. I always wait eagerly to hear from you. Take care of yourself. Convey my regards to your parents.
Yours lovingly,
Priya
---
I enjoyed writing the letters for you. Let me know in the comment box if you enjoyed reading them too or not. Pay special attention to the placing, punctuation and paragraph intending. Hope you found these articles useful. Come up with ideas you want us to write for you. Keep an eye on this page, we regularly come up with various topics that are helpful for your academics.