Maintenance of proper discipline in class is highly required for all kinds of education. But many times we face a serious lack of discipline in our classes. As discipline is an indivisible part of students' life, many institutions tend to use this topic for their English comprehension tests.
Keeping such importance in mind today I am going to present you with a few letters that will help you to learn how to write letters to your friend requesting him to maintain discipline in class. So without further introduction, let's get started.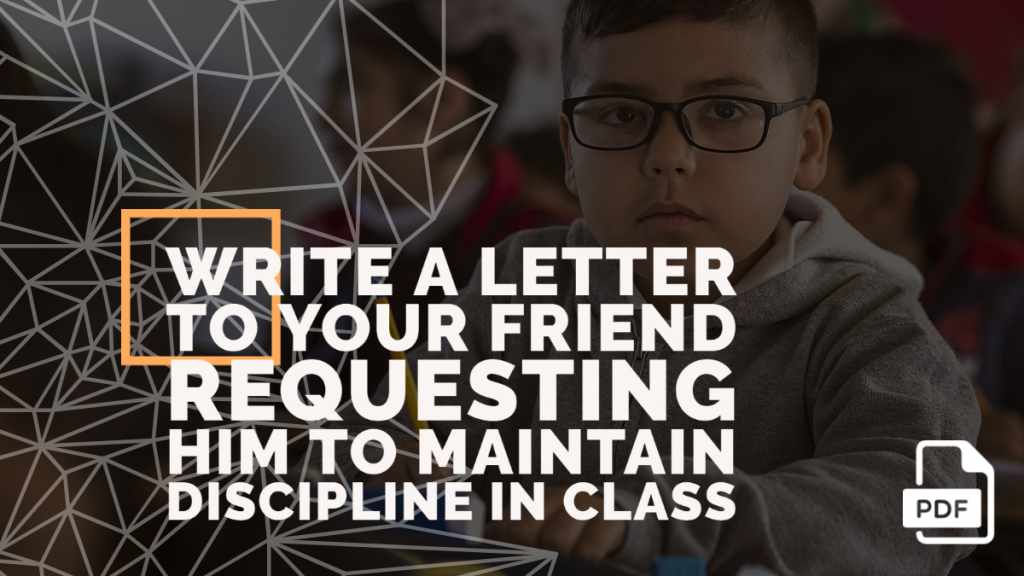 Example 1
Question: One of your friends disturbs the discipline of school during classes. Write a letter to him/her requesting to maintain discipline during the classes with a proper explanation of the issues you face due to his/her indisciplined activities. 
Hints: Importance of discipline- Mandatory in school- Violation- Noise from backbenches- Late entry in classes- Disturbs others- Teachers punish- Affects the class- Students thinking to report headmaster- Request and conclusion
AJC Bose Sarani, Rabindra Nagar
Kolkata: 700012
July 22, 2020
Dear Kuntal,
Recently, all the students in our class are being troubled due to your indisciplined activities. I am writing this letter to request you to maintain proper discipline at least during the classes.
Discipline is the most mandatory norm for all kinds of education in the world. But we all tend to violate discipline in our schools. But that should never be a reason for someone else's disturbance. I am sorry to say but during the last few weeks, your activities are violating the decorum of the school. You make noise from the backbench, enter the class 15 mins after it starts, disturb other students with your words, and teachers always spend most of the time punishing you. Believe me, we don't want you to get punished. Even most of the time we do not report to the teacher. But all these activities bother the entire class a lot. Even recently some of the students were planning to report against you to the headmaster. 
So, I want to earnestly request you maintain proper discipline for your own good. Please don't mind and take care.
Your dear friend,
Sandeep
---
Example 2
Question: One of your friends in coaching tends to violate the discipline of the coaching centre. Write a letter to him explaining how his/her activities bother all the students and request him to maintain the discipline. Make use of the hints in the following. 
Hints: Violate norms- Enters late- No attention and interaction in the coaching- Teachers irritated and scold- Hamper study- Students thinking to complain- Want to help- Check on the actions- Conclusion
2/61 Radhabinodpur
North 24 Parganas, West Bengal
July 13, 2021
Dear Swarup,
Last evening in the coaching I heard some of the students talking about you. They were discussing how your activities disturb all the students in the coaching centre.
During the last few weeks, you indeed started violating all the norms of our coaching centre. You enter the class late, you do not pay attention in the class, you sit in one corner and do not interact with anyone, and due to these activities, all the teachers get irritated and spend time scolding you. But please understand that we all come here to study. If you irritate the teachers with your activities all of the hours, our study eventually gets hampered. That's why some of the students were discussing complaining against you to the coaching authority.
I don't want to lose such a good friend like you. Please tell me what has happened with you and I can help accordingly. But kindly try to check on your activities in the coaching from next time. Take care.
Your loving friend
Alarko
---
Example 3
Question: Recently you have started facing a tremendous lack of discipline in your class. Write a letter to your class monitor friend requesting him to control the situation and maintain proper discipline. 
Hints: Violation of discipline after new standard's class- Souffle of students after last annual exam- New students- Indiscipline- Can help to cope up- Indiscipline can't be entertained- Actions monitor can take- Conclusion
11 Barun Mitra Sarani, Dakshinpally
Uttar Dinajpur
February 18, 2021
Dear Asif,
Recently we have started facing a tremendous lack of discipline in our classes. As you are our class monitor, I am writing this letter to request you to maintain proper discipline in the class.
Our class used to be one of the most well-disciplined classes till last year. But after we started our class in the new standard this disciplined system has started being violated. It is due to the souffle of students that happened after the result of our last grade final exam. We can understand that coping up in the new class can be difficult for some students, but in that name, the utter violation of discipline can't be tolerated. As the class monitor, it is your responsibility to maintain the disciplined order in the class. You can file a report to our class teacher about the students who are not maintaining discipline.
I hope you can understand our problem and will take action accordingly as soon as possible. Take care.
Your best friend,
Sabina Khatun
---
Example 4
Question: In your sports' training centre one of your friends violates all the norms of the institution. Write a letter to him/her requesting him to maintain the discipline of the training centre.
Hints: Your favourite sports training- Friend acts weird- Entering late- No attention in training- Fighting with others- Call for help him- Disciplinary actions are possible- Conclusion
88/7, East Station Road,
Belgharia
Kolkata: 700110
December 11, 2020
Dear Ronojoy,
During the last few days, your actions are violating the norms of our chess training. I am writing this letter to request you to maintain proper discipline in the training centre.
I used to know you as one of the most sincere chess partners till the day I entered this institution. But during the last few days, you are acting quite weird. You are entering the centre late, not paying proper attention in the training and often fight with others. Why are you doing so? Are you troubled anyways? You can always share your problems with me. I can help you. But please try to maintain proper discipline in the institution. Otherwise, the coach will take disciplinary actions against you that I have never wanted.
So, I hope I will get my old sincere friend back till next time when I meet you. And please take care of yourself.
Best wishes and regards,
Badal Kumar Ghosh
---
That was all about our presentation on writing personal letters to one of the friends requesting him/her to maintain discipline in class. Hopefully, you have found this article helpful for your requirements and all your doubts have been resolved. If you still have any doubts regarding this concept, please reach me through the comment section below. I will try to attend to your query as soon as possible.
Let us also know your valuable opinion about this initiative. If you want to go through more such sessions of English comprehension, browse our website. Moreover, if you want me to cover any specific topic of English comprehension, don't forget to mention that too. 
Thanks for being with us. See you again, soon.