Dusshera marks the supremacy of good over evil. It is celebrated all across India and known by different names in different regions. In today's lesson, we will learn how to write letters to your friend describing Dusshera. We have focused on how Dusshera is celebrated in various parts of the country.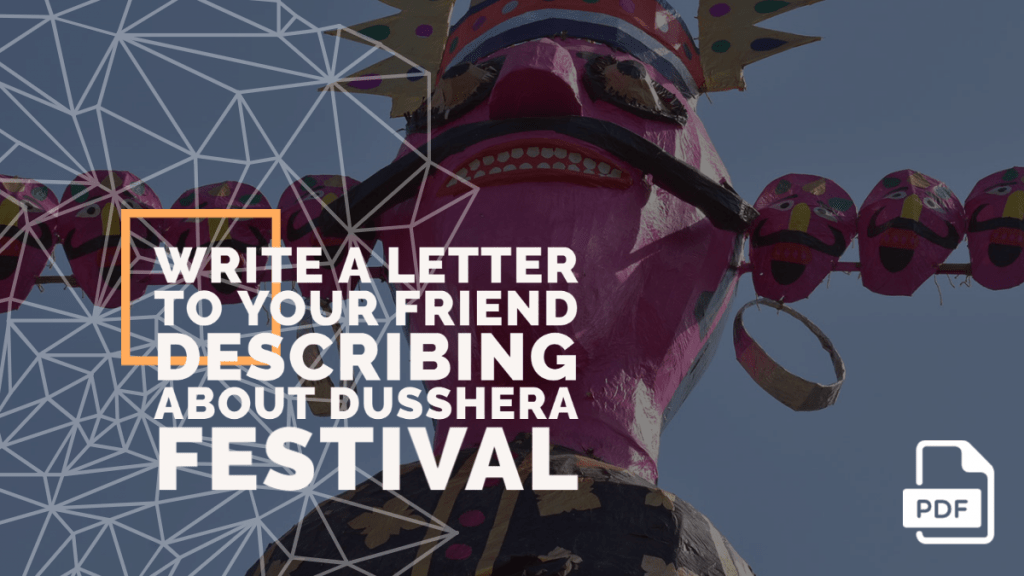 Set 1
Question-1: You have visited Delhi to celebrate Dusshera. Write a letter to your friend describing how you have celebrated Dusshera there.
Hints: Reason for the visit to Kolkata- How you have enjoyed- Which day you have enjoyed most-why- Ask about his celebration
64, Janpath,
Delhi- 110001,
October 28, 2021.
Dear Sanjana
I hope the letter finds you all in good spirits and health. We are doing well here. We just had our vacation to Delhi for celebrating Durga Puja.
We had an amazing and joyful time there. We celebrated there with all my cousins and relatives. The city lightens up with Navratri that lasts nine days long. Delhi is undoubtedly one of the best places to visit to celebrate Dusshera. Among the four days, I enjoyed the most in Dusshera. We celebrate the success of Goddess Durga. We had headed to the famous Ramlila Maidan to spectate the Ramlila musical. It is great to meet everyone. We also got so much sweet to eat. Amidst all the celebration there is a sense of sadness as Dusshera is the last day of the celebration.
Now I am home fishing all the pending homework. Let me know how you spend your vacation. Regards to all the elders in the family.
Yours lovingly,
Trisha
---
Set 2
Question-2: You have visited your grandmother's house for celebrating Dusshera. Write a letter to your friend who has visited India for the first time describing the Dusshera festival.
Hints: Reason for your visit to grandmother's house- Describe Dusshera- How you celebrated it- Ask about his/her visit to India
E/11 Lucknow,
Uttar Pradesh 226001,
October 25, 2021.
Dear Aisha
How are you? I hope you are having a great time in Maharashtra with your family. I have visited my grandmother's house to celebrate Dusshera.
Dusherra marks the end of nine days celebration. Dusshera signifies the victory of good over evil. In North India Dusshera is celebrated by burning effigies of Ravana. Every year we celebrate this day at our grandmother's house with all other relatives. Fete is organized for people all across the city. We all dressed in traditional attires. Women perform aarti to bid farewell to the mother goddess. Sweets are distributed among everyone. Later in the evening, the idol is carried for immersion via a large procession. It is a heartbreaking sight to see the pandal empty with only one lamp burning.
Let me know in the next letter how India is treating you. Take my warmest love. Convey my regards to uncle and aunty.
Yours lovingly,
Shreya
---
Set 3
Question-3: Your friend belongs from a different culture, she is not aware of Dusshera. Write a letter to your friend describing Dusshera.
Hints: Apologise for being late- The reason for being late- Describe Dusshera- How you celebrate it.
23, Mysore,
Karnataka- 570001,
October 22, 2021.
Dear Ipsita
I have received your letter on time. Sorry for not being able to reply earlier than this as I busy celebrating Navratri. We all have heard about the nine days celebration but today, let me tell you about Dusshera.
Dusshera is the tenth and the last day of Navratri. Dusshera advocates the triumph of the good. In Hindu mythology, it is believed Goddess Durga killed Mahisasur who created havoc on the Devalok. In our city, grand parades of embellished elephant and guards sitting on horseback escort the Goddess through the city.
Every year we arrange a function at our house on the Dusshera. All the relatives visit us. We decorate our house with garlands and fairy lights. We passed the evening dancing, singing and indulging ourselves in the delicious dishes prepared by our mothers and aunts. A sweet prepared by my grandmother is the centre of attraction of the day. This celebration rekindles our spirit to get back to work.
I hope to meet you very soon. Please convey my regards to uncle and aunt. My love for the young ones.
Yours truly,
Diksha
---
Set 4
Question-4: For the first time, you are celebrating Durga Puja in Kolkata. Write a letter to your friend describing how Dusshera is celebrated there
Hints: Tell about your visit to Kolkata- How you are enjoying it- Describe Dusshera- Meaning and celebration- Ask how they celebrate Dashain
19, Ballygaunge,
Kolkata- 700019,
October 21, 2021.
Dear Heena
How are you? I am doing well here and hope the same for you. I am so excited to share my first Durga Puja celebration in Kolkata. I have heard about the grand celebration but this is the first time I experienced it too.
The four days of celebration have different purposes. The last day of the celebration is called Dusshera, which brings all the celebration to an end. According to Hindu Mythology on this day powerful goddess Durga slew the demon called Mahisasur who generated horror in Devalok.
The ending of the celebration has a beautiful charm. All the married women perform rituals before the goddess followed by "Sindoor Khela". Forgetting all differences and sorrows people come together to celebrate. Everyone dancing to the beats of dhak is a spectacle to watch. Sweets are distributed among everyone. Later in the evening, by a large procession, the idol is taken for immersion.
I have heard Nepalese also observe Dashain. I would love to know about it and how you celebrate. My love to you and regards to Uncle and Aunty.
Yours lovingly,
Teesta
---
Did you enjoy the learning? Let us know in the comment section. Next time if you are asked to write about Dusshera don't forget to refer to these sample letters. If you have any opinion, don't forget to tell us. We are eager to hear from you and always strive for improvement.