In this session, you will learn how to write a letter to your friend about your hobby.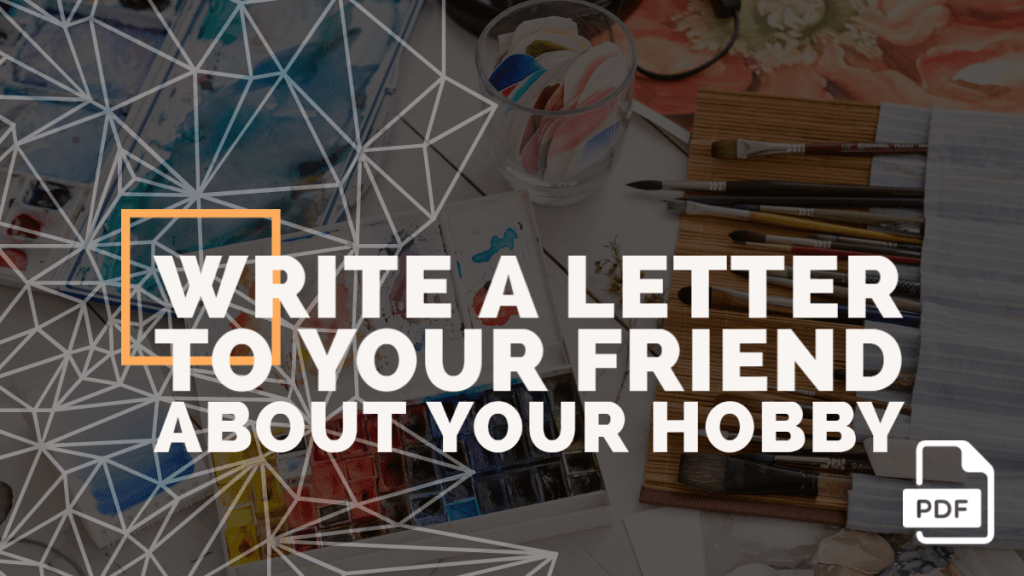 Example 1
Question: You are Shylaa. Write a letter to your friend Katniss about your hobby.
Hint: Greet your friend – Give a list of all the things you like to do – Tell her why you like to do it – Sum it up by asking her to share her hobby
17 A Saltlake,
Kolkata
20th May 2022
Dear Katniss,
I hope this letter finds you well. We all like to use our leisure hours to work on our passion. In this letter, I will tell you about my hobbies, and the activities I like to engage in when I have free time.
I have been engaged in co-curricular activities outside the school for a long time now. I love dancing, and it is one of my favourite hobbies. When I dance, I feel free to express my emotions through my expressions. I feel free to move my body as I like. Singing and listening to music is also very soothing. Singing makes me feel like a bird chirping melodic tunes, and listening to music helps me relax and clear my mind.
Drawing is a stress buster, and it helps to display our innermost emotions and fears through creative art. Skating is a very energetic sport which keeps my body fit and gives me plenty of physical exercises to do. It also creates body balance as we skate on wheels. I have a passion for reading. I love reading a lot. Reading helps me to be imaginative, clear my mind of negative thoughts and makes me travel to different worlds without altering my position.
Have so many hobbies. I love all of them. I also want to know about your b hobbies. Please write me a letter telling me about your hobbies. I hope your parents are in good health. Please give them my respects, and to you, I send lots of love.
Yours affectionately,
Shylaa
---
Example 2
Question: You are Medha. Write a reply letter to your friend Kunal who told you about his travels. Discuss your hobby.
Hints: Greet him and mention his last letter – Explain the term 'hobby' – Talk about the things you are passionate about – Explain your journey in pursuing the passion – Close the letter by expressing how you long to hear from him again
Bismil Street, Agra
Uttar Pradesh
November 12, 2021
Dear Kunal,
How have you been? In your last letter, you told me about your travels. I enjoyed reading it. I realised that you always mention travel when you write to me. I am assuming that travelling is your hobby. My hobby is painting. In this letter, I'll tell you about my journey as a painter.
Hobby means performing activities passionately in our leisure hours. Pursuing a hobby is a noble quality. One must take time to study the interest before blindly pursuing it. If you are more interested in mind games, but you pursue games based on chance or luck, it will not do you any good. Different people have different hobbies like art, dance, and sport, among others. My hobby is to indulge creatively on canvas. I enjoy painting, calligraphy and doodling. I am currently taking a class to improve my skills. It helps me to run my imagination wild and free. I have painted about the sights you mentioned in your last letter.
I'm sending it to you as a token of our love and friendship. I hope you will like it. Tell me more about your travels and other hobbies in your next letter. I'm always waiting to hear from you.
Yours affectionately,
Medha
---
Example 3
Question: Write a letter to your friend Ron telling him how you use your free time to work on your hobbies. Encourage him to share his hobbies with you.
Hints: Start the letter by sharing the importance of having hobbies – Tell him about your hobbies – offer a reasonable explanation of how these hobbies help you in recreation – Ask him about his hobby – Give greetings to his parents
87/C Rahid Ali Road, Moulali
Nadia
February 11, 2022
Dear Ron,
I've always liked to keep myself busy. I recently learned about the term 'hobby.' Hobbies are things we like to do during our leisure time to cut off the boredom from the monotonous life. It brings us pleasure and immense satisfaction. In this letter, I would like to tell you about my hobby.
My favourite hobby is reading storybooks. I like to explore different genres in the process of reading. These days I am reading novels that are mostly dystopian in theme. They are overloaded with survival instinct and suspense. They also have a pinch of romanticism. It gives me the chills to read such books and fills me with excitement and curiosity.
My current favourite novel is "The Hunger Games" by Suzanne Collins. It is about metahuman powers and crossing one's limit to survive. Humans are divided into different homogeneous groups, and they have to function accordingly. I believe there are video games based on this book too. You will enjoy playing it. Besides, there are movies too, and the cast is amazing. We will watch it together when you visit Kolkata next summer.
I love to hear from you, and I'm curious to learn about your hobbies. Don't forget to write to me. Give my love and regards to your parents.
Yours truly,
Meera
---
Example 4
Question: Write a letter to your friend Samiksha who shared her hobbies with you in the last letter. Choose a different set of hobbies and explain your choice.
Hint: Open the letter by expressing your excitement in learning about her hobby – Provide your hobbies – Compare and contrast her hobby with yours – Explain your reasons for selecting this hobby – Close the letter by sending your love
88/7, East Station Road,
Belgharia
Kolkata: 700110
June 11, 2022
Dear Samiksha,
I am writing to share my hobbies with you as you did in your last letter. Unlike your hobbies, I don't enjoy dancing and outdoor games much. Instead, I prefer listening to soulful music and playing mind games whenever I get some free time.
There are times in everyone's lives when one feels demotivated and neglected. We feel like lying in bed and spending the rest of our day without any work. For this state of tragedy, music is my remedy. It relaxes my mind and filters my thought. It has a soothing effect on me. It reminds me that I am not alone in the world. Besides listening to music, I love to solve sudoku puzzles, Rubik code cubes and play chess. This puzzle challenges my mind and helps me to push its limits. I unlock the blockages that prevent it from being used at its maximum capacity. Solving this not only increases my thinking capacity but also makes life exciting.
I am looking forward to meeting you.
Yours lovingly,
Riya
---
This was all about our presentation on writing a letter to your friend about your hobby. If you have any questions or thoughts that you would like to share with us, please do so by commenting below. We'll respond within 24 hours. In the meantime feel free to check more letters like this.