In today's session, you are going to learn how to write letters to your friend about the importance of trees. So, without further delay, let's get started.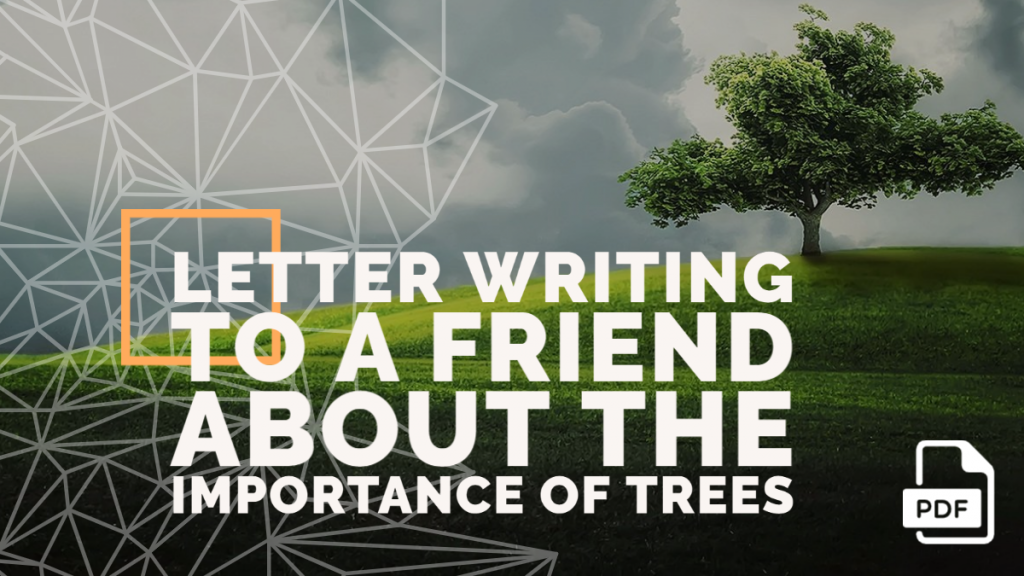 Example 1
Question: Recently, you participated in a tree plantation program at your school. Write a letter to your friend in this context explaining the importance of trees. 
Hints: Participated in tree plantation- Social welfare initiative- Week-long seminar- Importance of trees and environmental pollution- Trees help to save the world- Planted trees- Conclusion
Shahid Bhagat Singh Road, Baranagar
Kolkata: 700139
August 22, 2021
Dear Koustav,
It's been a long time since I haven't received a letter from you. Hopefully, you are doing well. Today I am writing this letter to you to share my experience of participating in a tree plantation program at our school.
This was the first time I participated in a tree plantation program. This was a part of our school's social welfare initiative. Under this initiative, we had a week-long seminar on environmental pollution and the importance of trees to save the world.
Initially, I thought that it would be boring. But believe me, it was an amazing seminar. There we learned about the utmost importance of trees and how trees can help mitigate the ill effects of all kinds of environmental pollution. After 7 days, we took part in the tree plantation program and planted almost 1000 trees around our locality. 
If you get such an opportunity to take part in any such programs, never miss it. What's your opinion about the trees' importance? Let me know in the next letter.
Your dear friend,
Manna
---
Example 2
Question: Your friend wanted to know about the importance of trees in the last letter. Write a letter to him/her explaining the significance of trees in human life. 
Hints: Humans' best friend- The base of the food chain- Consume trees directly or indirectly- Cotton and silk dresses are byproducts of trees- Houses made up of trees- Paper as a byproduct- No trees, no civilisation- Conclusion
2/61 Barakhola Road, Ruby
North 24 Parganas, West Bengal
September 23, 2021
Dear Sreerupa,
I have just finished reading the last letter you wrote to me. There you wanted to know about the significance of trees in humans' life.
Trees are the most vital part of humans' life. That's why it's known as the best friend of human beings. We are either directly or indirectly dependent on trees in terms of everything. You have probably read about the food chain where trees are the base of the pyramid. We consume trees either directly or we consume animals who are directly dependent on trees.
The dresses we wear are made of cotton or silk that are either direct or indirect byproducts of trees. In hilly areas, people make their houses from wood collected directly from trees. The papers that are the most essential for education are nothing but a byproduct of some special types of trees. If trees become non-existent, civilization will also no longer exist. 
So, the significance of trees is enormous. That's why planting and conserving trees are the fundamental duty of every human being in the world.
Your loving friend
Amitayu Chakraborty
---
Example 3
Question: In your locality, trees are being cut down to make the streets wider. Write a letter to your friend in this context explaining the importance of trees.
Hints: Trees are being cut- Infrastructure project to widen roads- Logistical improvement- Price paid by trees- Importance of trees- Maintain environmental balance- Local protest- Launched tree plantation and environment awareness program
87/C RN Tagore Road, South Tarapukur
Burdwan
February 11, 2021
Dear Arijit,
In the last letter, you wanted to know why so many trees are being cut down in our locality and expressed your concern regarding the issue.
The matter is, recently our local municipality has taken an initiative to widen the main road. But there are many trees beside the road. That's why they are cutting them to complete the infrastructure project. Road infrastructure is indeed important to improve logistics. But development should never come against the price of the environment.
Trees are an indivisible part of our environment. They keep the environment clean, help to mitigate pollution and maintain the balance in the ecosystem. Destroying the trees is quite synonymous with destroying civilization eventually. Many residents of our locality are heavily protesting against this decision. 
We never want to pay the price with so many trees for infrastructure development. But many trees have been cut down. From our local club, we have launched a tree plantation and environmental awareness program to counter this initiative.
Your best friend,
Altaf Hossein
---
Example 4
Question: Write a letter to your friend explaining the importance of trees to counter environmental degradation and invite him to a tree plantation program organised by a local club on the occasion of world environment day.
Hints: Introduction- Pollution and environment- Global warming as a result- Rising sea level- Global temperature increase- Polluted gases in the environment- Trees and forest cover can save- Consume CO2, release oxygen- Tree plantation program- World Environment day
88/7, East Station Road,
Belgharia
Kolkata: 700110
May 15, 2020
Dear Rehan,
I remember the last time when we met, you asked me to inform you if I participate in any tree plantation program. In this letter, I am writing to inform you about a tree plantation program organised by our local club on the occasion of this year's World Environment Day.
Our environment is degrading with time because of worldwide pollution. Global warming is a direct and immediate result of it. As the temperature level is rising globally, the sea level is also rising. Moreover, our entire atmosphere is being contained various polluted gases. Only more trees and more forest cover can save our civilization from this menace. Trees can release oxygen by taking carbon dioxide from the atmosphere. That can help a lot to control global warming.
So, in this era of worldwide pollution, tree plantation is very necessary. From a local club, a tree plantation program has been organised on world environment day. I want to request to come and participate in this program. Let me know your opinion on it as soon as possible. 
Best wishes and regards,
Sangita
---
That was all about our presentation on writing personal letters to your friend about the importance of trees. In the session above, I have tried to discuss the topic from four different aspects through four different examples. Hopefully, all your doubts regarding this topic have been resolved after going through this session. If you still have any queries, let me know in the comment section below.
will try to attend to them as soon as possible. Besides, if you want me to cover any specific topic related to English comprehension, mention that too through some quick comments. And to go through more such sessions, take a tour of our website and let us know your valuable opinions regarding this initiative.
Thank you for being with us. See you again, soon.