Books have always been the best friend of human beings to acquire knowledge. So discussions on books are always relevant. Today in this article, you are going to learn exactly how to frame editorial letters on the topic: books are the best companions. So, without further introduction, let's get started.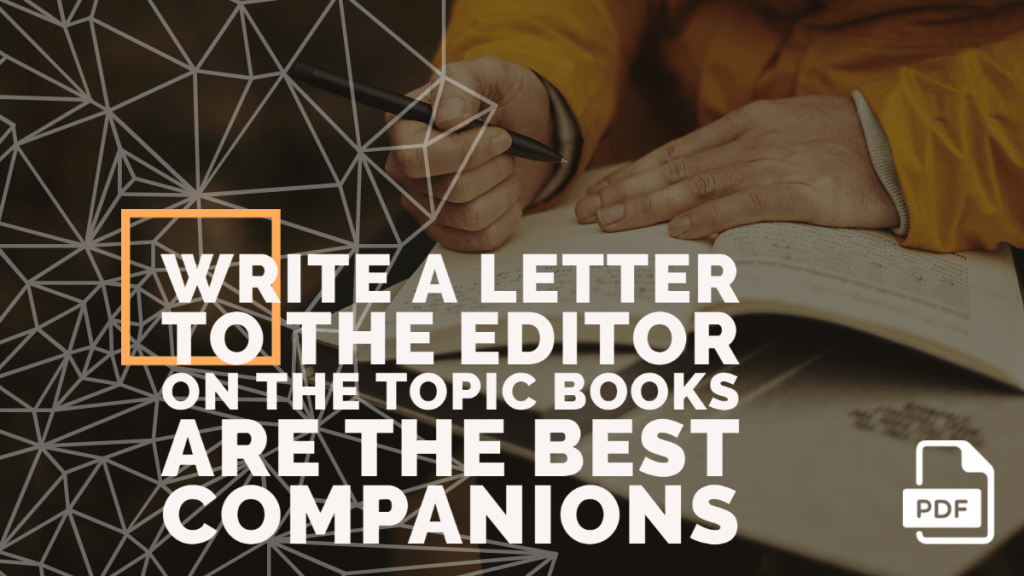 Example 1
Question: You have recently gone through several books during the lockdown to spend your leisure time. Write a letter to the editor of a daily newspaper explaining how books are the best companion of human beings.
Hints: Pandemic broke out- Lockdown imposed- Stuck in the home- Boredom hit- Technological entertainment became monotonous- Opt for books- Helps acquiring knowledge- Brings refreshment- Conclusion
Suresh Mukherjee Road, Nabinpally
Kolkata: 700114
September 2, 2020
The Editor
The Statesman
3/1 Nalinipukur Road
Kolkata: 700002
Subject: Books during the lockdown: A perfect companion
Sir,
Through this letter in the column of your esteemed daily, I want to express my experience with numerous books I have gone through during the lockdown.
The covid-19 pandemic has hit us quite hard. The world witnessed lockdowns in almost every country. All kinds of normal human activities got stopped. We got stuck between the walls of our houses. Naturally, without the usual schedule, all of us got quite bored and felt jobless. For me also, the situation was quite the same. I started feeling very much unproductive with these lazy lockdown days. Finally, one of my teachers suggested starting reading books on the topics I am interested in. I have many old books in my home because of my father's teaching profession. I started reading from them. I finished numerous books during the last six months.
Now I feel that there is no such companion as books for human beings. Not only we can acquire knowledge from them, but also they bring refreshment to us if we develop a regular practice of reading. So, through your newspaper, I want to appeal to everybody to start reading books in this lockdown to get rid of boredom.
Yours Sincerely,
Rajesh Dutta
---
Example 2
Question: Books are the best companion of human beings since ancient days. Write a letter to the editor explaining this proverb. 
Hints: Ancient proverb familiar with- Only source of knowledge and entertainment in ancient time- Saviour during intellectual crisis- Time and tradition changes- No alternative available- Bring knowledge and refreshment- Should be carried forward
2/61 Bablapur
North 24 Parganas
June 23, 2021
The Editor
The Telegraph
Kolkata: 700001
Subject: Books and Human: The ancient bonding
Sir,
This letter to your esteemed daily is intended to express my view about the popular proverb that says, books are the best companion for human beings.
In the ancient time, when technologies were not so advanced and smart as today, books were the only source from which humans used to both acquire knowledge and have fun during their leisure time. It was the books that used to become the ultimate saviour of humans during any kind of intellectual crisis. But time changes, so are the traditions. In this modern era, human life has become much complicated. The advancement of technologies has completely transformed our life.
Still, I would say that there is and will be no single alternative to reading books. The holistic idea we get from reading a book on any topic, we don't get from anywhere else. Moreover, the refreshment that the reading habit brings to us, can be found nowhere. So I think, this is exactly where the significance of that ancient proverb lies and will be carried forward that the books are the best companion of human beings.
Yours Sincerely,
Rumi Bannerjee
---
Example 3
Question: Recently, the tendency of reading books has been going down among the young generation. Write a letter to the editor evaluating this issue and explain why there is no such companion like the books for human beings. 
Hints: Gen-Y lacking interest in book reading- Technological dependence is responsible- Can't give a holistic idea- Doesn't bring refreshment- books are the best companion- Conclusion
72A Bottola Road, Uttarpara
Hooghly
February 18, 2021
The Editor
The Times of India
8, Camac Street
Kolkata: 700017
Subject: Young generation and habit of book reading
Sir,
I am writing this letter to your esteemed daily to evaluate the issue of lacking interest in reading books in the young generation nowadays.
Recently in a survey by a non-profit organisation, it has been revealed that the young generation doesn't get that much interest in reading books like the previous generations. The organisation has pointed out several reasons behind this lacking tendency. One of the primary reasons is the emergence of advanced technology-based life. People nowadays, depend on technologies for almost everything. Books used to be a primary source of knowledge for humans. But now, the internet is fulfilling that need quite specifically and more efficiently. But above everything, we must remember that technologies have their own backlogs and these systems are full of distraction. Moreover, unlike the books, technology fails to give us a holistic idea about a topic and hardly brings mental refreshment.
So, through this letter, I want to tell the young generation that there is no such companion of humans as books. If not traditional books, try to opt for the e-book versions, but building the habit of reading books can significantly change your life.
Yours Sincerely,
Aditya Bansal
---
Example 4
Question: The central government has recently launched a nationwide campaign to promote book reading. Write a letter to the editor evaluating this step by the government. Make use of the hints mentioned below for reference.
Hints: Free digital library launched- Eminent personalities engaged to spread awareness- – Subsidised books in an e-commerce site- Books are the best companion- Critical evaluation
21, Kathgola Road, Ghola
Kolkata: 700110
December 11, 2020
The Editor
The Indian Express
164/A, BK Paul Ave
Kolkata: 700005
Subject: The digital library- Modernisation of the best companion
Sir,
The central government has recently launched a new nationwide campaign to attract the young generation to book reading. This letter to you esteemed daily intends to evaluate this step taken by the government and its potential to achieve the noble goal.
Yesterday, the ministry of education and IT have jointly announced to launch of a nationwide campaign to promote book reading. The education minister has said that books are the best companion of humans and there is no alternative available. Under this campaign, a digital library has been launched from where people can have access to millions of books for free of cost. Moreover, eminent personalities will be engaged to promote book reading and spread awareness about its benefits. Besides, the government has announced to launch of an e-commerce website from where people could buy books at a subsidized price.
Altogether the vision of this campaign is initially quite ambitious. But we must remember that everybody in our country does not have access to necessary gadgets and internet connections for accessing the digital library. So besides this campaign, the government should focus on infrastructure development as well to achieve the desired goal.
Yours Sincerely,
Barun Goswami
---
That was all about our presentation on writing editorial letters about the topic: books are the best companions. In the letters written above, I have tried to present four different aspects related to the topic.
Hopefully, after going through this session, all your doubts regarding this subject have been resolved. If you still have any queries about this topic, let us know through the comment section below. And if you want me to cover any specific topic, don't forget to mention that as well. 
Thank you for being with us. See you again, soon.