Corruption is an issue that our society has always faced problems with. This particular phenomenon has made it an ideal subject for editorial letter writing. We know, editorial letters are generally written on such burning issues, either be recent or be relevant.
So today, my presentation will help you to learn how to form an editorial letter on this specific. You may find this topic as a common one for your upcoming exam. So, let's get started.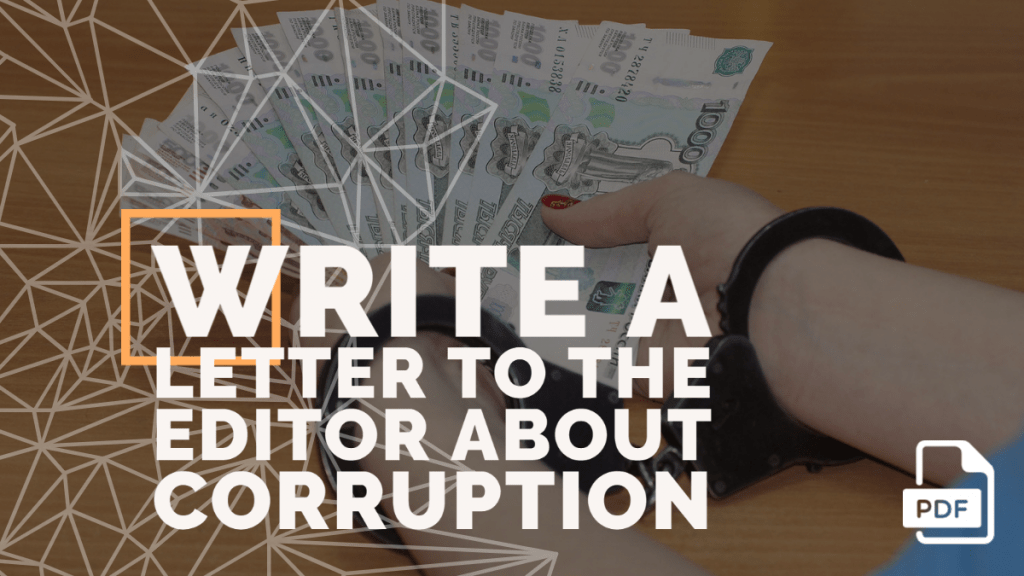 Example 1
Question: You are a school student. Recently you have read many articles and saw & heard numerous news regarding corruption. Write a letter to the editor of a daily newspaper on this issue according to your understanding of the problem.
Hints: Financial scams have numerous consequences- Affects daily life- Surrounded by corruption- Society needs transformation- Moral education can help
Suresh Mukherjee Road, Nabinpally
Kolkata: 700114
September 2, 2020
The Editor
The Statesman
3/1 Nalinipukur Road
Kolkata: 700002
Subject: Corruption affecting day-to-day life
Sir,
Recently I have gone through numerous articles on corruption in many newspapers including yours'. Besides, the television news channels are always broadcasting exclusive presentations on corruption and scams. This my letter to your expressing my view on this context as a school student.
According to my understanding, corruptions have many categorical classifications. Among them all, the recent news is focused exclusively on financial scams. Financial scams affect not only the national economy but also our day-to-day life. Price hike of many regular commodities, domestic conflicts, downfall in the average living standard: corruption have innumerable consequences. My family is a victim of this as well. As much as I have seen the world, we are surrounded by corrupt people. From an auto driver or shopkeeper to a business person, everybody is corrupted in some way. So, not only in the government sector, corruption is holistically a social phenomenon.
That's why I think, our entire society needs a major behavioural change as a whole. Like the auto drivers or the shopkeepers have to get that they can't charge extra taking the opportunity of a person's helplessness and the business person also understand that he/she must pay proper tax to the government. If society gets driven by ideal moral education, only then such desired transformation is possible.
Yours Sincerely,
Rajesh Dutta
---
Example 2
Question: Suppose recently you had to face corruption in a government office. Write a letter to the editor of a reputed daily newspaper, explaining the whole issue and express your concern regarding it.
Hints: Went office to get service- Technical issue- Asked for bribe- Didn't pay hence didn't get service- Affecting life- Ask for a solution
2/61 Bablapur
North 24 Parganas
June 23, 2021
The Editor
The Telegraph
Kolkata: 700001
Subject: A tale of corruption and a student
Sir,
I am a regular reader of your esteemed daily writing this letter today to express my concern regarding a recent incident of corruption I had to face recently in a government office.
I am a student who went to the department of education regarding a scholarship. I got myself eligible for this scholarship through an exam conducted by the government. But due to an unexpected delay, I went to the office for an inquiry. There I was informed that my scholarship is on hold due to some technical problem with my documents. But, here I would like to let you know that I've submitted each and every document properly according to the scholarship norms. Then, I was asked to pay an amount to get my scholarship cleared. The amount was nearly 30% of the total scholarship I'm about to get. But because of being unable to pay that amount, they refused to clear the scholarship.
Through the column of your esteemed daily, I want to ask a question that if I was able to finance my study with the amount they asked me to pay, would I even apply for this scholarship! This phenomenon of tremendous corruption is affecting hundreds of students like me, every day. Through this letter, I appeal to you to give life to our voice in order to deliver justice to us.
Yours Sincerely,
Rumi Bannerjee
---
Example 3
Question: The city police are accused of severe corruption nowadays. Write a letter to the editor of a popular newspaper expressing your concern regarding corruption and suggest some suitable measures.
Hints: Faced an issue- Approached the police- Lodged complaint- Asked for bribe- Police meant to provide service- Corruption in Police- Concern for the government
72A Bottola Road, Uttarpara
Hooghly
February 18, 2021
The Editor
The Times of India
8, Camac Street
Kolkata: 700017
Subject: Police and Corruption are becoming parallel
Sir,
In recent times, our city police are being accused of being extensively corrupted. Recently, I have also faced such an instance of corruption in my daily life. This letter to your esteemed daily is intended to express my concern about this issue.
About a month ago, I faced a small scale robbery in my house while I was out of the station. Around 10,000/- cash along with some jewellery were stolen breaking my central lock. Naturally, I was quite upset and went for a police complaint at the nearest police station. There I filed an FIR against the robbery and the officer promised to investigate the case. But it's around a month, I didn't receive any response from the police station. I went to the police station yesterday and enquired about the status of my case. To my surprise, the police officer misbehaved with me asked for a bribe in order to initiate the investigation.
Being a concerned citizen, I refused to bribe the police officer and writing this letter to you. Police stations are meant to provide service to citizens and maintain law and order. If such corruption enters into police service, then it should be a grave concern of law and order for the state government.
Yours Sincerely,
Aditya Bansal
---
Example 4
Question: The central government has recently come out with Ombudsman regulations under the famous Lokpal bill. Write a letter to the editor of a national daily newspaper expressing your view on this issue. Evaluate its efficiency in combatting corruption in the country and present some constructive criticism if necessary. 
Hints: Long pending demand- Lack of regulation- Regulation published- Lokpal and Lokayuts to be appointed at the central and state level respectively- German concept contextualised- must ensure non-arbitrariness and transparency
21, Kathgola Road, Ghola
Kolkata: 700110
December 11, 2020
The Editor
The Indian Express
164/A, BK Paul Ave
Kolkata: 700005
Subject: Central government and the Lokpal Regulation
Sir,
Corruption is increasing in our country day by day. It not only affects the national economy but also gravely affect people's regular life. So, in order to counter the menace of corruption, the government has finally come out with the Ombudsman regulations under the famous Lokpal bill.
The Lokpal bill was passed way back in 2012 in the Indian Parliament. Activists like Anna Hazare, Kiran Bedi fought for this historic bill. But despite being passed the bill was not effective due to the absence of regulations. As a result, corruption in various government sectors continued. Finally yesterday, the government has come out with the necessary regulations under this act. Now under this regulation, a Lokpal will be appointed at the central level and Lokayuts will be appointed at the state level. This regulation also speaks about creating full-scale machinery to counter the corrupted. The centre has adopted the pattern of the German Ombudsman mechanism and contextualised that accordingly.
So now only time can tell us, whether this mechanism will be able to counter the corruption or not. But the government must ensure non-arbitrariness and transparency both at the central and the state level. The success of this mechanism is solely dependent on the will of the Government.
Yours Sincerely,
Barun Goswami
---
That was all about our presentation on writing editorial letters about corruption. In the session above, I have tried to present four different aspects of the topic that will help you learn about this topic holistically. Hopefully, this session has helped you understand the topic and you'll be able to form an editorial letter on it yourself.
So, if you have liked our initiative, let us know that in the comment section below. Please come out with suggestions on this topic you have any. Your opinion is very important to us. Moreover, you can have a tour of our website if you want to go through more such sessions.
Thank you for being with us. See you again, soon.