When writing a letter to an editor, one of the most important things that should be kept in mind is to keep the letter short and to the point. Other necessities of these letters are formal language and polished grammar. Editors receive tons of letters with the request for getting published. Hence to successfully make your points reach the newspaper, we have to dig into the article and what it teaches.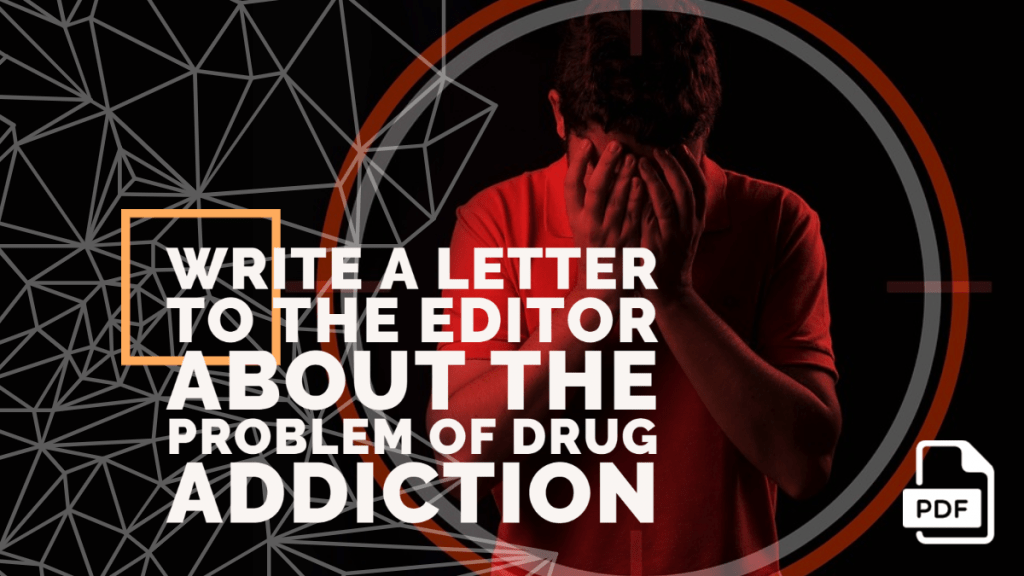 Example 1
Question: Drug addiction is turning into a major problem amongst teenagers these days. Write a letter to the editor telling about the origin of this problem and its effects.
Hints: Discuss what major turn the drug addiction problem has taken – Mention where do you think the problem begins – Discuss its fatality on teenagers – Your humble request to publish this
336/A Banerjee Para
Paschim Putiary
Kolkata- 700041
26th May 2021
To
The Editor
The Telegraph
Kolkata
Subject: Increasing cases of drug addiction
Respected Sir
Through the columns of your esteemed daily, I want to put light on the matter of the increasing cases of drug addiction and how it is being majorly noticed among teenagers.
The problem related to drug addiction is nothing new. But with each passing day, it seems like there is a surge in the graph of the number of people being drug addicts and the most horrifying part is most of them are teenagers. According to me, today's kids are extremely stressed about their academics, sports and career. They have this constant necessity to worry about lagging in the competition.
Hence, teenagers use recreational drugs to lighten their worries and take some time off. What begins in an innocent attempt, soon turns into a fatal habit. Overdose of certain drugs can also lead to death. If someone is suspected to be on a way to becoming an addict, others must try to relieve that person from stress, boost the confidence of the individual and be supportive during the withdrawal of the addiction.
It is my humble request to publish this piece to make people aware of several ways to stop a person from becoming an addict and how they can help an individual during that time.
Thanking you
Yours faithfully,
Shivam Singh
---
Example 2
Question: 'Drug addiction' cannot be taken lightly and do you think that tracing the origin point or the drug dealers is the main solution to this problem. Write a letter to the editor about this and request humbly for publishing the letter.
Hints: Mention the seriousness of the condition – Discuss the actual point from where the problem begins- Write about solutions – Your humble request to publish the letter
260, B Block
Paschim Vihar
New Delhi
30th May 2021
To
The Editor
The Telegraph
New Delhi
Subject: Investigation about the drug dealers
Sir
Today I am writing with an intention of wanting to put light on the matter of drug addiction and its root causes through the columns of your esteemed daily.
A person becomes addicted to any certain kind of drug by regular consumption of it. We can help the addict or stop an individual from turning into an addict by a process that includes spotting the dealers and not letting them sell drugs to anyone in the very first place. A drug dealer is no one dressed in a devil's suit.
They are like normal people, hiding in the crowd among us, waiting to hit us at the right moment. If a person is not an addict already, they can be educated on how to spot a dealer or what to do if any drug dealer ever tries to reach them. If every drug dealer is reported to the police, the whole circle of drug dealing can be curbed out, which in turn, by default, kills the supply of drugs to individuals looking for them.
It is my humble request to publish this letter to let the commoners and the concerned authorities know which path to choose and how to act on this matter.
Thanking you
Yours obediently
Jyoti Prakash
---
Example 3
Question: 'Drug addicts try to look for the most optimum places to do drugs.' Write a letter to the editor discussing how strict surveillance is necessary for areas that might seem alluring to the addicts.
Hints: Discuss the addicts' need for an optimum place – Mention which areas can the addicts find easy to perform the act of addiction – Discuss how you think those areas should be under strict surveillance- Your humble request to publish
37, Lakeview Road
Hyderabad 500078
30th May 2021
To
The Editor
Telangana Today
Hyderabad
Subject: Strict surveillance of the abandoned areas
Respected sir
Through the columns of your well-circulated newspaper, I want to draw the attention of the concerned authorities and guardians of the probable drug addict teenagers about which place to look for the most in case they want to catch the drug addict in the act.
Addiction is an act that demands to be done stealthily and hence addicts try to find places they can retain their privacy or they are sure that is hidden enough. A drug addict will try to look for closed spaces, abandoned places, dense and dark areas, unused lanes and apartments. I believe, that if any of these places exist in an area, the guardians should keep an eye on the children's whereabouts and these areas should be under the strict surveillance of the local police to avoid them becoming an alluring place for the addicts to do the act.
This is my humble request to publish this letter to create awareness about an addict's whereabouts and how they can be caught red-handed if proper measures are taken.
Thanking you
Yours sincerely
Rajan Khanna
---
Example 4
Question: You recently faced a terrifying incident of finding drugs in your 19-year-old brother's bag. Write a letter to the editor sharing your experience and your humble request to publish this in order to spread awareness.
Hints: Discuss the experience in details – Mention what steps you took to make your brother get rid of the addiction – Write about how you think spreading awareness about this issue can save many lives – Your humble request to publish this
DS Marg, Lower Parel
Mumbai- 400008
30th May 2021
To
The Editor
The Indian Express
Mumbai
Subject: Overcoming drug addiction
Respected sir
In this letter, I am about to share a personal experience about my brother's drug addiction and have the intention to spread awareness through the columns of your well-read esteemed daily.
It would be a lie if I said that my brother's behaviour seemed normal to me every day he returned from tuition but I ignored the red flags of the probability of him turning into a drug addict. One evening while I was looking for something in his bag, I found a bag of weed and a small bottle containing alcohol there. He denied being an addict at first but when I threatened him to involve our parents, he blurted out the truth.
He told me how it all started under peer pressure but then it became hard for him to let go of the addiction. I understood the situation and consulted a doctor online, immediately. The doctor prescribed some anti-addiction medicines and regular yoga. She also asked me to keep an eye on my brother all the time. After a year and a few months, my brother came out clean. He was no longer an addict. There were pretty severe withdrawal symptoms in the beginning but the yoga helped him calm down.
This is my humble request to publish my letter to create awareness through my experience with drug addiction.
Thanking you
Yours sincerely
Jyotika Verma
---
In this article, you learnt about the points that you should keep in mind while writing a letter to the editor about problems of drug addiction. Keep your concept clear about the format while attending to the topic of 'writing to the editors'.
Did you find this article helpful? Please leave a comment below and remain updated to not miss the topics yet to be covered. We appreciate you suggesting more topics to us that are on your mind.
Visit our website for more amazing content like this