In today's article, I am going to cover the topic of how to write a letter to the editor about the electricity problem in your locality. This is a topic you often come across in question papers. So read the following examples to know and learn an editorial letter. Let's begin.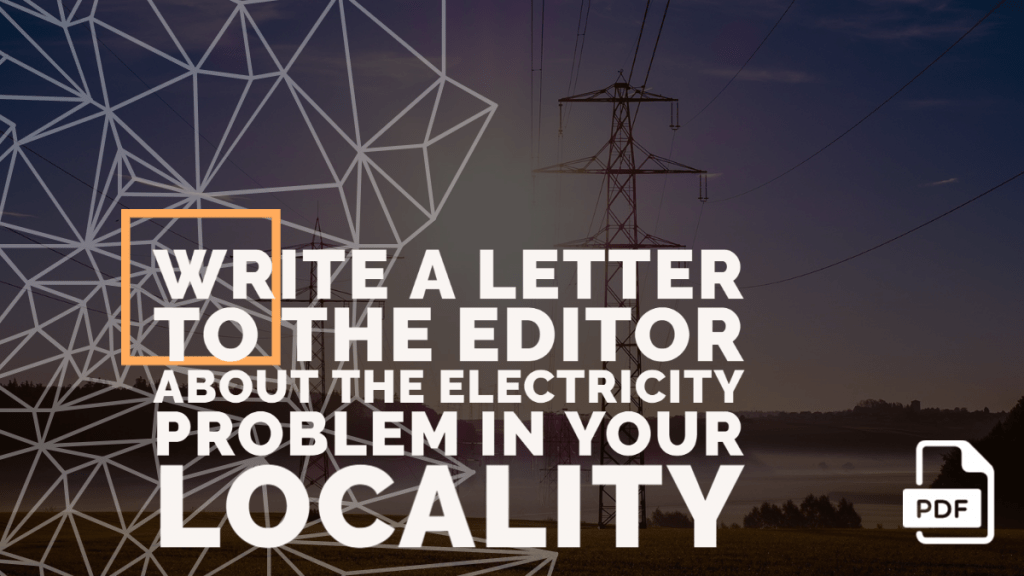 Example 1
Question: Your locality is going through frequent power cuts for several weeks. Write a letter to the editor about the electricity problem in your area in about 120-150 words.
Hints: Frequent power cuts- Online schooling hampered- Students facing difficulty- No response from authority- Your concerns
29, Brick Road
Delhi, 400089
June 12, 2021
To
The Editor
The Hindusthan Times
New Delhi
Subject: Frequent power cuts in our locality
Sir
I wish to express the serious problem of electricity that our locality is facing for the past few weeks through the space of your esteemed daily.
Our locality has been facing frequent power cuts for the past three weeks. Electricity is of utmost importance nowadays because schools are being conducted online. Due to the pandemic, most students and teachers are relying on online schooling. However, with the frequent power cuts, children's study is being interrupted.
Anyway, the kids are going through a lot of troubles with online schooling and the shortage of electricity is an added disadvantage. We have collectively complained at the electricity office but they have not responded yet. We have to spend our days and evenings without electricity for more than three or four hours. All the residents are in a plight due to this situation. All we want is continuous electricity. 
I sincerely hope my voice will be reached to the concerned authority and they will take action immediately to resolve our issue.
Yours sincerely
Sejal Chhabra
---
Example 2
Question: You are Jhuma of the College Street area. There is a severe voltage fluctuation problem in your locality. Write a letter to the editor expressing your grievances regarding the electricity problem in your locality. 
Hints: Voltage fluctuation- Heavy electronic machines suffering- Recent incident of a burst- Authority's action regarding this
39, College Street
Kolkata, 700089
June 18, 2021
To
The Editor
The Telegraph
Kolkata
Subject: Voltage fluctuation in our locality
Sir
I would like to express the problems regarding electricity that our locality has been going through. I will be highly obliged if you allow me a little space in your esteemed daily.
We have been facing severe voltage fluctuation for a couple of weeks. All of a sudden the voltage lowers and all the electronic machines such as washing machines, computers, and microwave ovens shut down. This voltage fluctuation is causing problems in the functionality of these machines. We have requested the local authority to notify us beforehand if any electrical work is going on. However, no positive response has come from their side. My neighbour's microwave burst yesterday due to this. Now they have to pay a hefty amount to repair their machine without their fault. 
I hope and pray that our grievances will be heard. We must be provided with a solution as soon as possible.
Yours sincerely
Jhuma Chatterjee
---
Example 3
Question: Your locality is going through phase-wise power cuts due to an electrical problem. Write a letter to the editor of an esteemed daily about the electricity problem and the hazards your locality is facing. 
Hints: Power cuts in different phases- No street lights in the evening- Students cannot study- Shops are closed- Your urge
26, Louvelle Road
Bangalore, 600089
June 14, 2021
To
The Editor
The Deccan Herald
Bangalore
Subject: Electricity problem phase-wise
Sir
With this letter of mine, I wish to convey the problems of electricity in our locality published through the column of your esteemed daily.
Recently, our locality has been suffering from the problem of electricity. Every evening the power goes away phase-wise. So if phase A has power on Monday, phase B has no power on Tuesday. This has become regular and it is causing a lot of trouble in our daily activities. Children are unable to study due to a power cut. Simultaneously, daily chores are also disrupted.
We have made a complaint at the local electric office. But they have not come yet to inspect the issue in our locality. If this goes on any longer, we would be in terrible conditions. Even the street lights are not lit up. People who can not go out in the evenings do carry out their tasks. Shops also are closed most of the time due to the same reason. We want a solution as early as possible.
I sincerely urge that our problem is highlighted in your daily to unnerve the conscience of the authority and remove us from our quandary.
Yours sincerely
Pankaj Agnihotri
---
Example 4
Question: Your area suffers from power cuts in low-intensity storms and rains. Write a letter to the editor of an Engish daily expressing your views about the electricity problem in your locality.
Hints: Showers in Summers- No electricity for long hours- Problems in daily works- Neighboutring localities do not face the same problem- Your complaint against the authority
56, Connard Place
Delhi, 500078
June 15, 2021
To
The Editor
The Times of India
New Delhi
Subject: Electricity issues in minor storms
Sir
I would like to express my concerns regarding the electricity problem our locality faces through the columns of your esteemed daily.
As responsible citizens, we understand that electricity might be hampered during heavy rains and storms. However, in our locality, even the slightest rain and storm are accompanied by electricity issues. Power is gone for long durations. Whereas our adjacent localities have a smooth flow of electricity and there is no disruption.
During the summer seasons, we do have a lot of showers and storms. But power cut so frequently is definitely a huge problem for all the residents. Everyone's workflow is hindered. We have submitted a written complaint wishing to know the detailed reason behind this problem from the authority. However, nobody has responded yet to our needs. We do not see a resolution to this problem anytime soon if action is not taken immediately. If we are given the proper reason, we would certainly understand and cooperate with the authority to get a solution. 
I genuinely urge the authority to start working on this problem at the earliest.
Yours sincerely
Poonam Advani.
---
In this article, I showed you four different examples of an editorial letter about the electricity problem in your locality. Give a detailed read to all the letters and you will not have any problem composing an editorial letter. Did you love today's session? Leave your thoughts in the comment section below. We are coming up with many more amazing topics so stay tuned to our website.