Lessons of editorial letter writing are very much important for students of any standard. It is one of the most popular comprehension tests relevant for many kinds of examinations around the country. Editorial letters are generally written on current affairs-related issues and regularly facing problems.
Today, in this session, you will be learning to write a few such editorial letters on a public movement to clean Yamuna/Ganges river.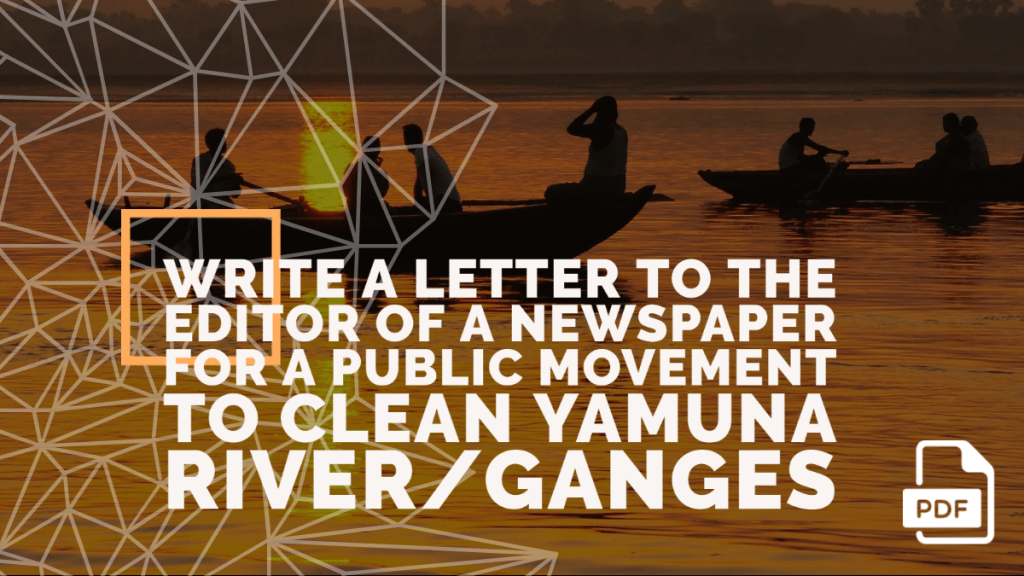 Example 1
Question: Suppose your house is located near a road of the Hooghly river that is a significant part of the Holy Ganges. Write a letter to the editor of a popular daily newspaper expressing your concern about dumping plastic regularly in the river and connect the need of public movement with the issue.
Hints: Regular reader expressing concern- people dump poly bags in rivers- severely affects the ecosystem- Government should step in – Public awareness programs can help.
51/6/A Nabinpally
Khardah
Kolkata: 700112
June 6, 2021
The Editor
The Indian Express
NH6, Prasastha and Ankurhati
Howrah: 711 409
Subject: Public movement to stop river pollution
Sir,
I am a regular subscriber of your newspaper writing this letter to you today in order to express my concern about out of plastics in the river that are quite relevant nowadays in Kolkata.
At the very beginning, I would like to let you know that the Hooghly river is quite close to my house. It's my misfortune that every day I have to silently watch people dumping their garbage wrapped in poly bags into the river. Though scientists are trying to spread awareness about the dangerous effects of dumping polybags on the river, nobody seems to have actually become aware of it. Oceanographers are warning us every day that poly bags can severely harm and even destroy the river ecosystem. So in my opinion, it is time for the government to step forward into this matter. The central government can extend their ambitious 'Namami Gange' project that is the new version of the former Ganga action plan of which the Hooghly river was previously a part.
Besides, extensive awareness programs among people can increase voluntary participation in keeping the river clean and saving the ecosystem.
Yours Sincerely,
Ratan Dasgupta
---
Example 2
Question: Suppose you have recently participated in a campaign for keeping the Yamuna river clean and sustainable. Write a letter to the editor of a national newspaper explaining this campaign briefly and express your concern for increasing river pollution.
Hints: Campaign against Yamuna polluting activities- Yamuna polluted irreversibly- Many people affected- River ecology destroyed- campaign agendas- Being a public movement- Demand to the government
29B/9 Vikas Nagar
South Delhi
Delhi: 100014
June 6, 2021
The Editor
The Indian express
Sector 10, Noida
Uttar Pradesh
Subject: Campaign against Yamuna polluting activities
Sir,
I am a student of class 12 from Delhi Public school, and a regular follower of your esteemed news daily. Yesterday I participated in a campaign launched by our school in order to protest against the polluting activities of the Yamuna river. Today I am writing this letter to you to highlight the need for such campaigns and express my concern about this major issue of Yamuna pollution.
The campaign was launched by our school in the month of February last year. This year it is just a follow-up campaign to strengthen our demands in order to stop polluting activities of the Yamuna river in the name of development. We all know that every year with the degradation of Yamuna thousands of lives are being severely affected. Besides, the river ecology is being damaged to an irreversible extent. Under this campaign, we protested against those activities that are solely responsible for the Yamuna pollution. Moreover, we went to a strip of Yamuna to initiate some symbolic cleaning activities.
With time, our campaign is being expanded and taking the shape of a public movement. Currently, thousands of students are a part of this campaign. We demand the government to immediately put a stop to those activities that are responsible for Yamuna pollution. Moreover, a public awareness program may help to bring back the Yamuna into life.
Yours Sincerely,
Baivab Basak
---
Example 3
Question: Suppose you are an environmental activist who is working under the Namami gange project of the Indian government. Write a letter to the editor of a National daily explaining the need for public movements to achieve the success of the project.
Hints: Working as a volunteer- India is a river centric country- Rivers are in danger- The government launched projects- Public participation needed- Conclusion
32/7, Master Da Surya Sen Street
Kolkata: 700073
April 3, 2021
The editor
The Frontline
4, Chowringhee square
Kolkata: 700001
Subject: Success of Namami Gange depends on public participation: no less, no more.
Sir,
I am an environmental activist currently working as a volunteer to keep India's rivers sustainable under the central government's ambitious Namami Gange mission. Today I am writing this letter to you, in order to highlight the need for extensive public participation to achieve the success of this project.
In India, rivers are considered as nature's holy gifts. Lives in India sustain solely on these rivers. Be it North or South India, rivers are an Indivisible part of our daily life. But unfortunately, most of India's major rivers are highly polluted nowadays. The government is working to bring these rivers back to life under various ambitious projects like Namami Gange. But here I would like to mention that the authoritative approach of the government might not work in the unique demographic model of India. Instead, what we actually need is extensive public participation for the success of these missions.
We need to remember that people are the sole bearer of democracy. Thus in a democratic country like India, we need to include our people in these ambitious missions and let our approach turn into an extensive public movement.
Yours Sincerely,
Sumit Ranjan Guha
---
Example 4
Question: Suppose the Government of India has recently announced to organize nationwide public movement under the Namami Gange project to clean and revive the Ganga and Yamuna rivers. Write a letter to the editor of a national news daily expressing your opinion on this move by the government.
Hints: Central government decided to organize public movements- Ganga and Yamuna are polluted- Public participation was needed- Framework is being prepared- Public institutions are to be included- Conclusion.
Jagannath Nagar
Village: Kirtanpur
South 24 Parganas
July 13, 2021
The Editor
The Times of India
Sector V, Salt Lake
Kolkata: 700091
Subject: Government to organize public movements for Ganga Yamuna redevelopment mission
Sir,
The central government has finally decided to take initiative to organize public movements regarding the ambitious Ganga Yamuna redevelopment mission. I am writing this letter today to your esteemed daily to express my opinion about this decision of our government.
Two major rivers of India, the Ganga, and the Yamuna which are considered as the lifelines of North India are highly polluted in many parts of the country. Previously, the government has launched various projects as well as missions to clean and revive these rivers, particularly in those areas. But scientists, as well as environmental activists, say that these programs were not able to achieve success due to a lack of public participation. Environmental activists say that in a democratic nation every major ambitious development project needs people's voluntary participation to achieve success. Keeping this in mind the government has decided to create a framework to organize holistic public movement regarding these missions. Public institutions like schools, colleges, universities, and others will be included in this framework.
In the context of the redevelopment project of the Ganga Yamuna river, a proper public movement was always needed. So, this decision of including common people in the project by creating extensive public awareness is welcome. But the execution of this framework must be supervised in an efficient way.
Yours Sincerely,
Ashit Barua
---
That was all about my presentation on writing editorial letters on the public movement to clean Ganga and Yamuna river. I have tried to cover all the necessary aspects regarding this issue and also discussed these 4 letters from 4 different perspectives.
Hopefully, after this session, all your queries regarding this issue have been answered and you found it helpful to your requirement. If so, let me know your valuable opinion through the comment section below. Your opinion is quite valuable to me. Moreover, if you want to have more such sessions, let us know that too. 
Thank you for being with us. See you again, very soon.