Today, in this article I am going to show you how to write a letter to the editor about stray dogs. The following examples can be a great reference point for you if you are asked to compose editorials letters on the same topic. Without any further ado, let's begin.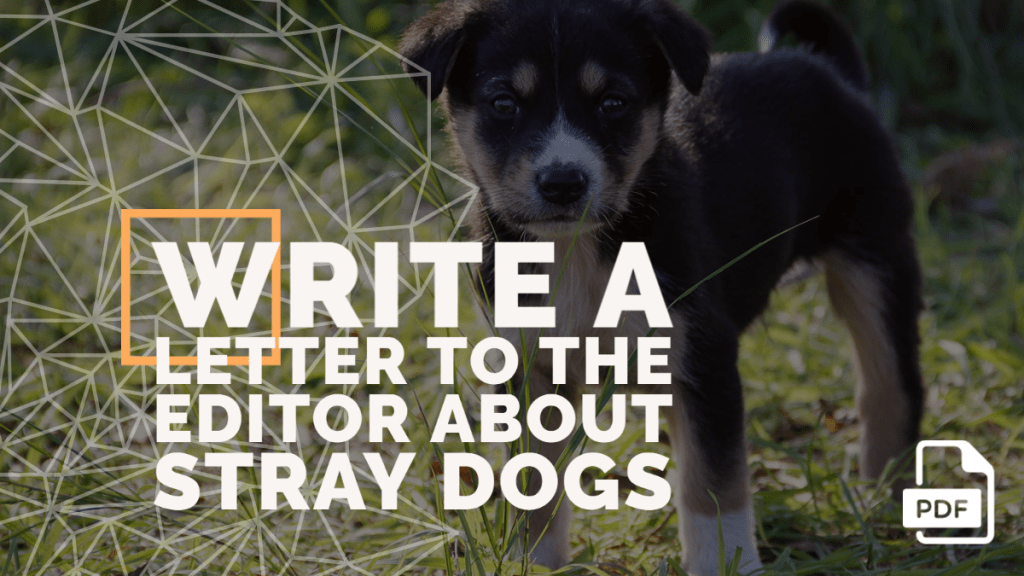 Set 1
Question-1: Some people in your locality behave rudely to stray dogs. Write a letter to the editor of the inhuman behavior people.
Hints: How people treat them- When do dogs take rest inside the premises- How upset you are- The role of NGOs
19, College Street
Kolkata 700069
May 03, 2021
To,
The Editor
The Statesman
Sub: poor condition of stray dogs
Respected Sir/Madam
In my locality, there are many stray dogs that roam around all the time. being an animal lover I have never been cruel to them. However, some residents of our locality are behaving quite rudely to the dogs.
During the summer the dogs sometimes take rest inside garages of houses to beat the heat. Apart from that, they have never created a nuisance within the locality. Still, the residents of these houses throw water or stones at them. Some even try to beat them with sticks to drive them away from their building premises. Despite protesting against this several times, I have never got a positive response from them. This misbehavior of the people towards the innocent animals deeply disheartens me.
I hope the local authorities and NGOs that look after stray dogs pay attention to this and try to rescue these stray dogs from such inhumanity. I request you to emphasize this issue on your esteemed daily to bring serious attention to this matter.
Yours sincerely,
Rima Paul.
---
Set 2
Question-2: Festivals like Diwali are harmful to stray dogs. Write a letter to the editor about how bursting loud crackers are causing severe health issues for stray dogs.
Hints: What kind of problems the dogs face- The health issues- Bursting of crackers leading to noise pollution- Steps against the people for such crimes
16B, Kalamandir Road
Delhi 500029
May 03, 2021
To,
The Editor
The Times of India
Sub: Bursting loud crackers during Diwali for the stray dogs
Respected Sir/Madam,
Indians love to celebrate their festivals and they take them quite seriously. Diwali is one such festival that is celebrated pan India on a grand scale. However, in the midst of all these celebrations, we neglect the stray dogs of our localities.
Stray dogs suffer the most during a festival like Diwali which involves the bursting of loud crackers. Although loud crackers are supposed to be banned as it causes high noise pollution, hardly any citizen follow this protocol. This noise pollution is not only harmful to older people, patients but also to stray dogs. They are terrified by such loud noises and they try to find an escape from that place. Often many stray dogs have fallen sick with such sudden loud sounds. The dogs can too go through problems like loss of hearing, heart attacks, and many such serious diseases.
I earnestly wish that people get rid of such a careless attitude towards stray dogs and also authorities should strict actions against those who commit such horrible crimes.
Yours sincerely,
Komal Ahuja.
---
Set 3
Question-3: stray dogs often remain hungry because of a lack of food. Write a letter to the editor of an English daily about feeding the stray dogs.
Hints: How can we take care of stray dogs- Feeding them simple foods to keep them healthy- Steps of the NGOs and initiative by people
29, Anglow Road
Hyderabad 400048
May 03, 2021
To,
The Editor,
The Guardian
Sub: Feeding the stray dogs
Respected Sir,
There is not a single locality where stray dogs are not found. But most of the stary dogs suffer from poor health due to lack of food and nutrition. They often have to thrive on the wastes thrown out by the people.
As responsible citizens, we must take necessary steps to further deprive the dogs of food. It will not be hard for some people to take out half an hour a day to feed the stray dogs. Simple foods like rice and chicken or bread even keep the dogs healthy. Hungry dogs often attack people on road. If they are properly fed, they would never attack anyone on the road too. Some NGOs have already started such initiatives. However, it is the responsibility of the residents of the locality to feed them.
Human beings are supposed to co-habit with animals. By doing this kind of activity the stray dogs can keep themselves in good health. I wish to highlight this issue on your esteemed daily so that people can indulge in feeding stray dogs.
Yours Sincerely,
Nishant Khan.
---
Set 4
Question-4: Due to reckless driving on road stray dogs often suffer and die. Write a letter to the editor to highlight the issue of careless driving on the road.
Hints: How the dogs suffer- The negligence of drivers and authorities- The condition of the puppies
18, Maheshtala Road
Kolkata 700089
May 03, 2021
To,
The Editor
The Hindu
Sub: Stray dogs are prone to accidents due to reckless driving
Respected Madam,
Reckless driving on road is one of the main reasons for uncountable deaths of stray dogs. It is disheartening to see how drivers completely neglect the dogs on the road.
The stray dogs roam around everywhere as they do not have any safe place for themselves. This makes them accident-prone. Even though the adult ones sometimes save themselves, the puppies suffer the most. It is due to their low immunity power that they hardly survive whenever they encounter an accident. It is the negligence of the drivers on the road as well as of the authorities. Local authorities must take responsibility for the stray dogs to ensure their safety and security. Also, it must be considered as a punishable crime if any dog is killed on the road.
I sincerely request you to emphasize the issue on your renowned daily to catch the attention of authorities along with such reckless drivers.
Yours sincerely,
Parul Bose.
---
In this article, I taught you how to write a letter to the editor about stray dogs. I hope you learned something new and had fun reading letters. Keep your requests in the comment section below. And make sure to check our website regularly for awesome content like this.
Bye!