Editorial letter writing is one of the most important and common comprehension tests relevant for various examinations all around the country.
In recent times a tendency has been noticed that editorial letters on sewage and drainage systems come often in examinations. Noticing this trend we have decided to come out with a few such editorial letters that will hopefully be able to clear all confusions of students regarding the topic.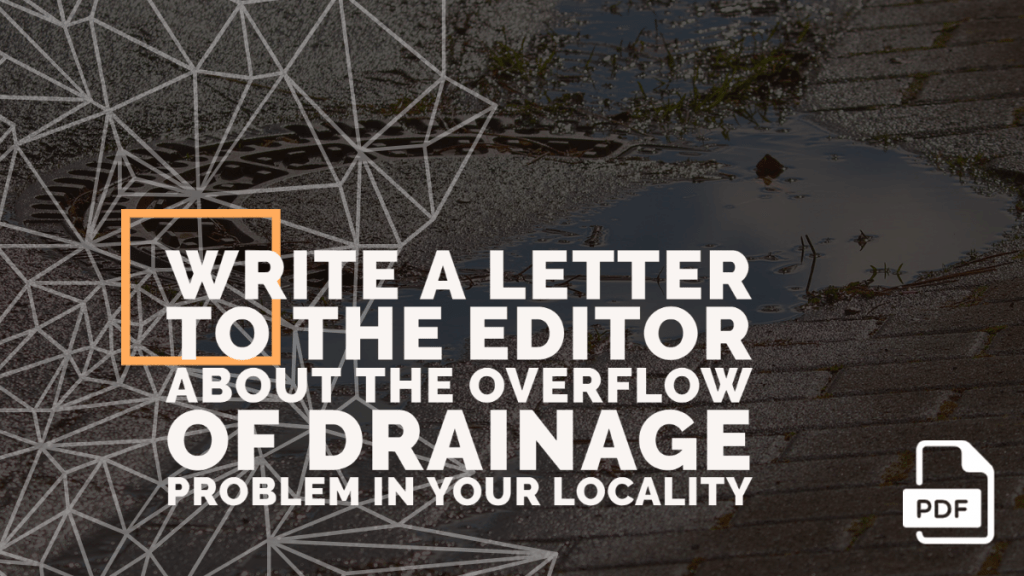 Example 1
Question: Suppose recently your locality is facing a problem of water overflow from roadside drains. Write a letter to the editor of any newspaper explaining the entire tissue and try to seek some solution for your problem.
Hints: Residential introduction- Water overflowing from drains- Dirty streets- Unhygienic lifestyle- Look for some solution
26/3 Bhawanipur
Kolkata, 700023
June 4, 2021
To
The editor
Xyz newspaper
9/2 Suresh Chandra Sarani
Kolkata
Subject: Water overflow from roadside drainage
Sir,
I am a resident of the Bhawanipur area, Kolkata writing this letter to you as recently we the residents of this area are facing tremendous problems due to water overflow from a few manholes nearby. The purpose of writing this letter is to get our issue highlighted through your esteemed daily and find a solution for our problem.
It has been more than a week that water is continuously overflowing from at least three manholes in our area. Very nasty smells come from the water and we find it quite unhygienic to live in such an environment. Dirty water is flowing here and there in the streets and sometimes infiltrating some of the houses in our area. I would briefly let you know that we have informed the Kolkata municipal corporation multiple times but hardly got any response.
That's why now we want a permanent solution to this problem we are facing for around a week and I wish that our problem will get a strong voice to your esteemed daily.
Yours sincerely
Rohit Roy
---
Example 2
Question: Suppose you are a resident of some village of your state. Currently, your locality is facing sewage overflowing from open drains. Write a letter to some newspaper in order to find a solution for your problem.
Hints: Open sewage in the village- Dirty water overflow- unhygienic environment- People falling sick- Look for a solution
2/6/A Jagulia
Telenapota, Ramdighi
West Medinipur
June 14, 2021
To
The editor
ABS newspaper
9/2 Amal Bose Street
Kolkata
Subject: Open drains and sewage overflow
Sir,
I am a resident of a remote village in the West Midnapore district of West Bengal. Our village is recently going through a major problem of dirty water overflow from roadside drains. Through your newspaper, I want to shed some light on this issue in order to find a solution for it.
Dirty water overflow from drains has become quite common in our village nowadays. All of the drains in our village are completely open and thus heaven for harmful pests such as mosquitoes, flies, etc. There is even a huge lack of regular cleaning and the drains overflow now and then. Some areas of our village are becoming inhabitable due to dirty streets and nasty smells. People fall sick every now and then and most of them suffer from diseases caused by an unhygienic environment.
I hope through your esteemed newspaper our condition will get a bit of attention from the higher authority and we will look for the issue to get resolved.
Yours sincerely
Ashit Kumar Das
---
Example 3
Question: Land area disputes between two or more states are very common in India. Suppose your village is situated in such a position. Recently, your area is facing a tremendous problem of sewage overflowing. Write a letter to the editor of some popular newspaper to get your entire issue highlighted.
Hints: Village in disputed territory- Under development hitting hard- Water overflowing from drains- Unhygienic living condition- Seek solutions
Jagannath Nagar
Kirtanpur
Odisha-Bengal Border
July 13, 2021
To
The editor
The Indian express
Sector 10, Noida
Uttar Pradesh
Subject: From land dispute to under development
Sir
I am a resident of Kirtanpur village, India. I cannot mention and don't even know which state we are living in because our village falls under a disputed land between Odisha and Bengal government. I am writing this letter to let the nation know through your esteemed daily that our village is currently suffering from sewage overflow and we don't even know to which authority we should go to find some solution to it.
Our village has some traditional shallow and open drains that are overflowing from after the last monsoon. We don't know what is the reason behind this overflowing this year but neither Bengal nor Odisha government is concerned about this issue we are facing due to their controversial jurisdiction problem. Here, I would briefly mention that our village has always been a soul surfer of the tussle between these two States. That's why underdevelopment has become a major issue for our village.
That's why, through your esteemed daily, I am looking for some permanent solution from the Government of India to get all our issues resolved.
Yours sincerely,
Abhilash K akda
---
Example 4
Question: Write a letter to the editor of a popular newspaper about the overflow of drainage problems and suggest some measures and solutions for controlling it.
Hints:  Faced overflow of drainage- Solved- Learn from mistakes- Suggest common measures- Public Awareness- Proactive authority
32/7, Master Da Surya Sen Street
Kolkata, 700073
April 3, 2021
To
The editor
The Statesman
4, Chowringhee square
Kolkata, 700001
Subject: A way forward for sewage water overflow
Sir 
I am a regular follower of your esteemed daily living in Northern Kolkata. Recently our area, which is one of the most congested areas of the city, has faced a major problem of sewage overflowing through the manholes on the roads. I would like to let you know gladly that we, particularly the residents of the area, along with the municipal corporation have solved this issue.
As it is said that people should learn from their mistakes, we have also found some long-term solutions to this major public problem. In, recent times Kolkata as well as a few suburban downtown areas had faced such problems in their locality. These kinds of drainage overflow generally happen due to some major blockade in the swage. Moreover, lack of regular cleaning is another reason behind such overflows.
In this case, both the municipal authority as well as the citizens have to be proactive to eradicate this problem. Citizens must have to avoid throwing all kinds of waste products in the drains especially plastics, drinks can, bottles, etc. Besides, the municipal authority must have to pay attention to the regular cleaning of the drains.
Yours Sincerely
Sadat Hussain Joy
---
In today's session, we have comprehensively discussed editorial letter writing on drain overflow problems. Hopefully, this session will be able to clear all your confusion regarding the topic and you found it helpful as per your requirement. Let us know your valuable opinion as well as suggestions for this session in the comment section below. Thank you; see you again very soon.