Editorial Letter writing is one of the most common comprehension tests relevant for any kinda examination. Moreover, it also has regular applications in persons' day-to-day life. But, we should always remember that hundreds of letters get tabled to an editor of any popular newspaper every day.
But only those get published which become able to catch the editor's attention. So, here in this session, we'll learn about framing an editorial letter properly on the popular topic of smoking in public places.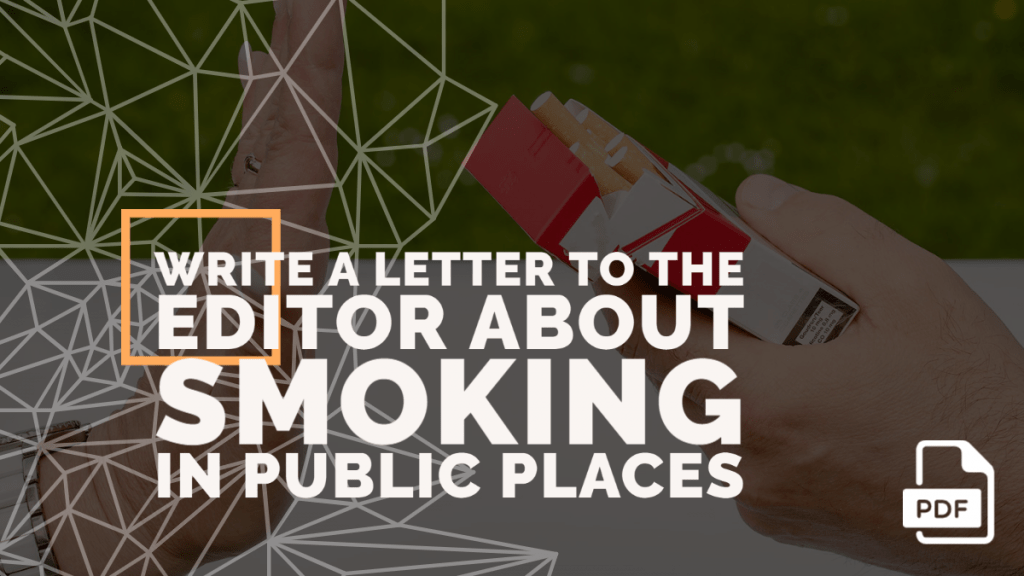 Example 1
Question: Suppose your house is situated beside some busy road of a metropolitan city. Whenever you get out of your house, you face tremendous problems due to excessive smoke caused by frequent smoking in front of a tea shop just beside your house. Write a letter to the editor of some popular newspaper to get your issue highlighted.
Hints: Intro- Crowded Locality- High pollution- Smoking causes problems- Get issue highlighted
27/3/A, Rafi Ahmed Kidwai Road
Kolkata- 700003
June 2, 2021
The Editor
The Telegraph
1, Chowringhee Square
Kolkata- 700001
Subject: Health problem due to public smoking
Sir,
I'm a fellow citizen of the beautiful city of culture, Kolkata, and a regular follower of your esteemed daily. My reason behind writing this letter today is the major cause of smoking in public places in our area.
As you would have already noticed on my address label, I live beside a very busy road in our city. Moreover, our locality is among the most crowded areas of Kolkata. Naturally, the pollution level is higher in our area than in many other localities. Adding to this, just beside our house, a small tea shop is located that stays crowded all day long where people have tea and smoke continuously. Whenever we go out of our house, the area is full of smoke, and every now and then that smoke comes to our balcony as well. We've requested the tea shop owner prevent smoking in front of the shop and tried with several notices, but nothing worked.
So, it is my earnest request to you to highlight my issue and make people a bit aware that not only do they harm themselves while smoking but also others.
Yours Sincerely,
Aniruddha Chatterjee
---
Example 2
Question: Write a letter to the editor of some esteemed daily on spreading awareness about smoking in public places.
Hints: Report published- Aware gen Y- Number hardly reduced- Causes damage to the environment- Million people die- Matter of Concern- Measures to be taken
6/305, Petulia
New Barrackpore
Kolkata- 700603
June 5, 2021
The editor
XYZ Newspaper
13/12A, Santosh Mitra Road
Kolkata- 700103
Subject: Prohibit smoking in public places
Sir,
I am a daily reader of your esteemed daily. I live in quite a downtown area near Kolkata city. Very recently, a medical journal published a report on the effect of smoking in public places. Their findings were quite a matter of concern. In this letter, I would like to highlight this very issue of smoking in public places in the context of our city, state as well as the country.
As the trend and statistics show that the young generation is being more aware of the harmful side effects of smoking, a downward curve in the number of smokers has been noticed in recent times. But unfortunately and astonishingly that hardly reduced the number of smokers in public places. Especially in crowded areas like Kolkata city, these smokers cause severe damage to the environment along with harming themselves. According to an estimate, nearly a million people die due to this passive smoking process.
The government should immediately become active on this issue and take steps to spread awareness and put a stop to smoking in public places. Hopefully, this voice of concern would get some light through your newspaper.
Yours Sincerely,
Maniratan Bose
---
Example 3
Question: Suppose your school is launching a campaign on spreading awareness about stop smoking in public places. Write a letter to an editor of a popular newspaper highlighting this issue with special emphasis on the campaign.
Hints: Increased smokers in Public areas- Causing pollution and trouble to people- Campaign launched by school- Extensive awareness programs- All school should follow
7/139, Rautela
South Durgapur
Pin- 713025
June 5, 2021
The editor
ABC Newspaper
1/17C, Manik Chand Sarani
Kolkata- 700512
Subject: Campaign to stop smoking in public places
Sir,
I am a student of class XI from Rautela High School, Durgapur, writing this letter to you to highlight the issue of ill effects of smoking in public places and the need to spread awareness regarding this issue.
Being an industrial belt, Durgapur has always been an epicenter of air pollution. Adding to this, recently an increasing number of smokers in public places has also been noticed in Durgapur. Smoking in public places gives birth to the problem of passive smoking that can severely damage a non-smoker's respiratory organs as well. So, in order to spread awareness among people and put an end to this problem, our school has decided to launch a campaign to stop smoking in public places. Under this campaign, we've taken an agenda of handbill circulation, a door-to-door awareness program, and an awareness march against smoking in public places.
I hope, our initiative will get some light through your esteemed daily and such public awareness programs take place in every corner of our country.
Yours sincerely,
Rohit Ranjan Roy
---
Example 4
Question: Suppose the government has recently passed a new law to put stop smoking in public places. Write a letter to the editor of the most popular newspaper discussing the importance of the very issue.
Hints: Government passed a new law- Long pending demand- Will penalize smokers in public places- Help to eradicate the problem- Public Awareness programs also needed.
79/15V, Bababudan
New Tertulia, Bangaon
PIN- 729444
June 5, 2021
The editor
The Indian Express
18/6 T, Abinash Mukherjee Lane
Kolkata- 700069
Subject: New law penalizes smoking in public places
Sir,
This letter I'm writing to you to discuss the new law recently passed by the government that banned smoking in public places.
Finally, our government has come out with some legal provisions in order to put end to the problem of smoking in public places. Basically, it is one of the long-pending demands to the government from numerous activists of various different sectors like health, environment, and social welfare. Under this law, the person shall be penalized with a minimum of 7days to a 1-month jail term or a fine of not less than 2000 rupees or both.
We all know that smoking in public areas is not only affects the environment but also severely harms the non-smoking people around. In this scenario where the number of smokers in public places is increasing, such steps from the government are always welcome. But imposing a penalty can not be the only solution to this problem. I think, besides that, the government should also focus on public awareness programs that people can act voluntarily to eradicate this issue. That'll also be a step forward to a thriving successful democracy.
Yours Sincerely,
Rohit Kumar Vardhman
---
That was all about our presentation about the editorial letter writing on smoking in public places. In this session, we have tried to cover the topic from four different aspects relevant for many kinds of examinations. Hopefully, all your confusion would have been cleared through our presentation. If you have found this session helpful, let us know your opinion in the comment section below. Your opinion is valuable to us.
Thank you; see you again very soon.