Examinations are one of the most stressful subjects in a student's life. Due to this immense stress, many students develop fear about academics. Many such tendencies emerged due to the stress of examinations make this topic a serious issue to be discussed.
Today in this session, I am going to help you to learn how to frame editorial letters on various issues particularly related to this topic. So without further introduction, let's get started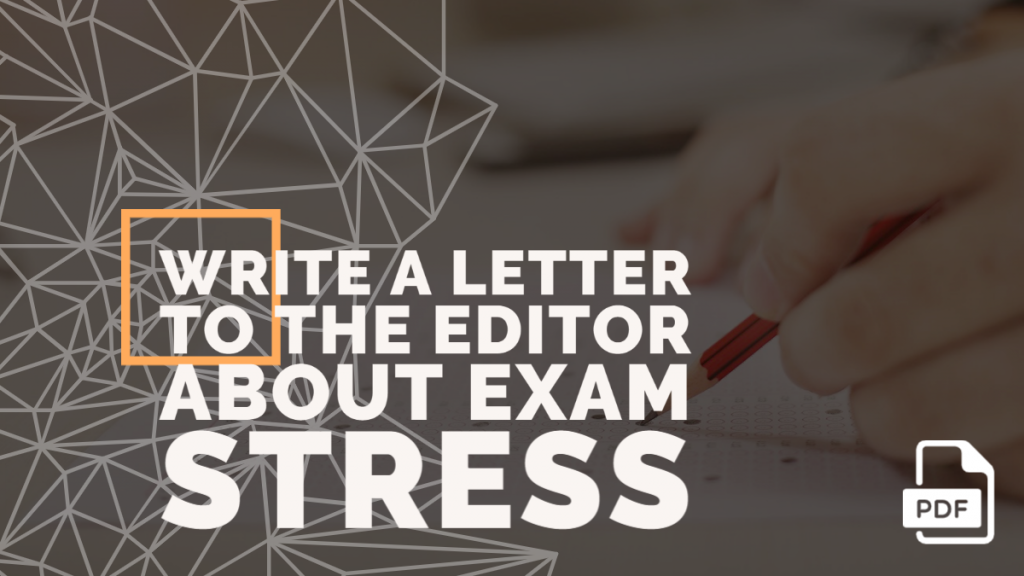 Example 1
Question: Suppose you have appeared in many exams back to back in the last month. This immense pressure of exams has resulted in severe stress and eventually anxiety inside you. Write a letter to the editor of a daily newspaper explaining the issue you are facing.
Hints: School conducted exam- Appeared for career-oriented exams- Coachings conducted exams- Suffering from stress and anxiety- Consulted psychologist- going under medication- Students and guardians should consider twice before taking such stress
Suresh Mukherjee Road, Nabinpally
Kolkata: 700114
September 2, 2020
The Editor
The Statesman
3/1 Nalinipukur Road
Kolkata: 700002
Subject: Stress and anxiety caused by back to back exams
Sir,
Through the column of your esteemed daily, I want to highlight the miserable condition of the students like me, who are completely exhausted by the immense stress caused by back to back examinations.
In the last month, I had to appear in 9 back to back exams. Firstly, my school organised the mid-term test for 4 consecutive days. And then, my JEE preparation tests were scheduled to last month. Moreover, I appeared in several examinations conducted by my private coaching centre. Due to these numerous exams, I had to take immense pressure that eventually resulted in severe stress. As the result, I fell sick after the exam and now suffering from severe anxiety. This issue is severely affecting my studies and day-to-day life. I even had to consult a professional psychologist because of facing these issues. She has let me know that the pressure of exams is the primary reason behind it.
I want to appeal to the guardians as well as the students to think twice before taking such immense stress of exams. Because, if your health is not well, then academics are no help as well.  
Yours Sincerely,
Rajesh Dutta
---
Example 2
Question: In a recent survey, it has been accounted that a large number of students lose their interest in school education due to the immense stress caused by examinations. Write a letter to the editor of a popular daily newspaper expressing your concern regarding this issue and suggest some possible way forward. Make use of the following hints for reference.
Hints: Improvement in the education sector- Failed to reduce the dropout rate- NITI Aayog conducted a survey on 10,000 dropouts- Excessive stress is a reason- Students get afraid of exams- Leave school- Focus on an alternative method of evaluation- Education for all is important
2/61 Bablapur
North 24 Parganas
June 23, 2021
The Editor
The Telegraph
Kolkata: 700001
Subject: Exam stress causes school dropout
Sir,
Recently a survey has revealed that excessive stress caused by exams are one of the main reasons behind the high dropout rate from the schools in the country. This letter to your esteemed daily is to express my concern regarding this serious issue.
Recently, a survey conducted by the NITI Aayog revealed that one of the primary reasons behind such a high dropout rate is the excessive stress caused by the traditional means of examinations. Under this survey, a study has been conducted among 10,000 school dropouts and it revealed that for a large number of these students the fear of immense pressure and eventual stress of exams worked as one of the reasons behind leaving school. Obviously, many other reasons are there too but this basic issue is needed to be addressed.
The traditional model of examinations can be proved as quite stressful for many students. So, the government can opt for some alternative method of evaluation like many first world country has already adopted. Proper evaluation is definitely important, but education for all should always be the primary concern.
Yours Sincerely,
Rumi Bannerjee
---
Example 3
Question: Recently some universities have decided to conduct their semester examinations in an order of two papers a day for three consecutive days. Write a letter to the editor of any reputed newspaper evaluating this decision in light of the immense stress of students that can be caused by this examination process.
Hints: Universities scheduled examination- Two papers a day with half an hour break for three consecutive days- Online exam- Everybody does not have proper facilities- 6-hour exams can be stressful- Can result in physical and mental anxiety- Universities and government should reconsider
72A Bottola Road, Uttarpara
Hooghly
February 18, 2021
The Editor
The Times of India
8, Camac Street
Kolkata: 700017
Subject: An extremely stressful examination process
Sir,
Through this letter in the column of your esteemed daily, I want to seek the attention of the education ministry of our state regarding the decision of some universities to conduct their semester examinations in an order of two papers a day for three consecutive days.
To everybody's surprise, many universities have recently scheduled their examination two papers a day with half an hour break for three consecutive days. Due to the ongoing covid situation, students have to appear in these exams online. But many students do not have proper facilities in their homes to appear in online exams. In that case, they opt for cybercafes to submit their papers. Appearing in online exams is a hazardous process itself. In such a situation, 6 hours of prolonged exams can be very stressful for students. It can eventually result in severe anxiety and even physical sickness for many students.
So, this letter is intended to request the universities to reconsider their decision of conducting exams on such a schedule. I also want to request the government to look into this matter immediately for the sake of the students.
Yours Sincerely,
Aditya Bansal
---
Example 4
Question: Recently the central government has taken some reformative measures to relieve the students from the immense stress caused by the excessive pressure of examinations. Write a letter to the editor of a national newspaper expressing your opinion about these measures with critical evaluation. Make use of the following hints for reference.
Hints: New education policy launched- Significant changes done- Creative activities and teamwork prioritised- Merit-based evaluation- Mitigate exam stress level- Reduce dropouts- Government should have field experiment
21, Kathgola Road, Ghola
Kolkata: 700110
December 11, 2020
The Editor
The Indian Express
164/A, BK Paul Ave
Kolkata: 700005
Subject: New education policy tries to free students from exams' stress
Sir,
I am writing this letter today to your esteemed daily to evaluate the potential of the newly released education policy in terms of mitigating the stress factors of exams.
Keeping the limitation of the traditional education system in mind, the government has attempted to make significant changes in the evaluation process of the education system through the new education policy. Under this policy, the evaluation process of the students will not solely depend on the scores but on their merit. Moreover, creative activities and teamwork have been prioritised under this policy. Experts are saying that, after this policy's implementation, the score based traditional exam system will be a mere formality. 
According to many philanthropists, this policy will bring revolutionary changes to the country's education system if properly implemented. Moreover, it will definitely bring down exam stress among the students and hence the number of yearly dropouts. But many experts are also saying that government should have a field experiment through a pilot project before implementing this policy to check whether the students and the teachers of the country are prepared for such a drastic transformation.
Yours Sincerely,
Barun Goswami
---
That was all about our presentation on writing editorial letters about exam stress. In the session above, I have tried to write four editorial letters related to the primary topic from four different aspects. Hopefully, all your doubts regarding this topic have been resolved after going through this session.
So, if this session has helped you and you liked our initiative, kindly let us know your valuable opinion through the comment section below. Moreover, if you want me to cover any specific topic of English comprehension, don't forget to mention that as well. Your opinions are valuable to us.
Thank you. See you again, soon.