Summer holidays always scope students to breathe in the fresh air in the packed schedule of regular academic sessions. This article contains a couple of diary entries which help you to get the best scope to learn how to write a diary entry of one week summer holidays.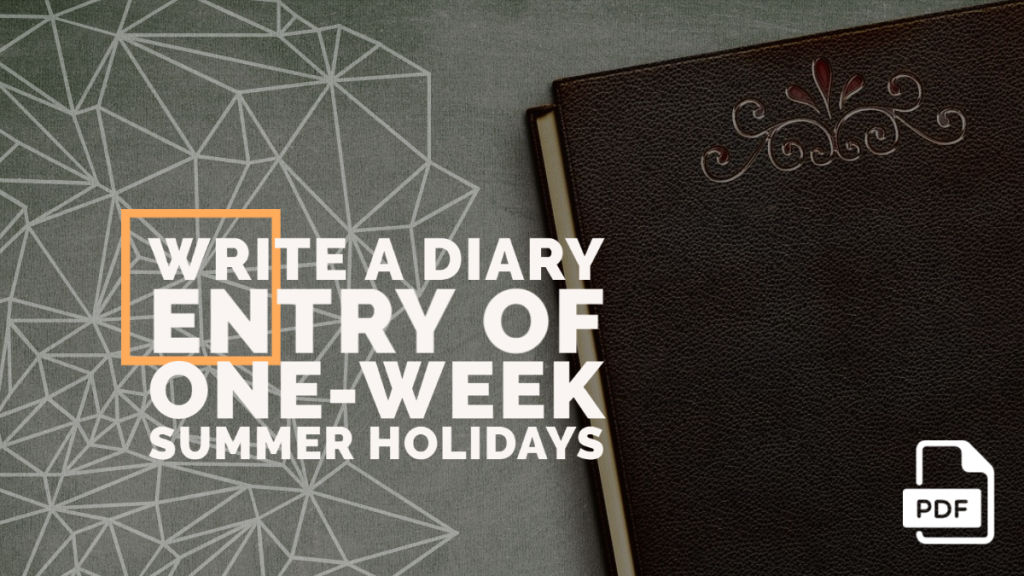 Diary Entry Set 1
Question-1: In the midst of regular academic sessions, summer holidays bring a bucket of fresh air for students. They get scope to refurbish the mind and brain after nonstop home tasks of schools. Though, school teachers gave some brainstorming tasks for summer vacation days, students manage a little time gap to be free from the burden of tasks and studies. Now, follow the hints and depict the memories of your summer holidays making a diary entry.
Hints: Exploring new things – opportunity to be habituated with extra-curricular activities – visiting a place far away from the city – starting to develop new constructive habits – proper take care of body and health.
Answer:
Kolkata,
7th May 2020,
Sunday, 09:00 p.m
Dear Diary,
As a student we always have less time to explore new things going outside of a stressful study routine. So, I utilized my summer holidays this year to grow special interest in new things. Because, only in summer vacation we all get a great scope to adopt some mind-refreshing habits as per our personality and tendency like painting, singing, gardening, dancing.
So, this year summer vacation I started to grow the habit of gardening. And it was a really very good idea, which worked in an amazing way to refresh my mind and soul. Besides, I visited our village home to get the real flavour of wild nature.
All my cousins joined me and we were busy exploring joy and fun in the lap of nature through playing outdoors. As well as while I came to know about classic literature from my cousins, I collected some books and drove my creative mind towards limitless passion for literature. Above all, I took care of my health through regular exercises.
Tiya
---
Diary Entry Set 2
Question-2: Summer holidays always take away all the stress of an academic year. And the scope of refreshment in summer holidays makes students more energetic to be attentive to their studies. In the days of summer holidays, students always love to do something energetic. As they can boost the capability of mind and brain for coming days. Now, look at the hints and note the joyful memories, which made you so zestful to make an interesting diary entry.
Hints: Push yourself towards new things – Adopt new hobbies – spend time with grandparents – participation in household chores – limitless fun with friends.
Answer:
Kolkata,
10 th May, 2020
Sunday, 08:30 p.m,
Dear Diary,
In the free time of summer holidays, I pushed myself to discover my special interest. And the idea to find myself through my talent and skill, took me to the thoughts of self-safety. I started Karate classes. As I do not have pressure of home tasks, I invested enough time in practice of Karate basics.
Besides, I visited the house of my grandparents. They were very happy to spend quality time with me. I taught them the use of smartphones and they became so excited to learn such ultra-modern use of technology.
In the midst of spending a quality time with family, I engaged myself into household chores like cooking. And it gave me plenty of good emotional vives while my family members admired my cooking skill. As well as I also mate childhood friends and spend special time with them along with a mood full of fun.
Nikhil
---
Diary Entry Set 3
Question-3: Summer vacation is considered as one of the most wanted leisure for the students. Being free from the hurdle of routined home tasks, students always love to be involved in some spirited activities in summer holidays. And these kinds of engagements boost their energy up to the ultimate level. Now, just go through the following hints and make an exceptional diary entry representing the enjoyments of summer holidays.
Hints: Raise interests towards something new – set future goals – enjoyment with family – find relief from scheduled classrooms – spend time with pets.
Answer:
Kolkata,
15 th May, 2020,
Sunday, 09:30 p.m.
Dear Diary,
I adopted some new hobbies like gardening and reading classic literature in the leisure of summer vacation. First one brought me close to nature and second one developed a sense of rationality. Through gardening I learned different kinds of flowers and nourishment of saplings. And being rational I learned to look at the circumstances of life in an open eye.
As I was free from the tough schedule of home tasks in that vacation, I was busy learning the basics of programming language for getting some fruitful career aspects in future. During summer vacation with my family, I had a lot of happiest moments like movie time, outing with my family etc.
And it brought me very close to my family members, which I missed during the tough exam schedule. As well as I used to play with my pet dog in the morning with a ball as I had no hurry to go to school in summer vacation.
Deep
---
Diary Entry Set 4
Question-4: All the students wait for summer vacation to break the daily home task routine and a number of relaxation sessions full of fun. In the summer season while temperature rises high, schools and colleges declare vacation for one week. Students generally use this free time for multiple recreation and growing new habits. Now, based on the following hints prepare a portrayal of cheerful summer vacation days for diary entry.
Hints: Develop productive interests outside the classroom – Raise interest for healthy habits – Utilize your leisure with love for family and fun with cousins – and seasonal outing in a mesmerizing place.
Answer:
Kolkata,
1 st May, 2020,
Sunday, 10:00 p.m.
Dear Diary,
I opted summer vacation for the development of exceptional interests like increasing the level of my general knowledge. Because, during regular classes, I used to get less time to explore out of syllabus topics. So, in summer holidays, I focussed on gaining general knowledge as it would be fruitful for the future.
Besides, I started yoga to keep fit my body and mind. And I was very cheerful among all of my cousins as they also came to our home during the summer holidays.
I visited the prominent restaurants with my cousins to taste exclusive flavours. And in the midst of it I went to Darjeeling with my cousins to enjoy the enchanting snow-capped mountain view. In the hill station mesmerizing sunrise view made me relaxed at a high level. And this hill station trip brought me a bucket of fresh air in the midst of an academic session.
Bornita
Conclusion:
In these examples, you will get lots of practical ideas on the process of describing the events of one week of summer holidays. Do you find useful points in this article to get help on how to make your diary entries most attractive? Please share your positive feedback on how much this article helps you to write a diary entry of one week summer holidays.