For getting the highest marks you must know how to write diary entries with perfect pitching. This article includes four examples of diary writing on any secret of life. All examples are written based on perfect patterns of diary writing. So, you will get plenty of ideas from this article to make an ideal diary entry in exams.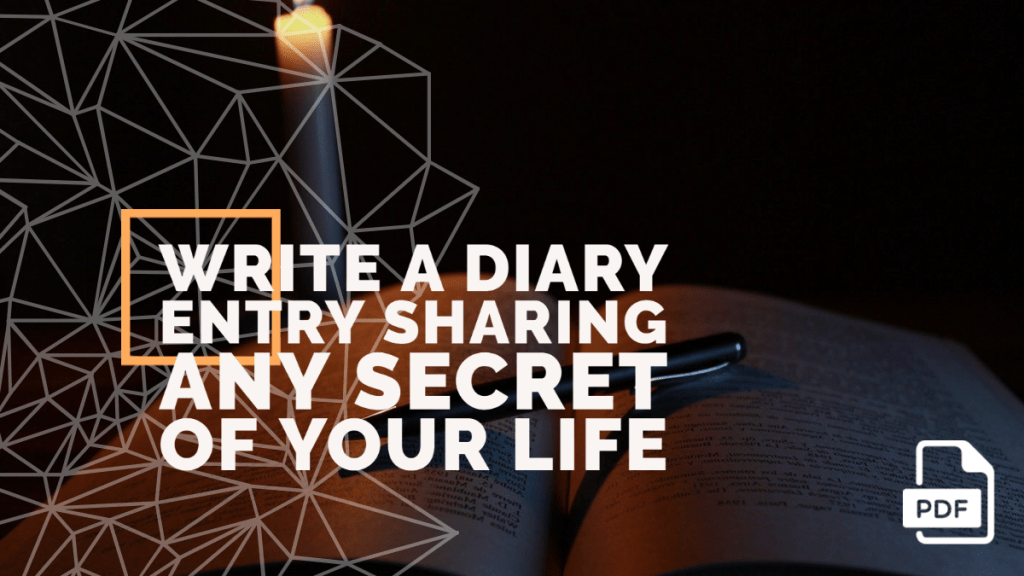 Set 1
Question-1: Sometimes, you get involved in such incidents, that you can not tell anyone. Then matters become the secret of your life. Now, look at the following hints to make a diary entry sharing any secret of your life.
Hints: Introvert in nature – Less talking – Don't get attention in any get-together – Noticed a friend to steal tiffin – couldn't say anything – Not ready promptly to participate in any event – Want to develop clumsy behaviour
Answer:
Baranagar,
23rd March, 2021,
Time – 09.30 pm.
Dear Diary,
Today, I am going to share a secret about my behaviour. Relatives, even teachers always ask me why most of the time I remain silent among students and family members. I can't explain to them that I can't express my opinion in front of others, as my words make the environment awkward. Or sometimes, I noticed, due to my shy behaviour, I did not get proper attention in a group. Yesterday, I noticed one of my classmates was stealing tiffin from my friend's bag. But, still, I could not tell the truth to my friend.
The reason for my silence was only my reserved mentality. Due to being introverted, I could not get ready to take part in school events. Even in the class, while teachers tell me to give a speech on any subject, it becomes scary for me. All the reasons make me alone to keep my pain in my mind. I can't feel my sadness even when I am in a group. But, I think I should develop my personality so that I can get rid of this clumsy behaviour.
Tiyasa Paul
---
Set 2
Question-2: Some incidents you don't plan. Only it happens. Unknowingly you become a part of the messy incidents. While you think about it, you feel guilty. Now, look at the following hints to make an attractive diary entry sharing this kind of incident, which is a secret of your life.
Hints: Took Father's wristwatch – Thought would keep it at right place – But someone stole it – Father was searching his watch – could not say anything – Take oath to get highest marks – After getting scholarship gifted father a watch
Answer:
Shyambazar,
26th March, 2021,
Time – 10.30 pm.
Dear Diary,
Today, I am very happy. So, I want to share the reason for my happiness on the pages of my diary. Yesterday, I got a scholarship as I got 90% marks in my board exam. I bought a wristwatch for my father. But there is another story behind my happiness. Before my board exam, I took my father's watch to be punctual in the exam but did not inform him. On the last day of my exam, at the end of the exam, I went to a fair with my friend.
During my return home, On the last day of my exam, at the end of the exam, I went to a fair with my friend. While returning home, I lost my father's watch. I was so guilty that I could not let my father know about the watch. when he was searching his watch, I remained silent. But I promised myself that I would give him the same model of watch as a gift. Yesterday was the day when I fulfilled my promise. But, behind this happiness, the reason will always be a secret in my life.
Ruhi Sarkar
---
Set 3
Question-3: Some incidents happen suddenly. Some circumstances make you feel guilty about your deeds. Unknowingly, you can not express the truth. Gradually, those matters become secrets of your life. Now, follow the hints to make a perfect diary entry based on the secret of your life.
Hints: A black day in life – Grandmother's illness – Stole tickets of flight – Mother could not reach grandmother – Grandmother took her last breath – Felt guilty a lot.
Answer:
Bidhannagar,
28th March, 2021,
Time – 12.30 pm.
Dear Diary,
Yesterday was a black day in our family. I have done something unthinkable, which I can never share with my parents. Yesterday morning, while my mother was packing my tiffin for school she got the news of grandmother's severe illness. So, she instantly booked flight tickets for Delhi. I started to feel insecure as my class test will start next week. So, I wanted my mother to stop till then. But, she wanted to leave me with my father. I knew my mother had to go for a flight in the evening.
I desperately stole flight tickets and hid it in the storeroom. Before starting her journey towards grandmother's house, she was searching for the ticket but could not find out. Then, she had to cancel her journey. So, she became sad. I was quite happy that I would not miss her during my exam. But, today morning we got the news of my grandmother's death. My mother broke into tears. I was so shocked. I will never forgive myself for stopping my mother to see her mother for the last time.
Shatarupa Sanyal
---
Set 4
Question-4: Life has no replay or rewind button. So, in different circumstances, you act differently. Sometimes, your fault becomes the reason for someone's crisis. As for secrets, you can never speak out about those matters. Now, look at the following hints to make a perfect diary entry describing the secret of your life.
Hints: Had a tiff with my elder sister – She did not agree to give me my favourite sharee – Cut the knot of anklet bells – Sister could not perform on the stage – Started crying – Feeling guilty.
Answer:
Bidhannagar,
28th March, 2021,
Time-12.30 pm.
Dear Diary,
Yesterday, I hurt my elder sister a lot. We had a tiff, as she snatched the sharee, which I selected from my mother's wardrobe for wearing in school's annual function. She wanted to wear it during her dance performance at the function. I was not ready to accept her stubbornness. I was so angry after her leaving for school, as I had to wear another sharee for the function. After reaching school, while she was busy with her makeup, I cut the knot of her anklet bells to take revenge.
Finally, while she started to dance in a group on the stage, she slipped on the pieces of her anklet bells. She had to leave the stage in the middle of her performance. I was apparently happy to experience her defeat. But, while I reached the greenroom my sister was crying so badly, as she could not complete her performance. I remembered her regular rehearsal and it pinched me as due to my deeds, she had to suffer. I could not console her with words.
Romita Das
---
Each example of this article shows how to pen down the secret of your life on the pages of your diary in proper format with unique and creative pitching. Hope you have understood the techniques on how to write an attractive diary entry. Please share your valuable suggestion or feedback using the comment section below. Thanks !