Declaration of a school picnic always brings huge excitement to the students. Here, we have represented the best examples of how to describe the activities and enjoyment of a school picnic in a diary entry. So that you will get proper ideas from this article on how to write a diary entry about your school picnic with every detail.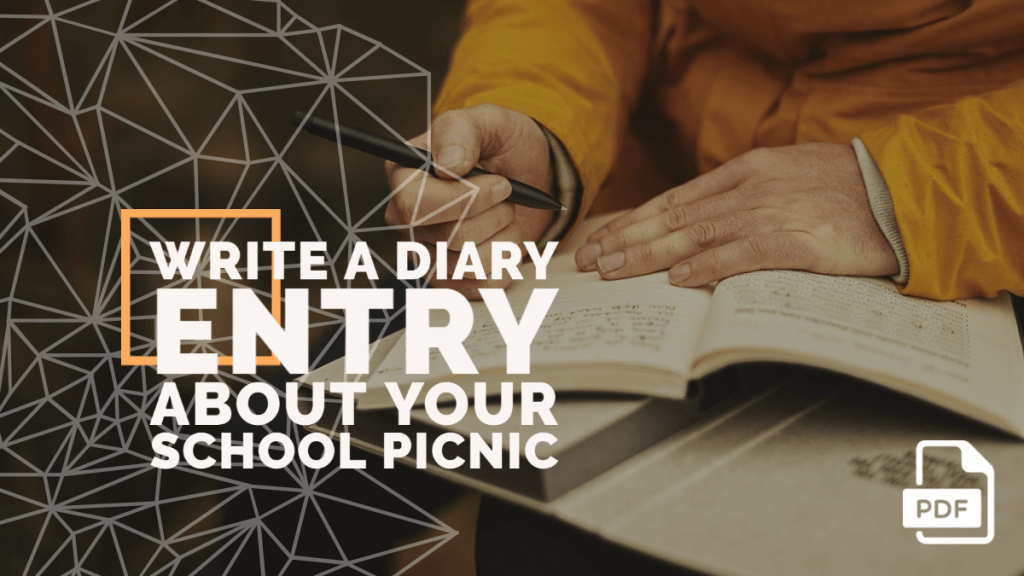 Diary Entry Set 1
Question 1: You recently joined in your school picnic at a mesmerizing location, which is full of natural extravaganza. It was a memorable get together of teachers and students after the final exam. Using the hints, make a diary entry about the whole enjoyment in your school picnic.
Hints: Detailed description about happy mood outside the classroom – A beautiful eco-friendly park in Mumbai – Weather and special attractions in the park – Arrangements of delicious food – Type of healthy enjoyments without any strict restrictions.
Answer:
Mumbai,
21st February 2021,
Sunday, 09:00 p.m.
Dear Diary,
After the stressful final exam of each class, the school authority sent Picnic itinerary through emails. I was reached on cloud nine getting the picnic related mail instead of boring 'Homework Sheets'. It was a joyful get together as our respected teachers and all classes students joined in the picnic leaving the routined classroom behind.
The breezy weather of well-maintained Eldorado park made our mind full of immense joy. Stunning views of the mountain peak from this amusement park make us. Being dressed in colourful outfits, we all were enjoying the ultimate happiness from the thrilling attractions of the park.
After a cheerful entry in the park, we started to hop on the rides. From rollercoasters to Flip-Line, we all enjoyed the strapping of safety belts. Our school workers arranged yummy cheese toast for breakfast, authentic Chinese food at launch, and crunchy pakoras as evening snacks. We fully enjoyed the bonfire dancing after dinner.
Rohit
---
Diary Entry Set 2
Question 2: Event like a school picnic is always a memorable occasion for students. So, your participation in a joyful school picnic in a tranquil location of a bank of river brought to you cheerful vives after exams. It was a very heartiest get together between teachers and students. Now, go through the hints and make a beautiful diary entry describing the joyous moments of your school picnic.
Hints: A portrayal of teacher-student get together – description of lovely views of Bhagirathi-Hooghly river – enjoyable activities throughout the day – wide range of fooding and drinking arrangements –
Answer:
Kolkata,
1st February 2021,
Monday, 08:00 p.m.
Dear Diary,
After the vigorous stress of the final exam, all the students of our school were very happy to get a notice about the school picnic through mail. All of us were yearning for a cheerful get together between teachers and students out of the scheduled classes.
The enchanting beauty of Raichak was enhancing our moods, relaxation and enjoyments. All of our teachers became our friend in the funny environment of our school picnic. After reaching Raichak, we visited Raichak fort to experience the beauty of colonial architecture of the pre-independence time.
Sitting on the bank of the river we allowed our mind to flow with the passing boats. In the brief period of our one-day picnic, we all enjoyed the picturesque natural flavour of Hooghly river during the boating. After having royal thali with full of Bengali delicacies, arranged by our school-workers, we enjoyed the sunset on the bank of Ganga.
Supratim
---
Diary Entry Set 3
Question 3: Participation in school picnics is always an excitement for every student. This type of institutional event always leaves a sweet impression on a student's mind. And a school picnic always makes the bonding strong between teachers and students. Now, based on the following hints make a diary entry to represent the whole enjoyment and activities in your school picnic.
Hints: Joyful institutional event after final exam – Description of popular picnic spot near Barrackpore – Enjoyment during journey to the picnic spot – Perfect one-day-outing leaving behind a routined classroom-wide space for launch – Delicious menu as a comprehensive part of picnic.
Answer:
Kolkata,
10th February 2020,
Monday, 07:00 p.m.
Dear Diary,
The notice of the school picnic brought us lots of excitement after the exam as we got the scope of limitless fun with friends. As an institutional event, our school picnic was an organized get together to refresh our mind after facing lots of tension of exam.
It took one and half hours to reach the hangout area of our picnic spot. We never felt any tiredness during the journey as all students were busy dancing to loud music on the bus. The good natural and well-maintained ambience of Jawahar Kunj in Barrackpore was a perfect place to find relief outside of city life.
We loved to spend every moment at the picnic spot with mesmerizing river views, random photography in the greenish land which is full of trees and butterflies. Our school workers gave full efforts to present the delicious recipes as a mandatory part of the school picnic. As per overall aspects, it was an awesome experience to enjoy the water body and flourished garden during launch together.
Riku
---
Diary Entry Set 4
Question 4: School picnics are organized to take away the stress of routined classroom. It is not only an academic event but also a delightful get together of teachers and students. This kind of event brightens the bonding of teachers and students outside the scheduled classrooms. Now, with a perfect representation of joyous entertainment make a diary entry about your school picnic.
Hints: Post-exam school picnic to cheer up students – limitless enjoyment along with teacher's restriction and care – an intense feeling of freedom from scheduled classroom – a perfect get together with delicious food arrangements.
Answer:
Kolkata,
9th December 2020,
Sunday, 08:30 p.m.
Dear Diary,
Our teachers declared about the most awaited yearly school picnic after the final exam and it was like a most awaited scope of abandoned joy. We all were very glad about the one-day-long enjoyment of a school picnic with friends after a stressful exam.
We easily got our parent's permission as our respected teachers took the responsibility of our security. So, in our riverside based picnic spot, all our activities were very thrilling under genuine care of our teachers. Through the overall enjoyment in the open air and warm get together, our bonding with teachers became more intense outside the scheduled classes.
We stayed in the nearby farmhouse of the prominent delta of Kolkata, Diamond Harbor. As the farmhouse has its own in-built kitchen, we spent a gorgeous day-out with spicy and yummy foods, which were prepared by our school worker. And above all, the picturesque views of the vast water body which is the meeting point of Ganga and Bay of Bengal spellbound all of us.
Subinay
Conclusion:
In this pretty portrayal of school picnics, you will get multiple ideas about how to write a diary entry about your school picnic. Did you like the representation? Please share your thoughts in the comment section.